Discovering Robert E. Howard: Frank Schildiner on Solomon Kane
Discovering Robert E. Howard: Frank Schildiner on Solomon Kane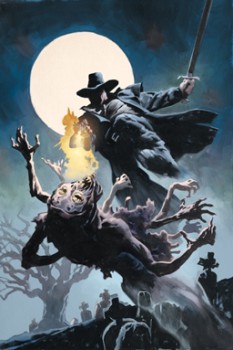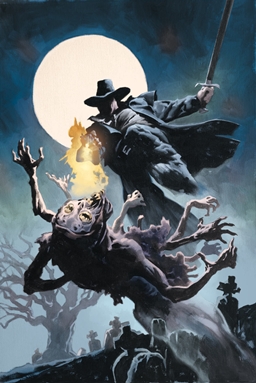 Martial arts expert Frank Shildiner has forgotten more about Adventure Pulp than I've ever known. His writings have included new tales starring  pulp characters Richard Knight and Thunder Jim Wade (if you're a Doc Savage fan, you should check big Jim out).
Solomon Kane is probably Robert E. Howard's second best-known character after a certain well-muscled barbarian, and one which influenced Frank very early on. So, I turned to Frank for a look at the puritan sword slinger, as Black Gate continues its summer look at Robert E. Howard.
---
Solomon Kane. I can still remember when I first read the name. I was 11 and looking through books and comics at a flea market, my mother one row over looking through the Robin Cook section. I pulled a slim paperback from the pile, the cover showing a cold eyed Puritan staring at me with open condemnation (at least that's how I interpreted the visual). But then I read the name… SOLOMON KANE. And there wasn't a prayer on Earth of getting me to let go of this book that day.
And that first short story, "Red Shadows," changed me forever. I became a fan for all things Robert E. Howard, but especially Solomon Kane. Caught by the enemy he'd chased from Europe into Africa, Kane looked up at this man he'd hounded relentlessly for years, and the following thought summed up why this hero became my favorite.
Kane was silent, his still fury overcoming him. Though he did not realize it, the Wolf was more than merely an enemy to him; the bandit symbolized, to Kane, all the things against which the Puritan had fought all his life: cruelty, outrage, oppression and tyranny.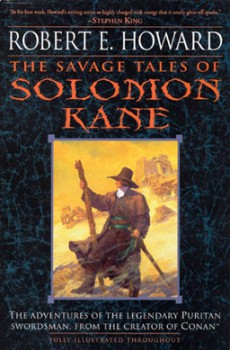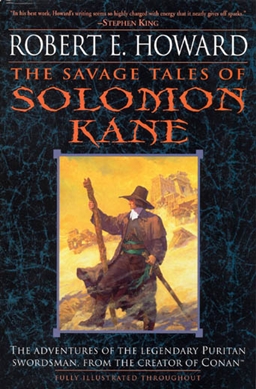 Perfection. A true hero in simplicity. I was hooked and read the book, only discovering with extreme disappointment the small number of tales of this marvelous adventurer. Four fragments of stories were also included, causing a rather loud howl of fury when I discovered I would never learn what Howard planned in "The Castle of the Devil."
What do we know of Solomon Kane, besides his Puritan upbringing and beliefs? Rather a great deal, since Robert E. Howard created this hero in his youth and added greater depth to the character than to his other adventurers. Kane is known to have served as a merchant sailor in the New World, where he later acted as a privateer in England's battles with Spain.
He spent some time as a galley slave to one of the Muslim warlords of the Mediterranean. Leading an escape, he returned to serve with Sir Francis Drake and Sir Francis Grenville, not to mention fighting the Spanish Armada. But these are merely alluded to through short phrases or back-story.
The truth of Solomon Kane emerges through his deeds throughout his stories. Kane is a man of strong principles, despising treachery, even when performed against those he views as evil. In "The Right Hand of Doom," he openly condemns a man in such a manner:
"I say," said [Kane] in a low powerful voice, "that you have this day done a damnable deed. Yon necromancer was worthy of death, belike, but he trusted you, naming you his one friend, and you betrayed him for a few filthy coins. Methinks you will meet him in Hell, some day."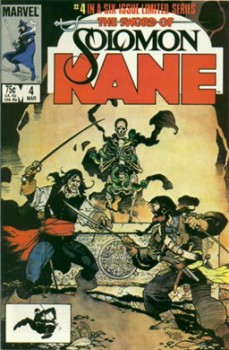 A man who holds to his pledges with a fanatical fury that was often remarked upon by Howard in all of Kane's stories. One of the themes of this series is the very unbalanced nature of the hero, a man always at conflict with himself. Solomon Kane possessed a mania for battling wickedness in every form, whether the source be human or beyond the realms of mankind. All the while Kane believes he is acting in the name of God, a cold-eyed, iron limbed instrument of  Heaven's vengeance.
Combine that with a wanderlust well beyond that of all of Howard's other heroes combined, and the readers received a hero who combined the best of the great author's action skills along with a psychological depth unseen in his other writing. There is a force in these stories that rings true to this day.
In current days, Kane is less well known than Howard's most famous hero, Conan the Barbarian, but he's far from forgotten. Marvel and Dark Horse Comics produced a total of five mini-series with him as the protagonist. Sci-Fi Grandmaster Philip Jose Farmer identified Solomon Kane as an ancestor of pulp hero Doc Savage in the amazing Doc Savage: His Apocalyptic Life. Famed writer Ramsey Campbell did an excellent job completing three of the fragments that are reproduced regularly.
Black Coat Press's Tales of the Shadowmen series parts 3 and 4 have exciting short stories by Matthew Baugh and Micah Harris. And 2009 saw the release of the film Solomon Kane, starring James Purefoy. The film changes Kane some, but is a fun tale and worth viewing.
The stories I would recommend the highest are "Red Shadows," "The Moon of Skulls" and "The Hills of the Dead." But in the end, you can't go wrong with any story of this legendary wandering champion warrior, the great Solomon Kane.
Other posts in Black Gate's 'Discovering Robert E. Howard' series are:
REH Goes Hard Boiled by Bob Byrne
The Fists of Robert E. Howard by Paul Bishop
2015 Howard Days by Damon Sasser
And we've got several more posts on a variety of Robert E. Howard topics from a host of impressive writers coming this summer, so stay tuned.
---
Frank Schildiner has written new stories for such pulp characters as Ravenwood, The Avenger and Thunder Jim Wade., as well as old style monster stories, such as Big Ol' Scorpion.
You can read Bob Byrne's 'The Public Life of Sherlock Holmes' column here at Black Gate every Monday morning.
He founded www.SolarPons.com, the only website dedicated to the 'Sherlock Holmes of Praed Street' and blogs about Holmes and other mystery matters at Almost Holmes.