Discovering Robert E Howard: Paul Bishop on The Fists of R.E.H.
Discovering Robert E Howard: Paul Bishop on The Fists of R.E.H.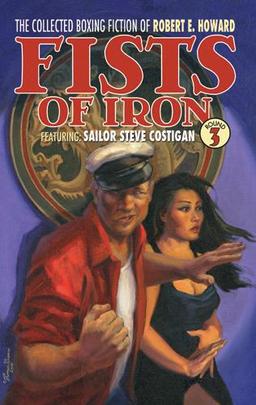 Naturally, the works of Robert E. Howard are popular post fodder here at Black Gate. While Conan is far and away his best known character, REH created many other memorable heroes, including Solomon Kane, El Borak and Kull. Earlier this year, I wrote about Howard's largely forgotten private eye, Steve Harrison.
At the time, I thought that a post on Howard's boxing stories would be good reading. Also realizing I was completely unqualified to write it, I contacted the current czar of boxing fiction, Paul Bishop of Fight Card Books.
Fight Card is a pulp style series of boxing tales. They've included two Holmes boxing novellas in the series, so you know I'm on board! See what Paul has to say about Howard's boxing works.
---
The minute I stepped ashore from the Sea Girl, merchantman, I had a hunch that there would be trouble. This hunch was caused by seeing some of the crew of the Dauntless. The men on the Dauntless have disliked the Sea Girl's crew ever since our skipper took their captain to a cleaning on the wharfs of Zanzibar – them being narrow-minded that way. They claimed that the old man had a knuckle-duster on his right, which is ridiculous and a dirty lie. He had it on his left.
~ Robert E. Howard, "The Pit of the Serpent"
Although best known as the creator of Conan the Barbarian, Solomon Kane, and other sword and sorcery characters, Robert E. Howard had a lifelong interest in boxing, attending fights and avidly following the careers of his favorite fighters. Even though as a child he was bookish and intellectual, in his teen years he took up bodybuilding and eventually entered the ring as an amateur boxer.
During the height of the pulp era from the late '20s through the '30s, REH used this background to make a good living banging out boxing tales for the likes of Fight Stories Magazine, Action Stories, Sport Story, Jack Dempsey's Fight Magazine, and others. REH actually claimed his fictional fight tales – especially "The Iron Man," and the adventures of Sailor Steve Costigan – to be among the best of his works.
Primarily humorous in nature, Howard's most popular and in demand boxing stories featured Sailor Steve Costigan. These tales were both creatively and financially critical to Howard's development as a writer.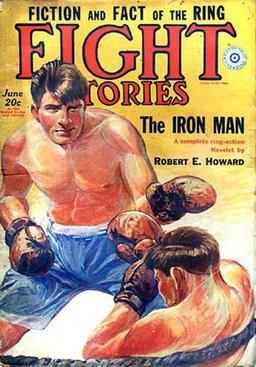 Costigan was a lovable, hard-fisted, and innocent semipro pugilist who regularly squared-off against dastardly villains in exotic ports of call. Tales featuring Costigan were at times laugh out loud funny and brilliant examples of what, in writing circles, is referred to as an unreliable narrator. Written in first person, the voice of Sailor Steve Costigan is full of malapropisms and creative, near-swear invective.
As the undisputed champion of the merchant marine Sea Girl, Costigan has a heart of gold, fists of steel, and a head full of rocks, all of which get him – and his bulldog Mike – tossed into constant trouble. Costigan is lovable for two reasons.
First, he is just not smart enough to do anything other than punch his way clear of trouble. And second, when he starts punching, every reader feels the joy of the underdog overcoming the odds with the solid landing of every blow.
No matter how ridiculous the situation he places Costigan in, REH never ridicules the character, always putting Costigan on the side of the angels. Readers know they should always bet on Costigan coming through victorious in a fight, and they would be more than willing to share a beer with him afterward.
Not too many readers would want to share suds with the brutal Conan or the dour Solomon Kane. Costigan is accessible, a larger than life everyman.
Not all of REH's boxing stories are funny. Aside from essays exploring what attributes REH believed made a great boxer, his other boxing tales were alive with the sound and the fury of the real world of the square circle. "Iron Man," in particular, is a revered saga for those followers not just of REH, but of boxing enthusiasts in general.
REH's boxing fiction has recently been given its rightful place in the Howard pantheon. Under the title Fists of Iron, four volumes of REH's boxing fiction have been published by the Robert E. Howard Foundation Press. These beautifully bound and numbered, hardcover editions sport stunning, pulp inspired wrap around covers and contain every story, partial story, and scrap of idea Howard produced.
Editors Mark Finn, Patrice Louinet, and Christopher Gruber each contributed an insightful and extensive introduction to the volumes in what is clearly a labor of love and appreciation for REH's work.
The complete compendium of Fists of Iron has not only become a highly sought after collector's item, but has preserved the two-fisted tales that helped a generation of readers to fight through the Great Depression and the tough years to follow.
Even today, REH's boxing fiction reads with immediacy and storytelling power. If you've never met, or never heard of REH's boxing characters Sailor Steve Costigan, Kid Allison, Mike O'Brien, or Dennis Dorgan, now is the time to lace up your gloves, put up your dukes, and climb into the ring.
---
Paul Bishop was a highly decorated officer who spent thirty-five years with the Los Angeles Police Department. He's written several novels and is the driving force behind the Fight Card series of pulp-style boxing novellas. 
You can read Bob Byrne's 'The Public Life of Sherlock Holmes' column here at Black Gate every Monday morning.