Werewolves, Ancient Alien Evil, and Babylonian Witches: Tales of the Werewolf Clan by H. Warner Munn
Werewolves, Ancient Alien Evil, and Babylonian Witches: Tales of the Werewolf Clan by H. Warner Munn
In the March 1924 issue of Weird Tales, a letter by H. P. Lovecraft appeared proclaiming that:
Popular authors do not and apparently cannot appreciate the fact that true art is obtainable only by rejecting normality and conventionality in toto, and approaching a theme purged utterly of any usual or preconceived point of view… Take a werewolf story, for instance — who ever wrote a story from the point of view of the wolf, and sympathizing strongly with the devil to whom he has sold himself?
Enter young Harold Warner Munn, who took up the elder author's challenge by submitting a story with the curious title of "The Werewolf of Ponkert" to editor Farnsworth Wright at Weird Tales.
The story appeared in the magazine's July 1925 issue, the first of fifteen tales penned by Munn set in the same cycle, which have all recently been collected by Altus Press and published in a handsome omnibus edition titled Tales of the Werewolf Clan.
[Click the images for bigger versions.]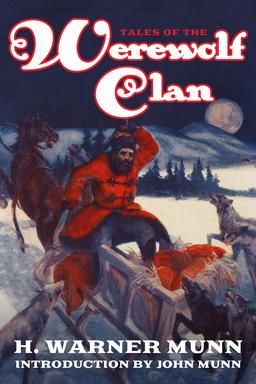 "The Werewolf of Ponkert" is a classic tale of the downfall of a soul that all readers of weird fiction should seek out and study. It is the story of Wladislaw Brenryk, "a peddler of jewelry and small articles," who leaves his boyhood home in northeastern Hungary and travels to the village of Ponkert, where he establishes a trade shop. One night, while traveling through the wilderness on his way home, he is attacked by a ravening pack of strange wolflike creatures led by a small fiendish being "with eyes like embers" — the Master.
Brenryk barely escapes with his life, only to be summoned back to the wilds after he recovers from his injuries. There the Master confronts Brenryk once again, giving him a choice — die or join the pack of his own free will, as the Master's unwavering servant.
To say more would be telling, for it is Munn's characterization and presentation that gives this tale its unique charm. It is fair to say, however, that the Werewolf Clan cycle heats up in the second story, a long novella titled "The Werewolf's Daughter," in which Brenryk's curse transforms and sets the scene for a generational struggle in which his ancestors match wits with the Master over a period of centuries, leading up to an ultimate confrontation in the twentieth century.
True to the spirit of Lovecraft's letter in the March 1924 issue of Weird Tales, Munn approaches his Werewolf Clan tales with a spark of originality that writers of weird fiction could still learn something from today. It is clear that Munn researched the period settings of these stories with the eye of a meticulous historian, and some of my favorite pieces in the collection are those that are presented as historical documents from a particular point in time.
For instance, "Achsah Young — of Windsor" is written as if were the court record of a seventeenth-century witch trial, complete with antiquated language that, I should add, in no way slows the story's pace or lessens the reader's trepidation as events take progressively shocking turns for the worse.
Munn's antagonist, the Master, is no B-movie villain, either. Rather, the reader comes to learn he is an extraterrestrial trapped on Earth by a power-hungry witch from the time of ancient Babylon. Thrown into an undying fury at his predicament, the Master decides to take out his rage on humanity itself. The miracle is that despite the Master's deeds of pure evil, Munn somehow even manages to evoke a few grains of sympathy for this thoroughly conscienceless entity from far-off Nythris. Lovecraft, had he lived to see the entire cycle in print, would have been proud.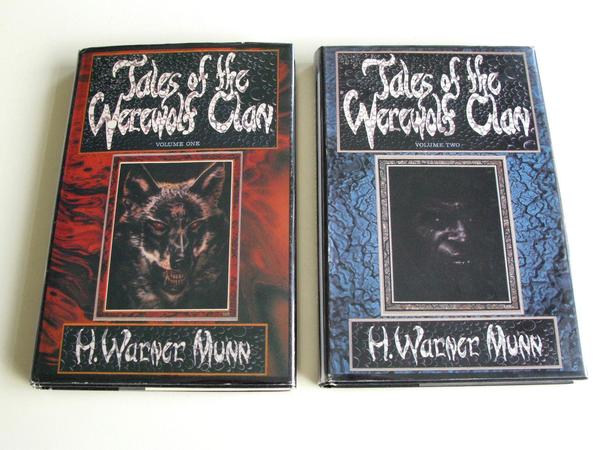 Tales of the Werewolf Clan, Donald M Grant editions (1979/1980)
The new Altus Press edition of Tales of the Werewolf Clan is the first complete collection of Munn's werewolf cycle. Fans of Munn may recall a two-volume set of the same title published by Donald M. Grant in 1979 and 1980 respectively, but those collections included neither "The Werewolf of Ponkert" nor "The Werewolf's Daughter," arguably the two most important stories in the series. The Altus collection also includes a charming introduction by Munn's grandson, John Munn, written in the very attic where his grandfather wrote many of his stories.
The new collection from Altus Press is long overdue and highly recommended. I can only hope it is but the first of many reprints of Munn's unique and imaginative work.
Our previous coverage of H. Warner Munn includes:
A Neglected Classic from the Golden Age of Sword & Sorcery: H. Warner Munn's Merlin Cycle by Tony Den
Atlantis, Vikings, and the Hoards of Kubla Khan: Merlin's Ring by H. Warner Munn: Part I by Tony Den
---
Christopher Paul Carey is the author of Hadon, King of Opar, a continuation of Philip José Farmer's Khokarsa and Ancient Opar series. He is a senior editor at Paizo on the award-winning Pathfinder Roleplaying Game, and has edited numerous collections, anthologies, and novels. He holds a master's degree in Writing Popular Fiction from Seton Hill University. Visit his website at www.cpcarey.com and find him on Twitter here.