Erik Chevalier Reaches Settlement With FTC For Kickstarter Failure
Erik Chevalier Reaches Settlement With FTC For Kickstarter Failure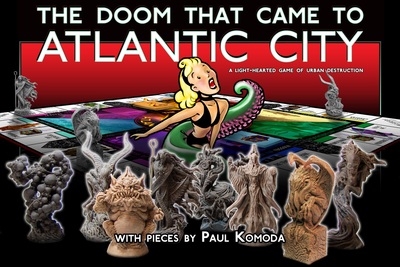 Two years ago we reported on the spectacular failure of one of the biggest Kickstarter success stories of 2012.
Reports are coming in that Erik Chevalier, the man behind one of the most high-profile Kickstarter game successes of 2012, The Doom That Came To Atlantic City, has admitted that he will never produce the game… Over the past 13 months, Chevalier has been releasing increasingly bleak progress reports, culminating in this post Tuesday…
The Washington Post is reporting today that Chevalier has agreed to a settlement order with the FTC that includes a $111,793.71 judgment against him — although it's unlikely he'll ever be able to pay it.
In its first ever enforcement action against a crowdfunded project, the Federal Trade Commission went after a board game project gone wrong… Few, if any, supporters of the project ever received refunds, the FTC alleged in a complaint against Chevalier disclosed Thursday that accuses him of deceiving backers of the project. And instead of spending most of the funds raised through Kickstarter on making the game, he spent it on himself, the agency claimed. "In reality, Defendant never hired artists for the board game and instead used the consumers' funds for miscellaneous personal equipment, rent for a personal residence, and licenses for a separate project," the complaint said.

Chevalier has agreed to a settlement order with agency. Under the agreement, he's prohibited from making misrepresentations about crowdfunding campaigns and failing to honor refund policies in the future. The order also contains a $111,793.71 judgment against Chevaliar, but it is suspended because of his inability to pay. "The full amount will become due immediately if he is found to have misrepresented his financial condition," an FTC press release said.
Read the complete article here.