Presenting the 2015 Nebula Awards
Presenting the 2015 Nebula Awards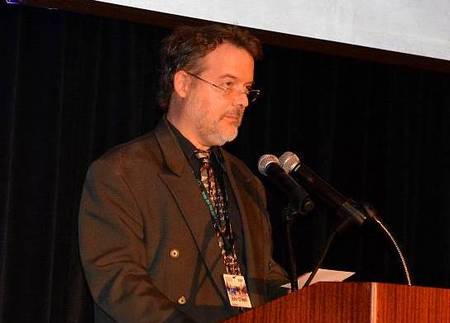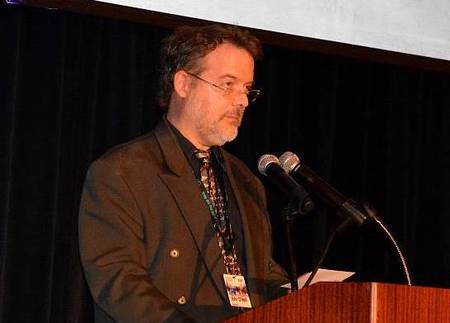 I don't mean that title metaphorically. Like, "Here are the 2015 Nebula winners, so awesome!" I mean it literally. As in, presenting a Nebula Award on stage, in front of God and everybody, while wearing a suit and desperately hoping I pronounced all the names correctly. How's that for awesome?
The 2015 Nebulas were presented by the Science Fiction Writers of America at the 50th Annual Nebula Awards Weekend on Saturday, June 4th, at the Palmer House in downtown Chicago. The event was attended by the brightest and most dazzling talents in the industry (plus, I was there too). I was invited to present the Nebula for Best Novelette, which was a fabulous honor that made me all giddy. If at any point on Saturday I shook your hand and tried to give you a Nebula Award, I hope you can understand — when I'm nervous, rehearsing make me feel better.
Please forgive me. Unless your name is Alaya Dawn Johnson, in which case, congratulations again on winning, and I'm very sorry I added three extra vowels to your first name. Ha ha ha, Alaya. It looked so damn easy on paper.
Anyways, the Nebulas. Super-big deal. The biggest names in the industry, gathered together to celebrate the very best writing of the year. And also to see and be seen, to socialize, discuss the big issues of the day, renew friendships, make new friends, gossip, catch up on all the news. Plus, to give out some Nebula Awards.
Derek Kunsken posted a fine summary of the weekend earlier today. After working with him for so many years, I was delighted to finally meet Derek for the first time, and he turned out to be just as articulate and entertaining in person. He wasn't the only Black Gate writer to attend — I also caught up with Steven Silver, Jeremiah Tolbert, Tina Jens, and Beth Dawkins.
The highlight, of course, was the awards ceremony. And without any further ado, here's a complete rundown on the winners.
Novel
Annihilation, Jeff VanderMeer (FSG Originals)
Novella
Yesterday's Kin, Nancy Kress (Tachyon)
Novelette
"A Guide to the Fruits of Hawai'i," Alaya Dawn Johnson (F&SF, July-August 2014)
Short Story
"Jackalope Wives," Ursula Vernon (Apex, January 2014)
Ray Bradbury Award for Outstanding Dramatic Presentation
Guardians of the Galaxy
Andre Norton Award for Young Adult Science Fiction and Fantasy Book
Love Is the Drug, Alaya Dawn Johnson (Levine)
Larry Niven received the Grand Master Award (now called the Damon Knight Grand Master Award) for lifetime achievement. The Solstice Award was given to two recipients: Joanna Russ (posthumously), and Stanley Schmidt. Jeffry Dwight, founder of SFF.Net, received the Kevin O' Donnell Jr. Service to SFWA Award.
We did a breakdown of the nominations in February, and we reported on last year's winners here.
Congratulations to all the winners!