Vintage Treasures: Sheila Gilluly's Greenbriar Trilogy
Vintage Treasures: Sheila Gilluly's Greenbriar Trilogy
Sheila Gilluly had a brief career as a fantasy writer. She published two trilogies in the late 80s and early 90s, and has produced nothing else for the last 20 years. But I've always been curious about her Greenbriar Trilogy — composed of Greenbriar Queen (1988), The Crystal Keep (1988), and Ritnym's Daughter (1989) — mostly because of the beautiful covers (click the images above for bigger versions). I've tried to identify the artist, but the art is uncredited in my copies, and so far an internet search has been fruitless.
Greenbriar Queen opens in a pretty dark place, with the Dark Lord's reign about to begin, the heroes scattered, the king dead, and a traitor on the throne. If you like high stakes and desperate battles, The Greenbriar Trilogy might be for you.
Here's the blurb for Greenbriar Queen:
The Dark Lord's reign is about to begin, for the age of doom prophesied long ago is now upon the people of Ilyria. The Greenbriar King is dead, his children vanished, and his traitorous half-brother, Dendron the Bastard King, now holds the throne. But far more dangerous than Dendron is his wizard adviser, the Fallen, who can free the Dark Lord from exile and bring ruin to all the world.

The Fallen needs the blood of Princess Ariadne, the true Greenbriar heir, to weave his spell. But a group of loyal Watchmen would brave sorcerous evil and warriors' swords to protect their future queen. For only she can wield the magic Crystal, Ilyria's final weapon against the Darkness to come…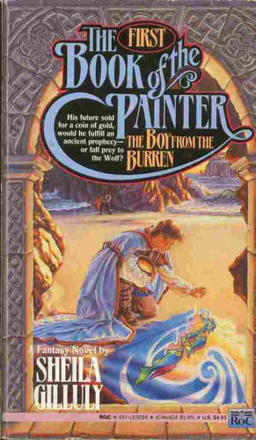 The Greenbriar Trilogy was printed in the UK by Headline, with covers by Stephen Bradbury.
Gilluly followed it with the Painter trilogy:
The Boy from the Burren (1990)
The Giant of Inishkerry (1992)
The Emperor of Earth-Above (1993)
The first volume, The Boy from the Burren, was published in the US by ROC, but the other two were published only in the UK. The first volume is currently available in digital format for $4.99.
All three volumes of The Greenbriar Trilogy were published in paperback by Signet. Greenbriar Queen was released in January 1988; it is 330 pages, priced at $3.50. The Crystal Keep was published September 1988 (348 pages, $3.95) and Ritnym's Daughter arrived in December 1989 (351 pages, $3.95). There are no digital versions, and all three are long out of print.
See all of our recent Vintage Treasures here.