Adventures In History: George MacDonald Fraser's Flashman
Adventures In History: George MacDonald Fraser's Flashman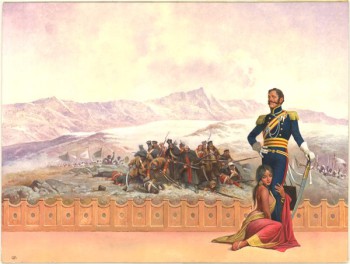 A few months back, I was (ever so gently) castigated for not giving proper credit to the screenwriter of the Michael York / Oliver Reed rendition of The Three Musketeers. That man was George MacDonald Fraser, he who wrote the Flashman books, a series into which I had never delved.
That has now been corrected, and just in time, too: no lesser a light than Ridley Scott (Alien; Blade Runner) is developing a reboot of Flashman with 20th Century Fox. As the fool on the hill once opined, everything old is new.
So let's set aside fantasy for just a moment and allow for historical action-adventure as a sideline of the vast cultural behemoth that is now Black Gate. Swords, after all, form a big part of heroic fantasy, and in Flashman (first published in 1969, never out of print), swords of many types are on display and put to use. Lances, too. Plus primitive rifles, dueling pistols, and cannons.
The only thing missing? The heroism of our anti-hero, Harry Paget Flashman. He's a survivor, and an accurate judge of other people's character and abilities, but beyond that, he's the very definition of reprehensible. He's a cad, a coward, and an unrepentant racist; he's treacherous, larcenous, and vindictive besides. Let's leave off his appalling treatment of women, at least for now, and accept him for what he's best at: looking sharp in military regalia. Ah, if only looks could kill…
The year is 1839. Flashman, having been tossed out of school for drunkenness, prevails upon his father to buy him an officer's position in the dragoons. Following a duel, he's shipped to India, then to Afghanistan, where the Brits are about to embark on one of their greatest military disasters. Flashman, surrounded by actual historical figures, navigates the fray and manages – barely – to get out alive. The great joke at the end (and this isn't a spoiler, you can see it coming from the opening page) is that Flashman arrives home as a bona fide hero.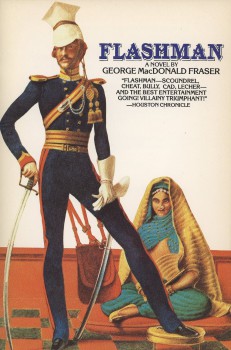 The book is fast-paced, the action vivid and meticulous. Flashman serves as our narrator, an old man now looking back on the arrogant sins of his youth with unflagging exactitude. If he has a saving grace, it's that he spares himself least of all in his ongoing critiques.
According to The New York Times Book Review, Flashman is "hilariously funny." I did not find it so. There are moments of comic ineptitude, and as a book born during an ongoing transatlantic anti-war movement, it fits within the ground already covered by Stanley Kubrick's Dr. Strangelove (1964) and Thomas Berger's Little Big Man (1964). That said, military bungling, especially when it costs lives on this scale, is no longer something I find very amusing. Call me dour if you will, but there it is.
And then there's Flashman himself, who is such a total rotter. As a device, he works like gangbusters: he's a Victorian Zelig, a man always on the scene yet never changing history enough to, well, change it. But no other tour guide I can recall is quite so willing to call "the natives" in India and Afghanistan by the one word forbidden to all United States citizens: n***er. Flashman does it all the time, with glee and constancy. I found it very alarming.
I found it alarming despite knowing full well that this is historically accurate. The N word was deployed on both sides of the Atlantic, and was aimed not only at Africans and African-Americans, but at dark-skinned people wherever the British Empire touched down. The trouble is, I'm a Stateside reader, and in the States, in our post-slavery world, the N word continues to land with unusual harshness.
Thus Flashman makes for a bizarre and unsettling reading experience, one where the context and semiology of certain terms threw me again and again out of the pages (not to mention the story), despite my best efforts to accept the limitations of my jerk of a narrator.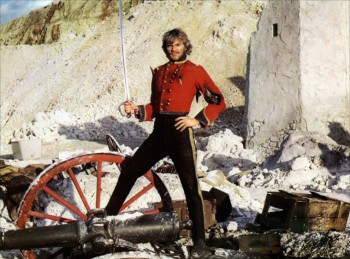 Given the success of the first book, and the many that followed it, I appear to be in a thin-skinned, overly sensitive minority. Fraser, when not scripting The Three Musketeers, went on to pen twelve Flashman titles, including Royal Flash, Flash for Freedom!, Flashman at the Charge, Flashman in the Great Game, Flashman's Lady, and Flashman and the Redskins. In the latter, he could (theoretically) actually meet up with Berger's Jack Crabbe; both he and Flashman were in attendance, according to fiction, for Custer's Last Stand.
One wonders how Fraser approached the optimistic, sunny adventure of The Three Musketeers. Those men fight to live and live to fight; D'Artagnan and company behave like genuine sword-wielding heroes. Flashman the dastard draws his sword only to make a good impression, and then gallops full-tilt for safety.
Harry Flashgun did make the leap to the movies, first in a 1971 outing of Tom Brown's Schooldays, and then in a vehicle of his own, Royal Flash (1975), with Malcolm McDowell filling the title role — and wouldn't you know it, Oliver Reed shows up, too, as Otto von Bismarck. The director? Richard Lester, the very same Fraser collaborator who helmed The Three Musketeers. It's a small world, after all.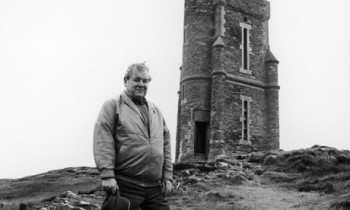 I enjoyed Flashman most as a primer on the history of occupied, oppressed Afghanistan. Fraser's tale functions as snide, action-packed historical analysis, a pre-cursor to contemporary world politics. I closed these covers feeling quite certain that after more than a hundred and fifty years of European incursions, not much has changed: Afghanistan is a region in chaos because it's a largely unloved poker chip in other nations' business.
A quote, if I may:
"Those who cannot remember the past are condemned to repeat it." – George Santayana.
I'm sure that Fraser and Flashman would be the first to say that we ain't learned nothin' yet.
Onward — and my thanks to BG's Bob Byrne for his help with this write-up. Thanks, Bob!
---
Mark Rigney has published three stories in the Black Gate Online Fiction library: "The Trade," "The Find," and "The Keystone." Tangent called the tales "Reminiscent of the old sword & sorcery classics… once I started reading, I couldn't stop. I highly recommend the complete trilogy." In other work, Rigney is the author of "The Skates," and its haunted sequels, "Sleeping Bear," and Check-Out Time. A new novel, Bonesy, will be released Sept. 1, 2015. His website is markrigney.net.