New Treasures: Swords of Steel edited by D.M. Ritzlin
New Treasures: Swords of Steel edited by D.M. Ritzlin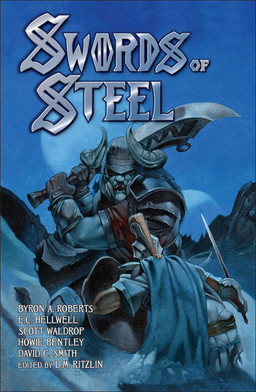 Swords of Steel is a brand new sword & sorcery anthology edited by D.M. Ritzlin, filled with stories written exclusively by heavy metal musicians. In his introduction, David C. Smith says the "idea was to create a collection of the kinds of stories you would have found in the late 1960s and 1970s — in the Swords Against Darkness anthologies, for example." I'm a fan of Andrew Offut's Swords Against Darkness, and I heartily approve of any effort to recapture their spirit.
Swords of Steel is an anthology of fantasy/horror adventure stories; it  includes interior illustrations and maps by a variety of artists, and poems by Sean Weingartner. There's also an artilcle, "Headbanging Warriors," by Black Gate's Thursday blogger  M Harold Page.
Mighty-thewed barbarians… vengeful lords of chaos… desolate devil-haunted ruins… carnage-soaked battlefields… forbidden spells of great power… All of these you will find in the works of authors of heroic fantasy as well as heavy metal musicians. But modern fantasy has been plagued with convoluted plots and series without end. Who better to return traditional fantasy to its former glory than the heavy metal bards?

Swords of Steel is an anthology of fantastic and horrific adventure stories, each penned by a heavy metal musician. Members of such bands as Bal-Sagoth, Manilla Road, Twisted Tower Dire, Cauldron Born, Solstice, and more — proving their talent for the written word as well as song — cut through the modern wasteland, wielding Swords of Steel.
Here's the complete table of contents:
Introduction by David C. Smith
"Into the Dawn of Storms" by Byron A. Roberts (Bal-Sagoth)
"The Riddle Master" by E.C. Hellwell (Manilla Road)
"The Mirror Beguiling" by James Ashbey (Solstice)
"Dream Death" by Sean Weingartner (Eternal Champion) "
"All Will Be Righted on Samhain" by Howie K. Bentley (Cauldron Born) and David C. Smith
Headbanging Warriors by M Harold Page
"Journey in Somnamblia" by Jean-Pierre Abboud (Borrowed Time, Funeral Circle)
"Eve's Grave" by Scott Waldrop (Twisted Tower Dire, Walpyrgus)
"Stygian Dusk and Black Lotus Slumber" by Howie K. Bentley
"Blue Mistress" by Jeffrey Black (Gatekeeper)
"Vengeance of the Insane God" by Jason Tarpey (Eternal Champion)
Swords of Steel was published by DMR Books on February 21st, 2015. It is 254 pages, priced at $9.99 in paperback. There is no digital edition. The cover is by Martin Hanford. Visit DMR Books at their Facebook page here.
See all of our recent New Treasures here.