Leah Schnelbach Ranks the Fantasy Films of the 1980s
Leah Schnelbach Ranks the Fantasy Films of the 1980s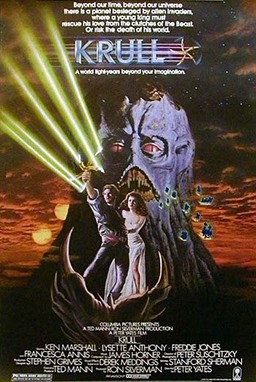 Over at Tor.com, Leah Schnelbach is having entirely too much fun ranking the major fantasy films of the 1980s. Here she is on Krull, which she ranks an abysmal 17 (out of 18):
What this movie's actually about is the Glaive, but it only gets like ten minutes of screentime. This film was developed as a starring vehicle for the Glaive, the five-bladed boomerang-like weapon wielded by the hero. Unfortunately, the Glaive's career never really took off: After one too many brawls at the Viper Room, and one two many sunrises spent waking up on the lawns of strangers, the weapon checked itself into a much-needed stint at Hazelden. Deciding that the Hollywood lifestyle just wasn't enough to fill the void in its soul, the Glaive finally retired to Oregon, where it raises alpacas, and is said to be very happy.
I'm pretty sure her article is a lot more fun than watching Krull all over again.
If there was a decade of fantasy film tailor-made for impassioned fan debate, it's the 80s. It's ten years of classics, and stinkers, and classic stinkers, like The Beastmaster, Dragonslayer, Highlander, and many more. Schnelbach is hilarious, and even Excalibur doesn't escape her snarky commentary ("Have you heard of an actor from Ireland or England? Yeah, he's in this movie.")
The article isn't perfect (um, where's the timeless S&S classic The Sword & the Sorcerer?) But she does give real movie fans the true gift of being dead wrong on several occasions (Master of the Universe is better than Highlander? Willow and Clash of the Titans both rank above Excalibur??), and we all know movie fans cherish nothing as much as a good debate.
Read the complete article at Tor.com, and leave your impassioned defense of Labyrinth or the original version of Conan the Barbarian in the comments.