Comic Fandom Coolness: The Women of Marvel Podcast
Comic Fandom Coolness: The Women of Marvel Podcast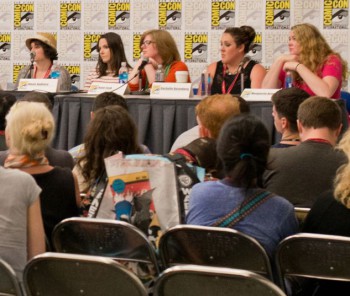 From 2008 to about 2011, when I was reviewing comics for the most excellent Weekly Comic Book Review.com, I was reading very widely: the big two, Image, some Dark Horse, a lot of Dynamite, with some Avatar and BOOM! scattered in there. I did that because while I was reviewing, I wanted to make sure I had a good grasp of the styles and tones and mandates of as much of the comics field as I could.
A great way to keep on top of meta-developments were podcasts. I listened to the Mighty Marvel Podcast, the Dynamite Podcasts, and many of the DC podcasts. They were a lot of fun, usually filled with fanboy squee, and often sales garnishing, but the sales pitch is hardly unexpected.
After a bit of a hiatus, when I built up more of my own writing career, I decided to come back to both comics and some of their podcasts. I don't remember how I found out about them four weeks ago (don't ask me where my brain went), but I've been loving the heck out of the Women of Marvel Podcast.
They only started their podcast in June, so it was easy to catch up. I downloaded about twenty, loaded them onto my mobile and started listening to them on my commute. While the sound quality is sometimes so poor that I'm straining to hear, the content is top shelf.
So, my view of the bigger picture: Like science fiction publishing, comics is a pretty male-dominated field traditionally, which can make it be an unintentionally (or intentionally) unwelcoming place for women. Some parts of the comics industry seem to be doing a pretty poor job of expanding into non-traditional audiences (I don't read every article, but it's not hard to find the Internet face-palming monthly over DC shooting itself in the foot in terms of attracting new female readers), but Marvel seems to be trying hard.
Marvel recently announced two new movies, Captain Marvel and Black Panther,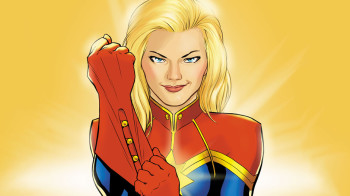 which have female and black leads respectively. And in the last year, Marvel has started over a dozen new titles with female leads. Add that to the yearly appearances at ComicCons of the Women of Marvel panel, and you can see that someone at Marvel is thinking strategically.
Don't get me wrong. As a consumer, I'm delighted with more variety. As a person, I'm happy to see more people able to see themselves in media offerings. But I also appreciate the business sense behind this too.
What is great for me about the Women of Marvel Podcasts, is that I don't have to wait for ComicCon to enjoy the panels. They're sending them to me for free. They've got smart Marvel editors talking about the actual nuts and bolts of the business, which I find fascinating (I never actually even understood what an editor did before now).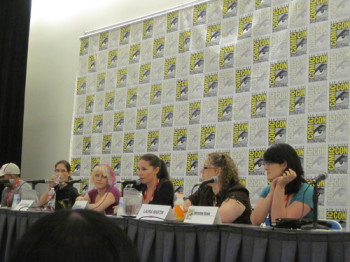 They also squee over good books, interview people from across the industry (movies, TV, writers, artists), and talk about fandom (including the CarolCorps which seems like the coolest fan thing I've heard of).
And they are remarkably encouraging about following your dreams and getting into the comics industry. This is not a message everyone sends out, and as someone who sweated all the normal sweat to break into professional science fiction writing, it feels like a message I want to just shoot at a lot of people with dreams and say "Look! See? They say it's possible. Start writing/drawing/whatever today!"
I totally recommend the Women of Marvel Podcast if you want to hear people talk Marvel comics, the industry, breaking in, gender and diversity, or just plain She-Hulk-Smash fan squee. If you've got your own recommendations, let me know in the comments or by twitter.
---
Derek Künsken is a science fiction and fantasy writer in Ottawa, Canada. His story Schools of Clay, which originally appeared in Asimov's Science Fiction, is now available in audio for free at StarShipSofa. You can find out more at www.derekkunsken.com or @derekkunsken.