Sofia Samatar Confronts the Elephant in the Room
Sofia Samatar Confronts the Elephant in the Room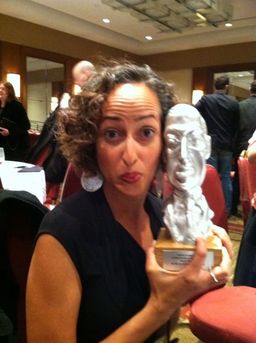 As I was pleased to report last week, Sofia Samatar won the 2014 World Fantasy Award for her acclaimed first novel A Stranger in Olondria. And as I also mentioned, Sofia addressed "the elephant in the room" in her remarks to the audience, saying a few words about the fact that she was being honored with a bust of Lovecraft, a man who expressed profoundly racist views in his fiction and poetry. Nonetheless, she was articulate and extremely gracious, and accepted the award with humility and gratitude.
In the days since, she has expanded slightly on her remarks, saying on her blog:
I said it was awkward to accept the award as a writer of color. (See this post by Nnedi Okorafor, the 2011 winner, if you are confused about why.) I also thanked the board for taking the issue seriously…

I am not telling anybody not to read Lovecraft. I teach Lovecraft! I actually insist that people read him and write about him! For grades! This is not about reading an author but about using that person's image to represent an international award honoring the work of the imagination.
While the issue of replacing Lovecraft's image on the award continues to be hotly debated, I was pleased to see that Sofia's remarks in large part have not been. She is a class act, and if there's anyone who can gently nudge the calcified old guard of fantasy into accepting that the field's highest honor remains (at best) a dubious honor for people of color as long as it bears Lovecraft's image, it's Sofia Samatar. In the meantime, she reminds us that, if she can maintain a sense of humor in all this, so can the rest of us. On her Facebook page she posted the image at right, captured moments after accepting the award (snapped at her table by fellow Small Beer author Nathan Ballingrud), along with this comment:
And also, to be real, we're practically identical. Race is a construct! TWINSIES!
This is how you win arguments. By being simultaneously more articulate and dignified — and funnier — than everyone else in the room. I know who gets my vote to replace Lovecraft's visage on the statue. Perhaps they won't even have to modify it all that much. But trust me, when they're done, it'll be a lot more beautiful.