The Books of Blood, Captain Blood
The Books of Blood, Captain Blood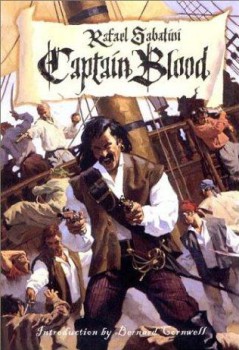 A few months ago, I discovered that Fletcher Vredenburgh was reading Captain Blood at the same time I was working my way through the lesser-known book-length Captain Blood story collections (Captain Blood Returns — aka The Chronicles of Captain Blood — and The Fortunes of Captain Blood). We made a solemn pact to compare notes and share our findings on Black Gate, which brings us here today.
Now Blood isn't remotely a fantasy figure – except in the loosest of senses – but historical swashbucklers had a huge impact on sword-and-sorcery, my favorite flavor of fantasy, so Sabatini and other writers like him are "in the wheelhouse," if you will pardon the pun, and certainly merit a look if it's the action and swordplay in fantasy that you most enjoy.
Also, pirates. With the exception of Treasure Island, Captain Blood is probably the most famous of all pirate stories. Many people have certainly heard of it who've never read it. And if they're curious, they should probably give it a go. Fletcher and I will explain why over the course of the rest of this article.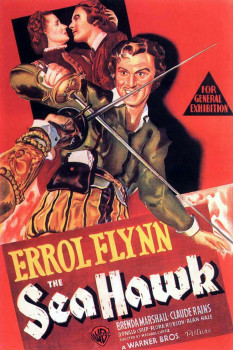 Rafael Sabatini, Blood's creator, has a reputation as a swashbuckling writer and there certainly is some action to be found within the pages of his novels. On the whole, however, his longer works are more social drama with adventuresome elements. By this I mean that the chief conflicts are centered around the social status of the principal characters. The Sea Hawk, for instance, is purportedly a pirate novel, but there are really only one or two naval engagements in the whole narrative.
Sabatini is always tightly plotted, although in the three novels of his I've read there is an identical central plot thread: main protagonist and love interest are kept apart through a series of misunderstandings, disasters, and misjudgments until they finally unite.
Sabatini is gifted with great clarity and narrative drive and wonderful insight into human nature. However, the focus upon a character's role in society and the recurring threat of keeping the lovers apart by whatever means cannot help but feel a story of another time, as do the action sequences that more frequently are related as if they occurred off-stage.
The exception to all this, novel-wise, is Captain Blood. Scaramouche is a stronger book than The Sea Hawk, but Captain Blood is the liveliest of the three that are arguably Sabatini's most famous. The action occurs on stage with great verve and lots of twists and turns. And if you've not read Sabatini before, the "hero separated from heroine" issue is more of a surprise. In any case, it's less a dominant theme because most of Captain Blood is about hair's breadth escapes, raids, sieges, and other moments of grand adventure.
Captain Blood was followed (eventually) by two book-length collections of short stories that take place during long months that are otherwise summarized in the novel. If anything, the short stories are even more lively and less predictable than the original book. But then Captain Blood is a fix-up novel. A masterful one that doesn't really show its seams. (It's hard to tell, unless you're looking for it.) On the whole, many of the most intense bits seem adapted from the original short stories.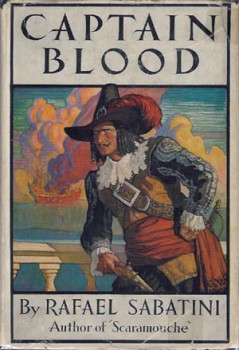 Fletcher: I was struck with the lack of actual swashbuckling in many of the stories. Most of Peter Blood's plans involve a hefty amount of disguise, cons, and the threat of violence rather than its actual deployment. This makes for a richer mix of plots and character types, but is surprising considering his reputation. I find myself curious about Sabatini's nearly forty other novels. Why are none remembered beyond the ones you've mentioned?
Howard: I think some others are remembered, especially by Sabatini fans, but these three (Captain Blood, The Sea Hawk, and Scaramouche) seem to be the ones that are best regarded. Perhaps that's because two of them were made into movies with Errol Flynn, but I can't say for sure. Of the three Blood books (Captain Blood: His Odyssey aka Captain Blood, Captain Blood Returns aka The Chronicles of Captain Blood, and The Fortunes of Captain Blood), which did you like best?
Fletcher: While I enjoyed them all, I most enjoyed The Fortunes of Captain Blood. I especially loved "The Pretender," where Blood is so deep in his scheme to rob the Spaniards he's forced to lead a battle on their behalf. Aside from the terrific action, Sabatini gives us a chance to see how less noble pirates – far less noble than his gentleman adventurer – behave. The story moves with ferocity, switching gears several times yet never failing to provide a clear understanding of where Blood is physically at any given moment.
Throughout the books there is an unending animosity toward the Spaniards, though it does appear to be tied directly to the power and religious struggles between England and Spain at the time, more than any racial qualities.
Howard: That brings up an important point – some ugliness in the narrative. The sexism is fairly typical of adventure stories from its time (there WERE female pirates, but they do not appear in any of Captain Blood's exploits) in that the women have almost no agency. The racial prejudice can be jarring, although it's subdued most of the time. I think Sabatini can be excused for the racism shown against the Spaniards, which seems to be that of an Englishman towards the enemies of his nation, and is aimed at policies rather than at individuals, whom he treats with honor.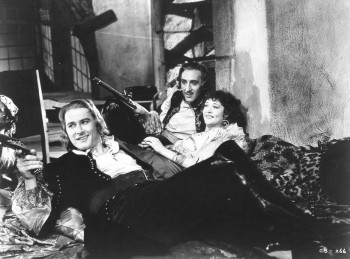 Fletcher: Sabatini provides several examples of honorable and fully capable Spaniards. And the typical Spanish reaction to any Englishman is "heretic dog!" Still, it might be uncomfortable for modern readers.
Toward blacks it's a different matter. Mostly the racism takes the form of dismissiveness; any black characters merely being figures at the margins or given a few lines of terrible dialect. However, in the penultimate story, "Sacrilege," all bets are off. In an earlier story Blood and his crew make every effort to save a friend from the vividly horrible fate of slavery as described by Sabatini. But in "Sacrilege" a group of slaves key to the story is merely a commodity to be bought and sold. In the end, the only concern that Blood – once enslaved himself – has for a shipload of African slaves is that they be adequately paid for.
Which book was your favorite?
Howard: I think I actually enjoyed both short story collections even more than Captain Blood, my favorite of his three full-length novels I read. That said, I don't know that the short stories are quite as much fun if you haven't already read the novel and know who Blood is and what he's about. It's not as if the novel is a slog or anything.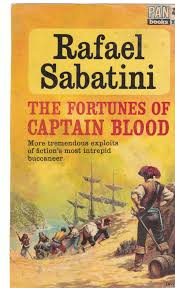 Anyway, the short story collections are full of wonderful moments of trickery and wit and surprise and all kinds of clever stratagems (but then so too is the novel). I looked forward to reading each one of the short stories, which are shining little gems. While I found one review complaining that Blood always wins by trickery, as far as I'm concerned that's like being upset that Sherlock Holmes always solves mysteries by deduction. Watching Blood being wily is the whole point, and the fun.
There's only one real stinker in the bunch, and not from a plotting level. The racism was almost invisible (or should I say only occasionally wince-inducing due to its infrequency) until that penultimate story, "Sacrilege," which was a real turd in the punchbowl. Unfortunately, the callous disregard over the lives of black slaves in "Sacrilege" left me grimacing. That Blood would side with a slaver flew in the face of everything we'd learned about the character. The Blood I THOUGHT I knew would have slapped his knee and told that English slaver he got just what he deserved and then come up with a way to free those slaves rather than working up a trick to get the money due the poor, poor slaver who didn't get paid for his cargo. Ugh. I found myself actually wishing the story had never been written because it really sours Blood's entire narrative. And that's too bad, because the rest of the tales were a real blast.
We've spilled a lot of ink about Sabatini's prejudice, and yet in other ways his depiction of human behavior feels quite modern. But then Euripides feels even more modern, and he was writing a few thousand years earlier.
I think contemporary readers can still find a lot of pleasure in these carefully crafted stories, and that they're worth reading, so long as the reader is aware of the potential pitfalls. What do you think?
Fletcher: Blast is a great word These stories really are a lot of fun. They are tightly and cleverly plotted, and never drag. There's also a great variety to the types of tales. Sabatini was pretty successful at changing things up. The fairly nasty "Blood-Money" is mainly Blood and two villains talking. Others, like "Gallows Key" and "The Gold at Santa Maria", have great battles. While there's a need to remember when they were written, I can't imagine too many readers of adventure stories who wouldn't enjoy just about all of these.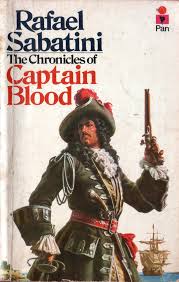 Howard: I was only a little disappointed that most of the other characters are cyphers, apart from the villains. We know the names of some of Blood's loyal crew, but they're really not particularly well developed. It doesn't matter – Blood himself is extremely well drawn: ruthless, charming, and clever. There are some very fine moments that occur throughout the series that still stand out in my memory.
Fletcher: While Blood's compatriots are fairly thin, rarely getting more than a few descriptive words, his enemies are a joy to behold. Whether dim-witted thugs (like Cahusac) of the worst taverns on Tortuga, or noble Spaniards in their wigs and silk (like Rinconete), they are colorful and tough opponents, never giving Blood a moment's rest.
I think Peter Blood's perspective as an outsider – a Catholic Irishman in England; a slave on Barbados – is what makes the stories feel "modern." He stands back from the savagery of his fellow buccaneers and the plantation owners, always condemning it by his own better, more noble deeds. (Exacerbating the already mentioned hypocrisy of his stance in "Sacrilege.")
The long war between Spain and pretty much the rest of Europe in the Caribbean was over wealth. Sabatini imagines a very few honorable operators among equally greedy nations and pirates. Peter Blood is an anomaly among his more cutthroat brethren who savage the Spanish colonies, steal their gold, kill their men, and rape their women. In his eyes the only trustworthy official is the French governor of Tortuga who is willing to buy and sell from the freebooters.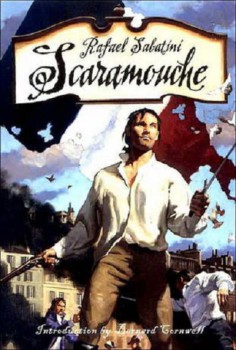 For all his cynicism about noble-sounding causes and faux gentility, Peter Blood does abide by the code of a gentleman. He risks everything to protect Antigua from attack because it's English. He goes out of his way to protect several women from the cads they become enamored of. Sometimes it's a moral struggle, but I love that Sabatini never lets Blood succumb to despair or give in to easy brutality or callousness. (Except, you know, in "Sacrilege.")
Howard: Are you curious enough to try any of his other work? I'd read good things about the writing of The Black Swan, but after I read a plot summary it sounded like the same old Sabatini plot. If you're going to read one version of that plot, I'd recommend it be the novel Captain Blood. Scaramouche has some very fine moments as well, but Blood is better.
Fletcher: I love the films of The Black Swan and Scaramouche so I'll probably give them a shot. Maybe I'll even look up some of those other forty books some day.
Howard: I think when I try more Sabatini it will probably be the short story collection, Turbulent Tales, or some other posthumous collection of his shorter work. As you mentioned, the short stories really shine and have a lot of variety. If I take on another novel I'd want some reassurance that it's not the same plot, or enough distance in years that I don't mind as much. Maybe I'll read the sequel to Scaramouche, Scaramouche the Kingmaker, which is reputedly a different kind of book.
As a final note, I suppose I should add that despite rumors that there is a final Blood story in the collection Turbulent Tales, when I tracked down a copy there was no Captain Blood within. So far as I can determine, these three books are the complete record of the captain's exploits. I wonder why no one's ever printed an omnibus?
---
Howard Andrew Jones is the author of the historical fantasy novels The Desert of Souls, and the The Bones of the Old Ones, as well as the related short story collection The Waters of Eternity, and the Paizo Pathfinder novels Plague of Shadows and  Stalking the Beast. You can keep up with him at his website, www.howardandrewjones.com, and follow him on Twitter or follow his occasional meanderings on Facebook.
Fletcher A Vredenburgh is an archaeo-bibliophile with way too many books and poor editing skills and blogs here and at his own site: Swords & Sorcery: A Blog.