The Top 20 Black Gate Fiction Posts in September
The Top 20 Black Gate Fiction Posts in September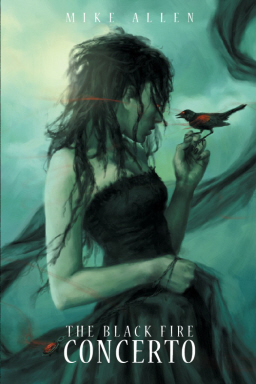 The top fiction posts at Black Gate last month both come from writers who recently released popular new books.
Mike Allen returns to the top of our charts with the exclusive excerpt from his first novel, the dark fantasy The Black Fire Concerto. Not too surprising, given that Mike has received a lot of attention recently, chiefly as a result of his breakout collection, Unseaming, released on October 1st from Antimatter Press. Check it out here.
Knocked out of the top slot last month was "The Find," Part II of The Tales of Gemen by Mark Rigney. "The Trade" and "The Keystone," Parts I and III respectively, also made the list. Check out Mark's first novel, the popular Check-Out Time, released on October 7 from Samhain Publishing.
The #3 and #4 fiction posts in September were from a couple who have become very acquainted with the top of our fiction charts: Janet Morris and Chris Morris. They claimed the #3 slot with an excerpt from their heroic fantasy novel, The Sacred Band, and #4 with "Seven Against Hell," an exclusive sample from their new anthology, Poets in Hell.
Rounding out the Top Five was Joe Bonadonna's exciting sword & sorcery tale featuring his popular hero Dorgo the Dowser, "The Moonstones of Sor Lunarum."
Also making the list were exciting stories by Ryan Harvey, Michael Shea, Howard Andrew Jones, E.E. Knight, John C. Hocking, Aaron Bradford Starr, Harry Connolly, David C. Smith, Sean McLachlan, Steven H Silver, Jason E. Thummel, Peter Cakebread, and Martha Wells.
If you haven't sampled the free adventure fantasy stories offered through our Black Gate Online Fiction line, you're missing out. Here are the Top Twenty most-read stories in September.
The complete catalog of Black Gate Online Fiction, including novel excerpts from John R. Fultz, Jon Sprunk, Dave Gross, David C. Smith, and Joe Bonadonna, as well as new stories by Peadar Ó Guilín, Nina Kiriki Hoffman, Vera Nazarian, David Evan Harris, C.S.E. Cooney, Vaughn Heppner, and many others, is here.
The top fiction from August is here.