The Public Life of Sherlock Holmes: The First Great Holmes (Gillette)
The Public Life of Sherlock Holmes: The First Great Holmes (Gillette)
I recently wrote about John Barrymore's film, Sherlock Holmes, which was based on William Gillette's massively popular play about the great detective.
In 1897 or 1898, Arthur Conan Doyle decided to "revive" Sherlock Holmes, who had gone over the ledge at the Reichenbach Falls in 1893. He wrote the first draft of a play starring the detective.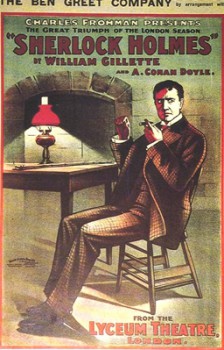 Since he already had scored a hit with his non-Holmes play, A Tale of Waterloo, Doyle must have figured that the public would ring up the cash register in seeing their favorite detective again: this time on the stage.
Doyle lost interest in the project, but his agent sent the five-act play off to noted Broadway producer and agent Charles Frohman. Frohman, who died aboard the ill-fated Lusitania, felt that the play was not commercial enough as it was and told Doyle that popular American actor William Gillette should revise and then star in it.
The uninterested Doyle gave his permission and Gillette transformed Holmes into more of a melodrama star and less of a stodgy British detective.
Gillette read all of Doyle's original stories, took four weeks off from his current tour for the popular Secret Service and rewrote the play. That November, a fire in San Francisco's Baldwin Hotel destroyed all of the scenery and sets of Secret Service; and also the only script of Sherlock Holmes!
It's Elementary – Gillette asked Doyle if he could marry Holmes for the play. Doyle's reply via telegram has become famous: "You may marry him, murder him or do anything you like to him."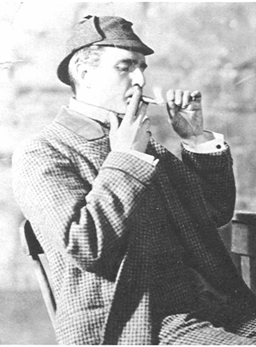 Gillette painstakingly rewrote the entire play again and then went to England to present it to Doyle. In May of 1899, Doyle went to meet Gillette at the train station. He was amazed to see Sherlock Holmes himself step onto the platform. Gillette had decked himself out in full regalia, including a large gray cape and a deerstalker cap.
The actor walked up to Doyle, whipped out a magnifying glass and pronounced, "Unquestionably, an author." Doyle roared his approval and an immediate friendship was formed.
Moving pictures were barely in their infancy and the stage was still supreme. Gillette's play, entitled Sherlock Holmes – A Drama in Four Acts, opened for a three-show trial in Buffalo, NY, on October 23, 1899. It was a tremendous hit. He would bring it to England in September of 1901 and enjoy more success.
William Gillette became the personification of Sherlock Holmes on two different continents. He would portray the great detective over 1,300 times on stage, make a silent film of the play in 1916, and become the first Holmes on radio in 1935. From that first stage performance in 1899 to his last in 1932 (at the age of 79!), William Gillette was Sherlock Holmes.
Legend attributes the famous curved pipe to the actor. Gillette was having trouble clenching a straight pipe in his teeth and speaking his lines: the pipe kept falling out of his mouth! So, he switched to the other style, which was easier to use. That pipe is known as a meerschaum or a calabash and is associated with Holmes more than any other.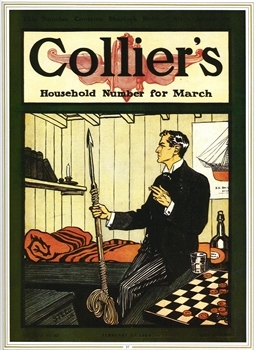 Just as importantly to his enduring fame, Frederic Dorr Steele, the greatest American illustrator of the Canon, used Gillette's likeness for his drawings, which were extremely popular. When people went to the theater or read Colliers, it was William Gillette's profile that they saw as Holmes.
Doyle received a royalty for each performance, so he was quite pleased with the play's success. However, he also genuinely believed that Gillette was a marvelous actor and was a tremendous Holmes.
Doyle once wrote to Gillette "…my only complaint being that you make the poor hero of the anemic printed page a very limp object as compared with the glamour of your own personality which you infuse into his stage presentment."
In 1974, The Royal Shakespeare Company dusted off the play, with John Wood as Holmes. It was a smash success and, along with Nicholas Meyer's book and movie, The Seven Percent Solution, was largely responsible for a major revival of interest in Holmes that was unequalled until the present. Leonard Nimoy would don the deerstalker on stage, as would movie Holmes's John Neville and Robert Stephens.
The play is still performed today, and an excellent version was taped live and broadcast on Home Box Office in 1981, starring Frank Langella as Holmes. It is one of my favorite Holmes movies.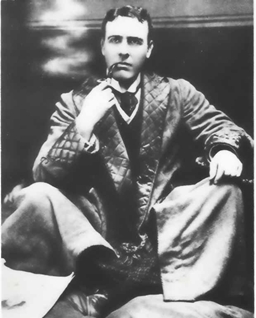 Gillette also poked fun at his most famous role with a little-remembered play. In 1905, he was to perform a comedy sketch called The Silent System for a charity evening. It fell apart, and at the last minute, he wrote and performed The Painful Predicament of Sherlock Holmes. After only twenty minutes of rehearsal with Ethel Barrymore (The Great Profile's sister), the two performed it.
The most notable thing about this play is that Gillette does not speak a single line. A Miss Gwendolyn Cobb bursts into his room, much chaos ensues, and eventually she is removed to an asylum. Throughout it all, Holmes utters not a word. The New York Tribune wrote an impressive review, Gillette performed it at one more benefit evening, and then put it on the shelf.
It's Elementary – Twelve-year-old Charlie Chaplin credits being cast as Billy in H.A. Saintsbury's touring version of the Gillette play as being the cornerstone of his career.
In September of that year, Gillette's play Clarice was struggling. Gillette added his Holmes spoof as a curtain raiser, bringing in Chaplin from his Sherlock Holmes touring company to play Billy. Alas, it wasn't enough, as Clarice closed shortly thereafter.
Forced to perform a substitute play for the rest of the engagement, he did – you guessed it – Sherlock Holmes! A few years later, Arthur Conan Doyle would bail out one of his own failed productions with a Sherlock Holmes play.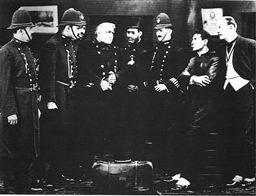 William Gillette was unquestionably the first great Sherlock Holmes.
So…A few weeks ago, in a casual aside that left my jaw on the floor, a noted Holmes in film expert told me that Essenay's 1916 film of the Gillette play has been found! On October 1, it was verified. A print was found in France and is being restored in San Francisco.
Gillette was in his early sixties when he made the film, so he's not likely to be quite as spry as he was when he first began performing the play almost twenty years earlier. But this is an almost unrivaled find. Coupled with the restoration of John Barrymore's lost film of the Gillette play, Holmes fans have been blessed lately. Perhaps Arthur Wontner's The Missing Rembrandt will show up!
---
Bob Byrne founded www.SolarPons.com, the only website dedicated to the 'Sherlock Holmes of Praed Street' and blogs about Holmes and other mystery matters at Almost Holmes. 
For over a decade, he ran HolmesOnScreen.com, the Net's leading resource for Holmes in film and on television.