Vintage Treasures: The Outlaw of Torn by Edgar Rice Burroughs
Vintage Treasures: The Outlaw of Torn by Edgar Rice Burroughs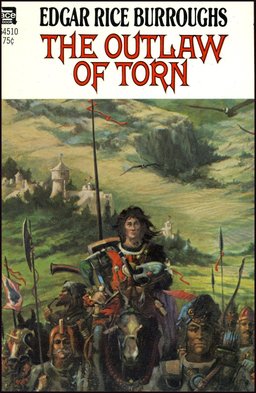 Truth be told, I've never been much of a fan of Edgar Rice Burroughs. I think he's a taste you acquire young or not at all, and I missed the window by not reading any ERB before I turned 25. Talk about a wasted youth.
Of course, it's entirely possible I simply haven't read the right book yet. If I were going to be shipwrecked on a desert island tomorrow, and I just happened to get tipped off in advance, I would probably grab a copy of The Outlaw of Torn to bring with me. I've wanted to read it ever since I laid eyes on it many years ago, and I've had it recommended to me many times by ERB fans since.
At seventeen he was the greatest swordsman in England. At eighteen his reputation as a fearless outlaw had spread throughout the land and there was a tremendous price upon his head. At nineteen he was the leader of a fierce band of more than a thousand men, from nobleman to serf, the only requirements being willingness and ability to fight and an oath to obey the Outlaw of Torn.

Who was this Norman of Torn, the fame of whose daring exploits was ringing throughout the land? Where did he come from? Was he of noble blood or was he of commoner origin?

Through savage combats the Outlaw fights his way in his love for the beautiful daughter of the most powerful baron in England to find the secret of his birth.
On the other hand, our resident ERB expert Ryan Harvey didn't think too much of The Outlaw of Torn, calling it "stodgy and drearily artificial; it lacks the zest of the best of Burroughs's work" in his feature review. And Ryan has rarely steered me wrong. I suspect he'd suggest a different book for my ill-fated voyage. (Of course, a true friend might also suggest a different travel agent…)
The Outlaw of Torn was originally serialized in New Story Magazine starting in January 1914, and published in hardcover by McClurg in 1927. The Ace paperback edition above was published in 1965; it is 255 pages, priced at $0.75. The cover is by the great Roy Krenkel, Jr. (Click for bigger version.)