Vintage Treasures: The Voyage of the Space Beagle by A. E. van Vogt
Vintage Treasures: The Voyage of the Space Beagle by A. E. van Vogt
And now we move to one of the great SF classics of the Golden Age: A. E. van Vogt's The Voyage of the Space Beagle, the tale of an intrepid crew of space explorers and their adventures on distant and deadly worlds, frequently cited as an obvious influence on both Star Trek and Alien.
But first, a few words about A. E. van Vogt, one of the greatest and most prolific writers of SF's Golden Age, whom we haven't discussed much at Black Gate (probably because he didn't write a lot of fantasy). I read his classic novel Slan (1946) at an early age, and it had a big impact on me, pulpy and simplistic as it was. Van Vogt wrote nearly 40 SF novels between 1946 and 1985 — including the classics The World of Null-A (1948), The Weapon Shops of Isher (1951), and The War against the Rull (1959) — and published two dozen short story collections. He received the 14th Grand Master Award by The Science Fiction Writers of America in 1995.
Van Vogt has taken something of a beating from modern critics for his pulpy style and rather sloppy plotting, but he had many ardent fans, including Philip K. Dick, who said:
There was in van Vogt's writing a mysterious quality, and this was especially true in The World of Null A. All the parts of that book did not add up; all the ingredients did not make a coherency. Now some people are put off by that. They think that's sloppy and wrong, but the thing that fascinated me so much was that this resembled reality more than anybody else's writing inside or outside science fiction.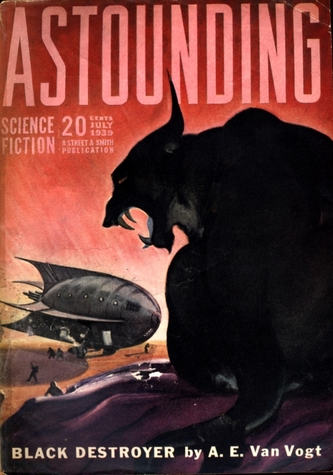 Only Philip K. Dick could describe plots that don't make sense as a feature, rather than a bug.
The Voyage of the Space Beagle (the title is an homage to Charles Darwin's famous scientific memoir The Voyage of the Beagle) is unapologetic pulp SF, and could only have been written in the Golden Age of Science Fiction. Truth to tell, you need a mild tolerance for pulp fiction to fully enjoy it these days. But if you don't have that, you have no soul, and we can't be friends.
Space Beagle is a "fix-up" novel (a term coined by Van Vogt), meaning it was cobbled together from short stories originally published separately. The four stories contained within are:
Chapters 1-6: "Black Destroyer" (Astounding Science-Fiction, July 1939)
Chapter 7: New material
Chapters 8-12: "War of Nerves" (Other Worlds Science Stories, May 1950)
Chapters 13-21: "Discord in Scarlet" (Astounding Science Fiction, December 1939)
Chapters 25-28: "M 33 in Andromeda" (Astounding Science-Fiction, August 1943)
"Black Destroyer" is the tale of a deadly carnivorous cat-like alien, the coeurl, who stalks the crew of an exploration spaceship. Van Vogt's first published short story, it made the cover of the July 1939 issue of Astounding Science Fiction (right; cover art by Graves Gladney).
The story immediately catapulted Van Vogt to the front rank of SF writers. In fact, this issue of Astounding is commonly accepted as the one that ushered in the Golden Age of Science Fiction. There were other star contributors (including C.L. Moore, Nat Schachner, Nelson S. Bond, and the first appearance of a young Isaac Asimov), but it was "Black Destroyer" that readers remembered.
The crew of the Space Beagle returned five months after the appearance of "Black Destroyer"  in the much longer story, "Discord in Scarlet," published in the December 1939 issue of Astounding Science Fiction (below left, cover by Gilmore).
Space Beagle was first published in hardcover by Simon & Schuster in 1950 (above left, cover by Lew Glansman). That's a very rare and collectible book today. The first paperback copy was published by Signet in 1952, under the title Mission: Interplanetary (above middle; cover by Stanley Meltzoff.)
It finally appeared in paperback under the original title in 1963, in a colorful edition from Macfadden Books (above right, cover art by Richard Powers).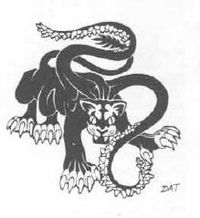 If the alien coeurl looks vaguely familiar, I'm not surprised. Van Vogt's creation has been adopted for use in other works many times since 1939, in places as diverse as the Final Fantasy video games, the anime Dirty Pair, David Gerrold's novel A Season for Slaughter, the Pathfinder RPG, and Guild Wars 2.
Perhaps most famously, the coeurl was the inspiration for the Displacer Beast in Dungeons and Dragons.
See the complete list at the Wikipedia entry for the coeurl.
The book was reprinted in a handsome new edition in 1968, with a brand new Powers cover (above middle), and an August Derleth quote on the cover. Here's the back cover blurb for this edition:
What Unimaginable Dangers
What Terrifying Alien Creatures
What Unexplored Worlds
…exist in the vast stretches of the universe not yet penetrated by man?

The expeditionary ship Space Beagle had been sent to find out. Its crew, eminent scientists from every field of human knowledge, had been specially trained and equipped to overcome any danger they might encounter. But their greatest peril was aboard ship – where advanced technical knowledge, in the hands of ruthless men, could become an irresistible force for destruction.
The next notable edition was the 1973 Panther paperback (above right, cover by Chris Foss.) I have no idea if this one was painted specially for Van Vogt's novel, but whatever the case, Foss nailed it.
One of my favorite artists, the great Bruce Pennington (who painted the covers for Black Gate 12 and BG 14), contributed the next cover, for the June 1977 paperback edition from Manor Books (above left.) I'm not sure that cover actually illustrates a scene from the book, but that's okay. Bruce is awesome.
The novel returned to print once again in July 1981, this time with the alien coeurl back on the cover (above middle, art by Gerry Daly), as part of Pocket's fondly-remembered Timescape line.
Most recently, Orb Books brought The Voyage of the Space Beagle back into print in trade paperback in July 2008 (above right, cover by Bruce Jensen.) That edition is still in print today.
While the book is fondly remembered by most fans from the era, not everyone considered Van Vogt's fix-up formula successful. Here's our own James Enge, from a 2009 Black Gate blog post:
Van Vogt was always mutilating his best short stories by trying to make them part of something bigger: consider the sad fate of "Black Destroyer" and "Discord in Scarlet", welded into the bulk of an ungainly construction dubbed The Voyage of the Space Beagle. (Although that's an awesomely tone-deaf title. One envisions an indefinite series of sequels: Bride of the Space Beagle, Son of the Space Beagle, Revenge of the Space Beagle, etc., all featuring the further adventures of the star-spanning canine suggested by the original title.)
We've covered several vintage paperbacks with a panorama of covers in the past few weeks, including:
Cemetery World by Clifford D. Simak
The Beast Master by Andre Norton
Big Planet by Jack Vance
Pavane by Keith Roberts
City Under the Sea by Kenneth Bulmer
Galactic Derelict by Andre Norton
Six Worlds Yonder / The Space Willies by Eric Frank Russell
Sentinels of Space by Eric Frank Russell
Men, Martians, and Machines by Eric Frank Russell
See all of our recent Vintage Treasures here.