The Public Life of Sherlock Holmes: Reggie Owens' A Study in Scarlet
The Public Life of Sherlock Holmes: Reggie Owens' A Study in Scarlet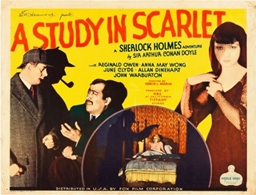 In 1929, Clive Brook's The Return of Sherlock Holmes ushered in the era of 'talkies' featuring the great detective. Although it was also released as a silent film, likely because many theaters had not yet converted to sound system projectors.
The movies went crazy over Holmes, with three big screen efforts in 1931:The Speckled Band (Raymond Massey), The Sleeping Cardinal (Arthur Wontner), and The Hound of the Baskervilles (Robert Rendel).
Cardinal was released in the US as Sherlock Holmes' Fatal Hour. Rendel's film was thought lost for years, with a print but no soundtrack. However, one was found and the two were merged. I've yet to see (and hear) that one.
Three more movies followed in 1932: The Missing Rembrandt and The Sign of Four (both with Arthur Wontner) and Sherlock Holmes (Clive Brook again). In Brook's second turn as Holmes, his Watson was Reginald Owen, who would achieve success as Ebenezer Scrooge.
1933 saw only one Holmes movie, and it was Owen moving up to the starring role in a version of A Study in Scarlet. Well, sort of.
Two members of 'The Scarlet Ring' have died and their financial assets have been divided among the surviving members. The widow of the second dead man visits 221A Baker Street (yes, you read that right) and Holmes is on the case!
Commentators have stated this movie is in the style of an Edgar Wallace mystery. It certainly doesn't feel very Holmesian and the film has nothing to do with the title story, which the opening credits say it is "suggested by." The 'herd of buffalo' dialogue is included from Doyle's tale, which is something, I guess.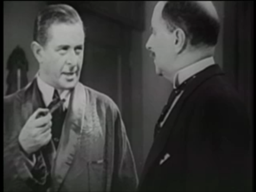 One of the ring members has the Canonical name of Jabez Wilson, though with no ties to "The Red Headed League." And the astute Sherlockian will detect a little bit of The Valley of Fear.
Owen isn't built like a typical Holmes; there's no 'lean' to him at all. He looks more like Robert Rendel and Stewart Granger than Basil Rathbone or Jeremy Brett. As for costuming, while he donned the Inverness and deerstalker for publicity photos, he never actually wore either in the film itself.
To Owen's credit, The New York Times said that he gave, "quite an effective performance," while the Herald Tribune called him, "intelligent and amusing."
Anna Mae Wong plays the stereotypical sneaky Asian female while Alan Mowbary is the usual ineffective Lestrade. He had appeared with Owen in Brook's Sherlock Holmes and would have a prominent part in Basil Rathbone's Terror By Night. Mowbary carved out a long career in supporting roles, including The King and I and Hitchcock's The Man Who Knew Too Much.
Thaddeus Merrydew is described as "London's most dangerous crook, the king of blackmailers, a gliding, sliding, venomous snake." Sounds like a combination of Charles Augustus Milverton and Professor Moriarty! I think he would have been a good Perry Mason. The naming of the villain may actually have been a clever bit, as Holmes refers to a "Merridew of abominable memory" in "The Adventure of the Empty House."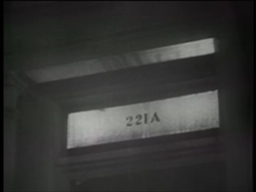 Warburton Gamble is a forgettable Watson. He doesn't really add anything to the story, though he doesn't come across as bumbling as Arthur Wontner's sidekicks, Ian Hunter and Ian Fleming (not the James Bond creator). He's just not noticeable.
The first time I watched this, I thought that it was pretty bad. The second time around, I viewed it as more of an Agatha Christie-style film than a Holmes movie and actually liked it a bit. The story resembles Christie's And Then There Were None, which it precedes by six years. I'd like to see a knowledgeable Christie fan speculate on the extent to which this film inspired her story.
Owen hoped to start a franchise of Holmes films. That would happen, but six years later with Basil Rathbone, not Owen. As the great Arthur Wontner had already made three of his four Holmes efforts, Owen was destined to be a mere footnote in the film history of Sherlock Holmes.
It's Elementary – Director Edward Marin would team up with Owen again in 1938's well-received Scrooge, with Owen playing the miserly humbug.
---
Bob Byrne founded www.SolarPons.com, the only website dedicated to the 'Sherlock Holmes of Praed Street' and blogs about Holmes and other mystery matters at Almost Holmes. 
For over a decade, he ran HolmesOnScreen.com, the Net's leading resource for Holmes in film and on television.