The Ballantine Adult Fantasy Series: Land of Unreason by Fletcher Pratt and L. Sprague de Camp
The Ballantine Adult Fantasy Series: Land of Unreason by Fletcher Pratt and L. Sprague de Camp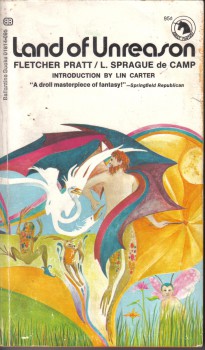 Land of Unreason
Fletcher Pratt and L. Sprague de Camp
Ballantine Books (240 pages, January 1970, $0.95)
Cover art by Donna Violetti
Lin Carter ended the inaugural year of the BAF series with a reprint of a novel from the pulp Unknown, Hannes Bok's The Sorcerer's Ship. His first selection for the series' first full calendar year was another tale from Unknown (the October 1941 issue), a collaboration between Fletcher Pratt and L. Sprague de Camp.
Land of Unreason followed the first two Harold Shea stories among their collaborations. In this story, they introduce a new character, a young diplomat named Fred Barber, who is taking a medical rest in the Irish country-side.
One night, he notices his hostess leaving some milk out for the fairies, so that her infant son won't be taken and a changeling left in his place. Fred is contemplating his bottle of single malt to help him get to sleep and decides he's rather have the milk since that has been his proven cure for insomnia all his life. Also, milk is strictly rationed, and he doesn't want to see it wasted. He drinks most of it, leaving just a little, into which he pours a generous amount of his whiskey.
Fred then goes to bed and quickly drops off to sleep. The fairy who finds the whiskey drinks it and gets plastered. Since he didn't get any milk, he goes into the house to take the baby and leave a changeling. Only in his inebriated state, he takes Fred rather than the infant sleeping in the next room.
When presented to Titania, it takes Fred a while to convince her he isn't an infant. Eventually he does, but not before being fitted for a giant diaper. Oberon is a bit more understanding once he hears Fred's explanation as to what he does for a living. He is soon sent on a mission to the kobolds. They're the only ones in the land of fairy who can handle iron. The only ones except for Fred, that is. The kobolds are making weapons.
Titania gives him her wand and tells Fred that as long as he doesn't lose it, his journey will be successful. If he loses it, then he will endure hard times. Of course, Fred loses it.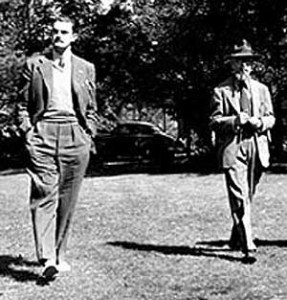 This results in a series of misadventures that include Fred being turned into a frog and eventually becoming the subject of a prophecy that will restore harmony to the lands of fairy.
The title of the novel has to do with how logic works in this land Fred finds himself in. Human logic isn't valid here. Ultimately, Fred figures out that the lands of fairy have a logic all their own. Once he figures it out, he's able to ultimately triumph.
I read the Shea stories about 15 years ago, so my memory is a little fuzzy, but I thought the humor was funnier here. Like the Shea stories, though, I found the humor grew thinner as the story went on. Almost as if the authors couldn't maintain the joke that long. So they switch over into a problem to be solved wrapped in a travelogue. The result is the book starts out as one type of story and ends up as another.
Of course, humor is very subjective, and I've found that I have to be in the right frame of mind for it, at least in written form, so it could just be me.
Lin Carter writes in his introduction that the collaborations between Pratt and de Camp produced work that was unlike what either man produced individually. I tend to agree with this statement in general. I'm not so sure how true it is here.
Other than the occasional short story, I've not read de Camp in years. So my memory is a little suspect at this point. That being said, I recall that de Camp's novels tend to be rather dry. This is, in large part I think, due to the fact that de Camp was an engineer. My memories of his work are that the novels tended to have some idea behind them, the consequences of which de Camp proceeds to work out with rigor. Character and action weren't the main focus of the stories. This isn't to say I haven't enjoyed his work (I have); just that it isn't the sort of thing you want to read right before bedtime. I think de Camp's strengths were at the shorter length, Conan pastiches excepted.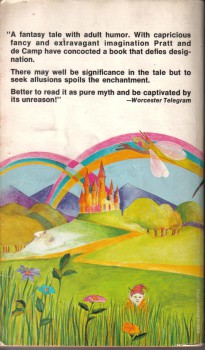 I found the ending of Land of Unreason to be a bit rushed, which contributed to my sense of dissatisfaction as the story came to a conclusion. The prophecy, while vaguely alluded to in one or two spots in the first two-thirds, only really becomes important in the last portion of the novel.
The overall impression I had was that de Camp and Pratt were coming up on a word limit and had to cut things short. Considering that John Campbell probably did have some tight word limits for the novels he published in Unknown, that would make sense. The copyright notice in the paperback says that the version published in Unknown was a shorter version. I have to wonder if de Camp expanded it or simply allowed Carter to publish the original manuscript as it existed before Campbell made any editorial changes.
This was an enjoyable novel, especially in the first few chapters where the humor was strongest. The plot seemed to move better than it did in The Blue Star and the hero here is certainly more heroic. Fred not only strives to do the right thing, but he considers the consequences of his actions and who they hurt. This isn't something every protagonist does. My only real complaint about his heroics is in the fulfillment of the prophecy in the final 40 pages. Fred had it entirely too easy.
Unknown was one of the best fantasy magazine in history. I'm glad Carter reprinted Land of Unreason. While not the best novel to come out of that magazine, it certainly has aged well and is still enjoyable today.
When I began this series, I had the intention of posting about once a month. I've not quite hit that, and John has been quite patient when no post has been forthcoming.  (Many thanks, sir.)  Since next month is October, I'm going to once again break the sequence of novels and skip ahead to something seasonal. I'm not sure what exactly it will be, but I'll look at something in the vein of Lovecraft.
Join me, won't you?
Previous posts in this series are:
Lin Carter and the Ballantine Adult Fantasy Series
The Blue Star by Fletcher Pratt
The King of Elfland's Daughter by Lord Dunsany
The Wood Beyond the World by William Morris
Lilith by George MacDonald
The Silver Stallion by James Branch Cabell
The Sorcerer's Ship by Hannes Bok
Deryni Rising by Katherine Kurtz
---
Keith West blogs way more than any sane person should. His main blog is Adventures Fantastic, which focuses on fantasy and historic fiction.