The Swordfolk Among Us
The Swordfolk Among Us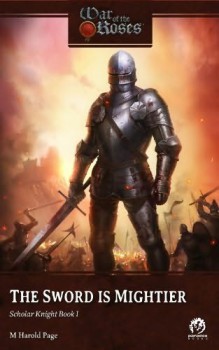 The New York Times has done a short documentary on modern longsword fighting and everybody's reacting like the media suddenly started covering quidditch; all the muggles are looking around and seeing the wizards for the first time…. except we're swordsfolk, not wizards. However, like the wizards, we've been around a long long time.
Rewind a couple of weeks. I'm in a slightly tatty but sterile NHS consulting room speaking to a specialist doctor…
"I see you are a writer, Mr Page." My consultant, as we call them in the UK, is an avuncular German, perhaps in his 50s.
I admit to my profession. I write "anything with swords in it."
"Ah! You like swords?"
I tell him about my hobby, show him my sword scar.
"Tell, me," asks this decidedly grown up, highly-qualified professional, whose eyes now have a twinkle. "Have you heard of Academic Fencing?"
Academic Fencing is a primarily German tradition. Young men with special face masks to protect eyes, ears, and mouth slash each other with whippy dueling blades in a highly ritualised environment. It's why Prussian officers have scars in all the old movies.
And he's done it.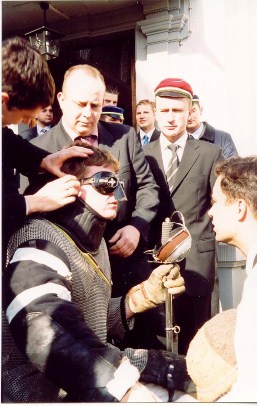 He's fought with sharps. He has dueling scars. He's "one of us" but more so.
For a few moments, our formal doctor-patient relationship falls away. We shake hands. He shows me his faded scars and lets slip that he won more duels than he lost.
So much for my little sword scar.
And as I negotiate the cordon of smokers outside the hospital, I add another skein to my mental map of the web of swordfolk that permeates western society.
I first became aware of this invisible steel web a couple of years ago. I was in Edinburgh, walking down my street to catch the bus to fencing, and I spotted a bearded man lugging a similar shaped bag up the street.
"Swords," I blurt.
Beardy stops. "Pardon?"
"You have swords in that bag."
He frowns. "Two swords, a seax, and an axe."
I pat my bag. "Longsword and greatsword." I gave a half bow. "DDS."
He smiles. "Men of the North."
We exchange pleasantries and go our separate ways. Over the next months, I have fun spotting part-time Vikings lugging a variety of weapons to their practice venue. (Top tip for those carrying concealed weapons: a two handed axe and a heater shield wrapped in brown paper still look like a two handed axe and a heater shield…)
But what I'm getting at.  In any city, you are never far from somebody who knows how to use an edged weapon. I'm not just talking practitioners of the Eastern Martial Arts. I'm talking battle re-enactors,  SCA, Living History and my own beloved Historical European Martial Arts (HEMA). You don't believe me? Google "HEMA" plus your city. See what comes out.
So now thanks to the New York Times, the curtain has raised a bit. So… (ahem)…
Hello… Muggles! Don't worry. The weapons are blunt. But if the zombies or the Fae rise up, if the werewolves rampage, it will be sturdy practitioners of German and Italian Longsword who carve them into tiny pieces!
---
M Harold Page (www.mharoldpage.com) is a Scottish-based writer and swordsman with several Historical Adventure franchise books in print all of which have swords in them. His creative writing handbook, Storyteller Tools is available on Amazon. He would love to teach you how to use a longsword.