Future Treasures: The Mammoth Book of Steampunk Adventures edited by Sean Wallace
Future Treasures: The Mammoth Book of Steampunk Adventures edited by Sean Wallace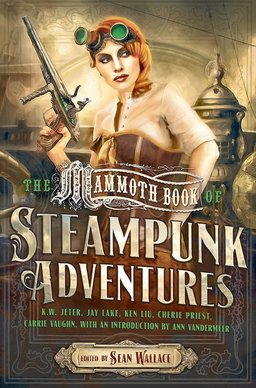 Last January, we told you about Sean Wallace's intriguing anthology The Mammoth Book of Steampunk, a generous collection of short fiction from Amal El-Mohtar, Barth Anderson, Jeffrey Ford, James Morrow, Mary Robinette Kowal, Aliette de Bodard, N.K. Jemisin, and many others.
The book was a solid success and no publisher can resist success. So it should be no surprise that the sequel, The Mammoth Book of Steampunk Adventures, is scheduled to arrive next month here in the US (it's already on sale in the UK).
This volume collects over 30 steampunk tales, including three originals from Benjanun Sriduangkaew, E. Catherine Tobler, and Jonathan Wood. Other contributors include K.W. Jeter, Tobias S. Buckell, Cherie Priest, Jay Lake, Christopher Barzak, Carrie Vaughn, Chris Roberson, Alex Dally MacFarlane, Tony Pi, Aliette de Bodard, Nisi Shawl, Genevieve Valentine, Sofia Samatar, Caitlín R. Kiernan, Cat Rambo, Margaret Ronald, Ken Liu, and many others.
Our very own C.S.E. Cooney contributes a reprint, her marvelous tale "Canary of Candletown," from Steam-Powered II. Ann VanderMeer provides the introduction.
Sean Wallace is also the editor of the upcoming The Mammoth Book of Warriors and Wizardry, a very promising sword & sorcery collection with a story reprinted from Black Gate (Matthew David Surridge's "The Word of Azrael"), as well as contributions from James Enge, Chris Willrich, Aliette de Bodard, Mary Robinette Kowal, N.K. Jemisin, Saladin Ahmed, and many others.
I'm a big fan of these Mammoth anthologies. They're attractive, well edited, and a great value for the money. Keep your eye out for this one.
Here's the complete Table of Contents.
Introduction by Ann VanderMeer
"Smoke City" by Christopher Barzak
"Memories in Bronze, Feathers, and Blood" by Aliette de Bodard
"Love Comes to Abyssal City" by Tobias Buckell
"Canary of Candletown" by C.S.E Cooney
"On the Lot and In the Air" by Lisa L. Hannett
"Beyond Calais" by Samantha Henderson
"La Valse" by K.W. Jeter
"The Colliers' Venus (1893)" by Caitlin R. Kiernan
"Benedice Te" by Jay Lake
"Good Hunting" by Ken Liu
"Selin That Has Grown in the Desert" by Alex Dally MacFarlane
"The Curse of Chimère" by Tony Pi
"Tanglefoot" by Cherie Priest
"Ticktock Girl" by Cat Rambo
"Edison's Frankenstein" by Chris Roberson
"The Governess and the Lobster" by Margaret Ronald
"I Stole the D.C.'s Eyeglass" by Sofia Samatar
"The Clockworks of Hanyang" by Gord Sellar
"The Return of Cherie" by Nisi Shawl
"Five Hundred and Ninety-Nine" by Benjanun Sriduangkaew
"Green Eyed Monsters in the Valley of Sky, An Opera" by E. Catherine Tobler
"Harry and Marlowe and the Talisman of the Cult of Egil" by Carrie Vaughn
"Terrain" by Genevieve Valentine
"A Mouse Ran up the Clock" by AC Wise
"Anna in the Moonlight" by Jonathan Wood
The Mammoth Book of Steampunk Adventures will be published October 7, 2014 by Running Press. It is 512 pages, priced at $14.95 in trade paperback and $9.99 for the digital edition.
See more upcoming Future Treasures here.