So We Were In This Bar . . .
So We Were In This Bar . . .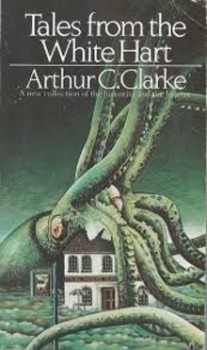 There's a long tradition in western literature of the "framing device" – think Chaucer and The Canterbury Tales … or the Thousand Nights and a Night if we want something more obviously in our genre. Or Asimov and his Black Widower Mysteries.
My personal favourite among short story framing devices, however, is the bar story -– and I don't mean the kind that starts, "We were in this bar…" Though, come to think of it, that's how all my vacation stories start. Hmmm.
The device itself is fairly straightforward. The bar is a gathering place of disparate, but like-minded, people who exchange stories and anecdotes, usually involving people not present at the time. Sometimes the patrons of the bar take turns telling tales and sometimes, as with PG Wodehouse's collections Meet Mr. Mulliner and Mr. Mulliner Speaks, one person in particular is the storyteller.
Undoubtedly because the storytellers are in a bar, the stories themselves can get a bit far-fetched, leading to such well-known formats as the Shaggy Dog Story and even the Tall Tale itself.
Which seems tailor-made for SF and Fantasy stories, don't you think?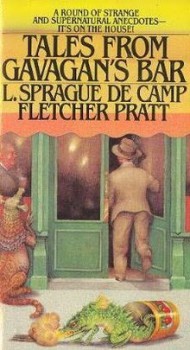 Plenty of others have certainly thought so. Just taking a look at my own shelves, I see Arthur C. Clarke's Tales From the White Hart. Though it isn't a necessary convention of the bar framework, it's known that Clarke based the characters in the White Hart Tavern on fellow SF writers and fans who hung around the real-world White Horse Tavern.
Then there's L. Sprague de Camp and Fletcher Pratt's Tales from Gavagan's Bar. The place is described as an "old-fashioned bar, set in the US, sometime in the 1950's." I've actually heard de Camp read one of these stories and I was surprised to learn that the name of the bar is pronounced GaVAYgan.
I don't think we can talk about using a bar setting as a framing device without coming to Spider Robinson's Callahan's Bar. Between stories set in the bar itself and the related stories set in Lady Sally's Place, there must be at least seven books involving these characters, starting with the first anthology, Callahan's Crosstime Saloon.
The framing device is pretty much the standard one I described above, but there are some interesting innovations in the Callahan stories. For one, while the narrator is always Jake the guitar player, all the stories are told in the first person. Robinson can do this because the stories actually take place in the bar and involve as characters – not as mere listeners – the patrons themselves.
You know that feeling you sometimes get while having serious discussions in a bar that you could solve some of the world's problems? Well, these guys actually get a chance to do it.
And, in keeping with the tradition, the characters also tell shaggy dog stories, tall tales, and have riddle nights.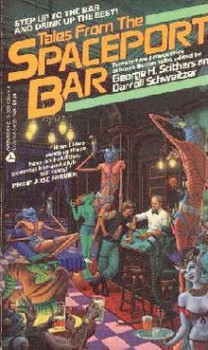 Finally I'd like to mention Tales From the Spaceport Bar and Another Round at the Spaceport Bar, edited by George H. Scithers and Darrel Schweitzer. These anthologies collect bar-set stories from different writers, some originals, and some re-printed. There's no overall bar framework holding these stories together. Most of them are just stories set in bars, but there are a few individual examples that are part of the bar framework tradition, such as Larry Niven's Draco's Tavern stories, and de Camp and Pratt's Gavagan's Bar.
While all the anthologies I've been talking about have some element of SF, Fantasy, or Horror to them, what I don't find on my shelves are any examples of heroic fantasy stories that use the bar setting as a framing device. Or even a collection of bar-set stories. Any suggestions?
By the way, I had to mention Wodehouse's Mr. Mulliner because one of the stories has my favourite non-Shakespearean insult. Of his nephew Archibald, Mr. Mulliner says: "Had his brain been constructed of silk, he would have been hard put to it to find sufficient material to make a canary a pair of cami-knickers."
Beautiful. Just beautiful.
---
Violette Malan is the author of the Dhulyn and Parno series of sword and sorcery adventures, as well as the Mirror Lands series of primary world fantasies. As VM Escalada, she writes the soon-to-be released Halls of Law series. Visit her websitewww.violettemalan.com.