Sean P. Fodera Threatens to Sue 1,200 Writers Linking to Daily Dot Article
Sean P. Fodera Threatens to Sue 1,200 Writers Linking to Daily Dot Article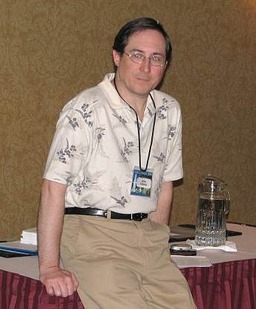 Macmillan's Associate Director of Contracts, Sean P. Fodera, who used the ongoing kerfuffle inside SFWA as cover for a sexist attack on ex-SWFA officer Mary Robinette Kowal, has now threatened to sue all those linking to Aja Romano's article on the topic at Daily Dot (including, presumably, Black Gate).
I have a very good case for a libel suit. I suppose no one noted that I work in the legal profession within the publishing industry, and have taught college courses on the subject… as of now, it looks like the article was "shared" 1,200 times already. That makes each of those sharers a part to the libel, and makes each of them equally culpable in the eyes of the law. I'll speak to my attorney first thing tomorrow.
Macmillan owns Tor, the company that publishes Mary's Nebula Award-nominated Glamourist Histories novels.
Earlier this week on his blog Whatever, ex-SFWA President John Scalzi invited Fodera to sue him first:
If you honestly believe you can sue me for libel for linking to this article, you are, in my opinion, deeply ignorant of how libel works in the US… But if you are determined to sue 1,200 people for linking to a newsworthy article, you may begin with me. You know who I am and I am very sure you know where I am, since many of my book contracts route through your office. I await notification of your suit.
But perhaps the most salient analysis of the issue comes from the libertarian group weblog Popehat, in an article by Ken White titled "Science Fiction Community Generates This Weekend's Buffoonish Defamation Threat":
If Fodera was angry before, this coverage made him really angry. How dare someone quote him and link to the full quotes!…

Though Fodera works "in the legal profession" and has "taught college courses," he does not appear to have a firm grasp of the subject matter. First, Fodera thinks that the Daily Dot article is defamatory. It isn't. The article quotes things he wrote on the internet. It links to his original text so that the readers can judge for themselves. Fodera seems to think that the Dot article wrongly paraphrases or selectively quotes him. That's a tendentious and unpersuasive reading… the Dot directly links to Fodera's own words. The Dot description and partial quote is fair and accurate. And the readers can determine that for themselves by following the link…

Second, Fodera appears confident that if the Dot article is defamatory (and it isn't), then anyone who merely links to it is a participant in defamation. That confidence is misplaced; it's not clear whether Fodera is ignorant of the law or merely argumentative about it…

It's banal to be a trash-talking blowhard on the internet. Fodera could have gotten away with that — there are so many blusterers, and so little time to care about them. But Fodera has transformed himself into something else, something more iconic: the big talker who can dish it out but can't take it. Nobody respects that person. Nobody should. Fodera strikes me as a sad and stunted person, lashing out at someone for holding a mirror up to him.
Read the complete article here.
Meanwhile, as of this morning the Daily Dot article that first angered Fodera now has 4,800+ links and shares, and the lawyer Fodera's sought out for advice has apparently advised him to shut the hell up.