Heroic Fantasy with the Sharp Edge of Reality: The Sacred Band by Janet Morris and Chris Morris
Heroic Fantasy with the Sharp Edge of Reality: The Sacred Band by Janet Morris and Chris Morris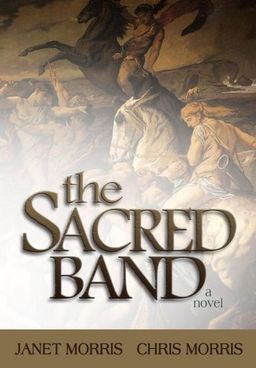 The Sacred Band
Janet Morris and Chris Morris
Perseid Press (547 pages, June 2011, $24.95)
All three hundred of the Sacred Band of Thebes fought at Chaeronea in August of 338 BCE, and two-hundred fifty-four skeletons lie buried there today under a granite lion. Some still argue about the fate of the forty-six whose skeletons were not recovered. Plutarch says that they died together, and Philip of Macedon wept to see it. Another, later, view is that the remainder surrendered, were taken prisoner, or deserted. We tell a different story.

— Janet and Chris Morris, in their Authors' Notes and Acknowledgments from The Sacred Band
And this is the premise behind this wonderfully rich, complex, dramatic and highly emotional epic of gods, demi-gods and Men. This is the story of how Tempus the Black, Favorite of Enlil, Storm God of the Armies, and the one they call Riddler, challenged the gods to rescue twenty-three pairs of Thebans, forty-six warriors who had been fated to die. And rescue them he did… Charon, Lysis and the other forty-four men of the original Sacred Band of Thebes… by opening a dimensional portal from Chaeronea to Lemuria, where they were taken, trained and made part of the greater Sacred Band.
This is the also the story of Nicodemus, who is called Niko and Stealth, a true weapon of the gods, of his own struggle with becoming the favorite, the avatar of a god, and his intimate relation with the goddess Harmony.
After training and orientation, the Thebans do their best to settle in, to become one with Tempus's Sacred Band. But it's difficult for many of them, because memories of the Chaeronean battleplain, memories of seeing friends and comrades die in a battle in which they were fated to die keep intruding on their thoughts.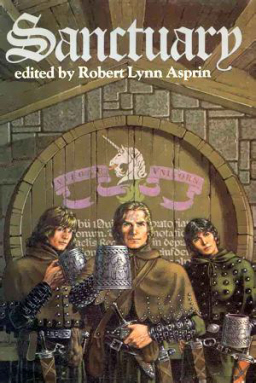 Dreams of Chaeronea haunt their hearts and give pain to their souls. Various versions of the "mantra," Long spears, thunking into flesh. Men staggering backward, impaled, weeping, are a recurring theme throughout this story, as men dream of Chaeronea and that far-away field of battle. What these survivors remember and what they suffer adds a personal and very poignant touch to this novel, for as we turn the pages we get to know these men, these warriors, these heroes.
Now, Tempus has plans for his new and greater Sacred Band: to return to Sanctuary, that infamous "border town between morality and immortality, its feet in hell and its fingers stretched up to heaven." Sanctuary: the center of activity in the classic Thieves' World Series, where I first discovered Tempus, known then as the Hell-Hound.
In Sanctuary once again, Tempus plans to settle old scores and tidy loose ends. But he and the Sacred Band get more than they bargain for when they return to that "place where anything may happen, and sometimes does, when wills are strong and mysteries invoked." For instance, there's the warrior Kouras, soon to become a favorite and an avatar of the god Vashanka, who once favored Tempus.
How Kouras deals with becoming one with a Storm God and his love for a girl named Shawme is just one of the many sub-plots that grace this novel, which owes so much to history, mythology and the sheer brilliance, talent and imagination of Janet and Chris Morris.
A young, hot-headed warrior named Shamshi, who has wizard's blood, gets things going when he murders a harlot one night. Apprehended by the Band, he is stripped naked, sewn inside the hide of an animal, and placed on the altar of Enlil, the Storm God:
If no beast eats him in the night, then we free him in the morning. The lesson's done. Punishment finished. He's cleansed by the storm god of any taint. If the god sends a bear or a wolf or a panther to tear him apart, then that is Enlil's verdict and no one interferes. But if anyone cuts him loose tonight or tries to save him, we hunt down all of them and kill them.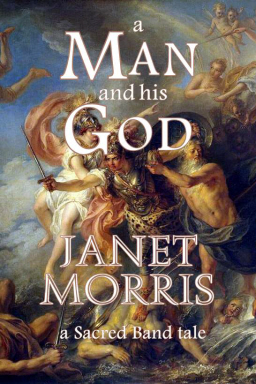 So Tempus says to his men. Harsh treatment? Not at all. This punishment is most fitting to the crime in the context of the novel and the world in which the Sacred Band lives. But Shamshi has patience, and there is one who walks in dreams and shadows who has his eye on the boy with wizard's blood. Thus, when Shamshi is freed, he is now bound to his savior in body, mind, heart and soul. He then sets out on the road of vengeance, uses his skills as a warrior and some other talents and gifts and help he has been given, and begins to pick off the Sacred Band, one by one. But his main target, the man he feels has betrayed him, and the one he most wants to kill is Nicodemus: Niko, whose war-name is Stealth.
Now the manhunt begins as Sham preys on the Sacred Band, killing them with single-minded determination and cold-blooded ruthlessness. Night after night, men die. A stable burns one night and horses die in a very tense and moving chapter. Other powers are brought into play as Tempus and the Band balance duty with their personal manhunt. Old friends and comrades come to aid in the hunt: Jihan, daughter of a sea god and Tempus's lover; Randal the Mage, Ischade the Witch, and even Cime, Evening Star of Lemuria and sister of Tempus, are called in to help.
But there is more behind this manhunt than just tracking down a rapist and a murderer, for the stage is being set for a coming battle, a battle for Meridian, the realm of Askelon, entelechy of dreams and shadows. This battle will test the Sacred Band as it has never been tested before, and they will be hard-pressed because worlds collide in this battle when Askelon brings Meridian to Sanctuary, and the battle becomes a shadow, an echo of the great battle of Chaeronea.
And in this battle, not only the mettle of the Sacred Band will be put to the test, but that of the original Sacred Band of Thebes, as well — those forty-six warriors who had been fated to die but were rescued by Tempus. They will not only be fighting both old and new foes, but old comrades, as well — comrades who died at the hands of the Mesopotamians. Tempus and Niko will be tested in this battle, too. To the limits of their skills and power, strength and endurance they will be tested. Question is: will Enlil the Storm God come to the aid of Tempus, his avatar?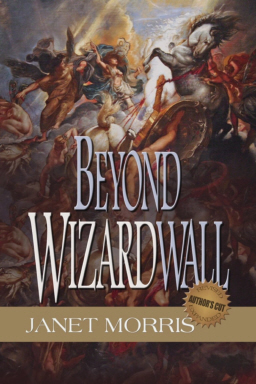 And what of Niko? Will the goddess Harmony continue to watch over him? Guard and protect him? Can Askelon, a god himself, be defeated? And what of Shamshi? He's a great character because, for all that he is evil, he is also one to be pitied. He is a victim of forces and powers beyond his understanding, as well as a perpetrator of heinous acts. He is a pawn in the hands of something greater than himself, a puppet and a tool used by gods and the Fates.
The Sacred Band is much more than great Heroic Fantasy: it is classic literature, filled with sub-plots, a fine cast of well-drawn characters, insight and wisdom and recurring themes of honor, faith, brotherhood and love. This novel spoke to me on a personal level because it's a story of pure human drama and powerful emotions. While the characters are larger than life, they are also richly-drawn and written with great depth of insight and humanity. What also rings true with the Sacred Band is their military tradition, their ethos. These characters are soldiers, warriors. They are not only mythic heroes, they are also everyday heroes; real people, everyday people who face extraordinary odds and foes. They are true to all who have served in any branch of the military.
This is not sword and sorcery, this is not elves and dwarves and high-concept fantasy… The Sacred Band has the sharp edge of reality, the harshness, the bitterness and the danger of the real world. Love, loyalty, honor — these are the ideals by which these characters live and die. This novel is epic in scope. It is mythic by heritage. It is positively Homeric.
This is a 5-Star novel written by two highly-talented writers who have been around for a very long time, who have not lost their chops and their edge, and have not slowed down. There is so much in this novel to enjoy, so much I haven't even touched on. All I can say is that this is classic stuff. Buy it. Read it. You'll see.
As Tempus and the Sacred Band would say, "Life to you, and everlasting glory."
Read my other reviews of Janet Morris and Chris Morris' novels here:
The Sacred Band
Beyond Sanctuary
Beyond the Veil
Beyond Wizardwall
---
Read a complete chapter from The Sacred Band here. Sanctuary and Thieves' World are both registered trademarks owned by Lynn Abbey are mentioned here only for purposes of this review.