Space 1999: The Fantasy in Your Mirror May Be Closer Than It Appears
Space 1999: The Fantasy in Your Mirror May Be Closer Than It Appears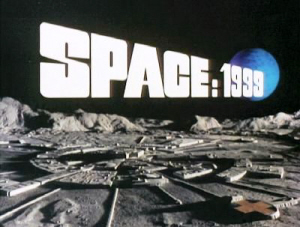 When I was a kid, hurling rocks at dinosaurs and running away, there were not many otherworldly shows on TV. Battlestar Galactica ran for two years and then Buck Rogers for about the same, with some incomprehensible Land of the Lost or Dr. Who thrown in at seeming random. Saturday mornings were a rich source of imagination, with Tarzan, Space Academy, Jason of Star Command and Flash Gordon, but unfortunately, in my day, Saturday mornings were only on Saturdays.
Every so often though, I'd find Space 1999 in the TV Guide; it was pretty cool. The sets and ships were pretty different from the sleek models in every other scifi show, and the space suits and the Moon seemed so alien. Twenty-five years later, armed with a couple of science degrees, I ordered a season for nostalgia's sake.
O. M. G.
It was awful. Aside from the terrible writing and passive characters, and the apparent scattering of Caucasian British humans throughout the cosmos, I could do nothing but choke on the science and toss this drivel into a corner (actually, I think I left the boxed set in Havana, but that's a story for another time…).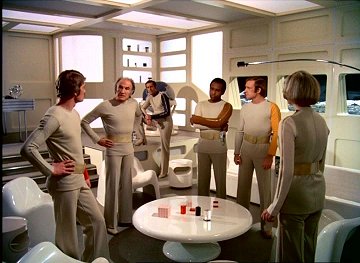 Okay. I've had time to internalize that experience and now I have a plan. Here's what I think I can do. I'll stomach the bad writing and character work (I've had practice with Lucas' three prequels), and in my head, I will inject magic into all the parts of the science parts of the show that were written by someone's children.
To be totally fair, the science in Star Trek and Battlestar Galactica didn't work either, and all seem to be weaned on the earliest space opera written before we knew there was more than one galaxy and before we knew we couldn't land a ship on Neptune. Anyway, as a public service to the internet, here's how I think Space 1999 can be a great Science Fantasy show.
In the show, the Moon is launched into interstellar space by an explosion of nuclear waste. To accelerate the moon out of the Earth's orbit and then out of the Sun's orbit, we need to get this puppy moving above 40km/s. So, we need more energy than is available in the nuclear waste dump. …Unless it is Dwarven nuclear waste. That stuff packs a serious punch, so the new model is Dwarven nuclear waste explodes on the Moon, accelerating it past the Solar Systems's escape velocity and hurling it through the cosmos.
Okay. Now, there are still a couple of slight problems with this. First, this kind of acceleration is a bit like being shot out of a cannon. So it's pretty likely that everyone on Moonbase Alpha becomes a slurry on the floor, under the collapsed rooves of their habitats, which weren't build to survive a couple of minutes of a dozen gravities.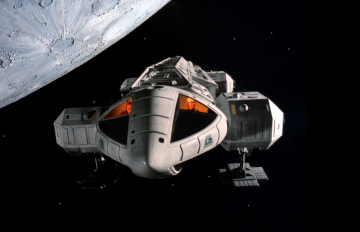 Luckily, this is easy to fix, if we assume that everyone on Moonbase Alpha is Kryptonian. The yellow sun allowed them to survive the acceleration uninjured, and then the rest of the series passes in interstellar space, where there are no yellow suns, so they have to get on like regular folk. The Moonbase itself also survived the acceleration, because it was forged of Mithril, by the dwarves, which explains the Dwarven nuclear waste. This, incidentally, also explains why when missiles are being shot around Moonbase Alpha, they simply say "Duck!"
Now, the problem with this kind of acceleration is that if it hadn't destroyed the Moon outright, would certainly have melted it, pretty much all the way down. Io, the moon of Jupiter, is the most volcanically active place in the Solar System. Molten ice (water) erupts from Io all the time because its orbit is slightly eccentric, so when it is closest to Jupiter, the gas giant compresses it and when it is farthest away, the compression is most relaxed. Friction from this tidal pumping melts a lot of Io and gives it the energy to shoot geysers into space. So, the compression of the Moon, by the explosion of Dwarven material *ought* to have melted the moon by compressing it….unless, the Moon had been forged in the Cracks of Doom during the Second Age, in which case it can only be destroyed by returning it to Mordor.
This is convenient for us, because it gives us, for the first time, an external marker by which to calibrate the dating system of Middle Earth. So, the Second Age of Middle Earth occurred approximately 4.5 billion years ago. This also tells us that when we inevitably look at Tolkein's maps and try to make comparisons of the coastlines of Middle Earth and now, we should probably take into account a bit of erosion. This date of the Moon's forging would also fit with paleological evidence on Homo floresiensis, hobbit man, which appears to have gone extinct about 12,000 years ago.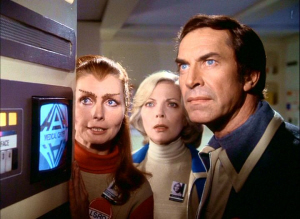 A couple of important last points still to touch. While Moonbase Alpha was hurtling through space, apparently at speeds many times greater than the speed of light, so that each week a new planet or phenomenon could be examined by the characters, cosmic rays, and especially interstellar atoms and ions, would have been hitting the base relentlessly, with the energy of cannon shells. A shield, like the one used to protect Asgard in the second Thor movie, would be just the thing to protect travelers during supraluminal flight.
And once we assume that, the last major piece of the show that really needs a coat of paint is not how fast the Moon travels between episodes, but how slow it moves during episodes, allowing for dialogue like "We'll be at the left-hand planet in twenty-four hours, Commander."
I briefly considered adding Floo Powder or a Portkey to speed over boring bits of the script, but in the end, it seems much closer to the light speed magic of the Millennium Falcon. That way, we get to imagine Commander Keonig saying "Punch it, Carter," or "That's no moon." Wait. He wouldn't say that second one.
---
Learn more about Derek Künsken at his website, www.derekkunsken.com, or follow him on Twitter at @derekkunsken.