Last Minute Gift Ideas for your Game Geek or Webcomics Lover
Last Minute Gift Ideas for your Game Geek or Webcomics Lover
It is the time of year for presents. If you celebrate Hanukkah, I'm late on giving you any gift ideas, but for people rushing to get gifts for friends in the next few days, here are a few last minute gift ideas. Do you know someone who loves interactive fiction? Someone who digs webcomics? If you're shopping for someone who would rather have a digital gift than a package to open, you might encounter some gifting hurdles — but it can be done!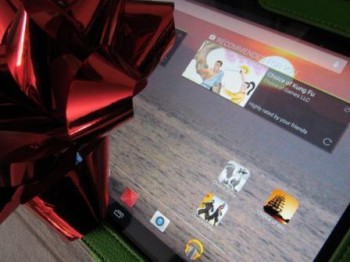 Games
I've already mentioned some games I like in this column, so anything I've already spotlighted is something I recommend. Here are a few games I'm planning to cover in upcoming posts:
Purchasing
So how do you send someone a digital game as a gift? It depends on the device, but here are a few tips:
If they have a tablet-styled Barnes and Noble nook and the game is available (a rare scenario for the Interactive Fiction I've played — the only Choice of Games game I know of that's available for nook is my own Choice of Kung Fu,), it's extremely easy to gift content. Right next to the "buy" button, there's a small blue text option that says "buy as gift." Viola! You send your friend content straight to their device. Since this works for books, too — and many gamers are book lovers — it's a useful option to be aware of.
If they have a Kindle or use Google Play for their Android device, your best bet is either getting them a gift card to Amazon or the Play store — or sneak their device and password. ("Oh, hey, can I read that issue of Saga you've got up from Comixology?" [Internal monologue] "Bwahahaha! Now I can buy them a game! All I have to do is add my credit card to their Google Play account for this transaction…")
How about iOS? Two options. In the app store on your own device, go to the app you want to send and look for the "share" button. Tap it, then tap the gift option. Alternately, use iTunes to access the App Store, click the Buy button on the app you want, then click "Gift this app." Important detail: make sure you have your friend's e-mail address — the one connected to their iOS device — exactly right. If you make a typo, your purchase goes into the ether. You can get more details on iOS gifting from "How to gift an iPad app" by Daniel Nations on About.com or Ben Patterson's "Android/iOS tip: How to gift an Android, iPhone, or iPad app" on Here's the Thing Blog.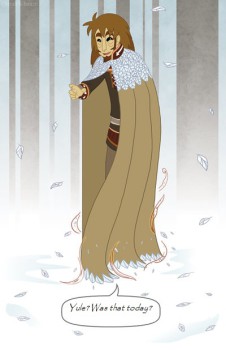 Webcomics
What about someone who loves webcomics? The thing about webcomics is that they're usually free, so there's not initially much to buy. Some webcomics have print editions, and others have great art stores, but there's no way to get those in time for Christmas. So what are some other options?
Here's where the clever IOU card comes in. Webcomics are already full of great art work you can use to design a customized IOU note, like this front page for a card I shamelessly stole from Sarah Schanze's Thistil Mistil Kistil…
What kind of great art can you get for a webcomics fan? Try these options (with the knowledge they'll arrive sometime in the new year):
What gifts would you recommend for game or comics lovers this holiday season? If you have tips to offer on sneaky ways to gift digitally, I'm all ears!