The Worst Fantasy Films of All Time
The Worst Fantasy Films of All Time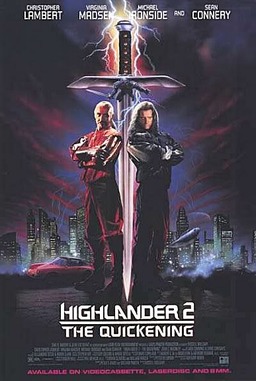 Watch out, my friends. This weekend there is a storm a'blowing! The Hobbit: The Desolation of Smaug is in theaters, and I don't know if I've ever seen so much angst among the fantasy lovers of the world.
Personally, I really enjoyed both Hobbit movies, just as I loved The Lord of the Rings movies. Hell, at this point Peter Jackson could make a movie about the struggles of union workers in ancient Moria and I'd go see it.
I understand every movie (and every book) has flaws, but some people are absolutely livid about Jackson's rendition of The Hobbit on the big screen. I feel it's my duty as a fellow fantasy-phile to point out how awful these movies could have been under different management.
There is an entire industry of bad fantasy movies out there. Maybe if we take a stroll back through history, we'll gain a little perspective. So here I give you, my list of Least Best Fantasy Movies.
Highlander II: The Quickening (1991)
I loved, loved, LOVED the first Highlander movie. So when the sequel came out, I was all over it. I remember going to the theater and being so freaking excited. I was going to see swordfights and strange powers in an epic battle between good and evil played out over the course of hundreds of years . . .
No, wait. It's the future. All right, I can handle that. Oh, and it's a really stupid future where things suck for no real reason.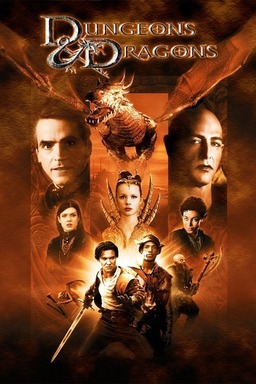 And everything is dark, but not "cool dark." More like stupid dark. And the Highlander is an old man, but then he gets young again and Sean Connery comes back, but it's all really moronic and the fights suck.
Oh, man. How did such an awesome, over-performing cult classic get turned into this trash? This movie, my friends, is one of the biggest disappointments of my youth.
Dungeons & Dragons (2000)
Poor D&D. It's just my luck that something I've loved so much for so long has spawned such crappy movies.
I think there are three D&D movies (?), but this is the one I saw in the theater, and I'm really sorry I did. I guess there was a plot about a wizard who wants to take over a kingdom (yeah, they really pushed the envelope with the storyline….) Then there are a couple of thieves and an elf chick and a dwarf who falls down a lot.
Listen, I might be able to overlook bad acting and a lame plot from a D&D movie, but one thing I expect are some kick-ass battles, and they sucked. Just… just… lame.
I read that the budget for this crap-storm was $45 million. I have no film directing or producing experience, but I'm pretty sure I could have made a better movie for about one percent of that cost.
Mr. Magorium's Wonder Emporium (2007)
I know I'm stretching what most of us would consider "fantasy" with this one, but it involved magic (sort of) and is just so bad that I needed to include it.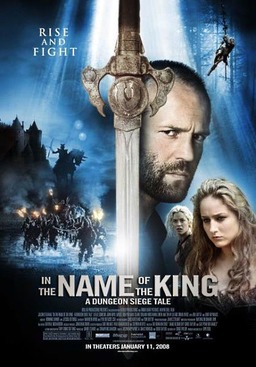 Poor Natalie Portman, so cute and smart, but sometimes she picks lousy roles.
I think this movie had a plot, maybe involving Molly's desire to play piano or something, but I had a hard time focusing because everything was so damned annoying.
Mostly I remember a lot of kids running around a day-glow toy store that, perhaps, was supposed to evoke the same childish glee as the big room of chocolate in Willy Wonka but instead just looked stupid.
Oh yeah, and Dustin Hoffman reprising his Rain Man role but without the endearing sentiment.
In the Name of the King: A Dungeon Siege Tale (2007)
Holy crap. Jason Statham, Ron Perlman, Ray Liotta. Leelee Sobieski. John Rhys-Davies. Krisanna Loken. BURT REYNOLDS.
This movie is packed with stars. It should be pretty decent, huh?
No, not really. In fact, this may be my pick for worst major motion picture ever made.
Everything went wrong. Silly set design. Bad acting. Boring storyline.
You know a movie is bad when Jason Statham can't deliver a decent fight scene. Did the production assistants drug him before each scene?
And don't get me started on Liotta as the evil wizard who wants to take over . . . yada yada. You know the plot before you even start the movie.
This movie is the kind of shite that gives fantasy a bad name. Everyone involved should have been forced to donate a year of their life to the Peace Corps in restitution.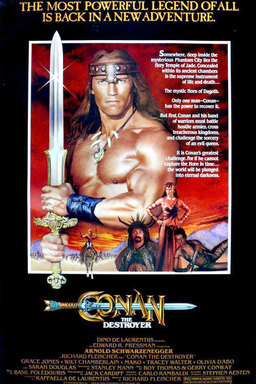 Honorable Mentions:
Conan the Destroyer (1984)
This wasn't the worst movie ever, but it deserves a spot on this list because it took something pretty cool — the original Conan the Barbarian, a bloody rowdy sword & sorcery romp — and turned it into a campy lump of blah.
I can't believe Arnold allowed this to happen. Even though the sets and costumes were more lavish, the whole thing reeked of desperation. As much as I applaud casting more minorities in major films (and I do), Grace Jones and Wilt-frickin'-Chamberlain?
Actually, Wilt wasn't half-bad… certainly not the worst actor in this cast. Yes, my friends, this is what happens when a sequel is so bad that it tanks a promising movie franchise.
The Beastmaster (1982)
Now, some of you who have been paying attention to my posts may remember that I also included this movie in my "Best Fantasy Movies" list. Wait, how can a movie be counted among both the best and the worst?
Well, as Mr. Dickens put it, it was the best of times, it was the worst of times.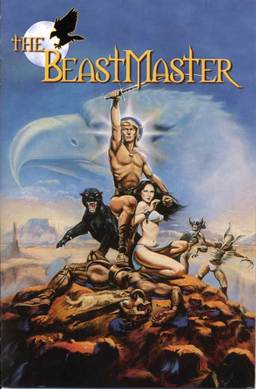 The Beastmaster will always have a special place in my heart because I saw it when I was a young buck. I was hungry for fantasy, any fantasy, even the bad stuff. The movie has some good elements — creepy witches, weird cultists, a barbarian horde, and Tanya Roberts.
But if I stand back and look at its quality just as a film, I have to admit it kind of sucks. The story is all over the place with a long-lost prince who was raised by a peasant and wants revenge for some stuff, and there's an evil priest who takes over the kingdom, and John Amos is there in a skimpy leather bondage outfit.
Alas, this movie is fine if we turn off our brains and just enjoy the half-naked actors and the animals, but I'm listing it here because it could've been a lot better. I think the actors tried to make the best of a bad situation.
So there you have it. Some of the stinkers of fantasy past. Watch any one of these and, once you get past the nostalgia, I think you'll admit that Peter Jackson is a godsend.
But this list isn't the end-all-be-all. I know you've seen some worse fantasy movies. Let me know. I'm always up for a good-bad movie.
---
Jon Sprunk is the author of the Shadow Saga (Shadow's Son, Shadow's Lure, and Shadow's Master) and a mentor at the Seton Hill University fiction writing program. His next epic fantasy series begins in March 2014 with Blood and Iron.