Understanding Tolkien: Why His Landscapes Work
Understanding Tolkien: Why His Landscapes Work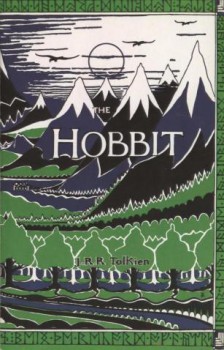 There's no better way to experience the distinction between text and structure than to go back to the roots of our genre.
A few years ago, as a result of a spectacular parenting own-goal, The Hobbit -– a battered old copy that Mrs Harold-Page's father once purchased for 8s 6d –- ended up as our five year old son's bedtime story.
It was near midnight, and we were trying to coax our overtired insomniac little boy into sleep mode. I thought, Let's read something that will hold his attention, but be so far over his head as to hypnotise him into dozing off. Instead, of course, the little blighter perked up and asked enough questions to understand what was going on. The following night — at a more reasonable time — he wanted The Hobbit again. I pointed out it was a bit old for him. Could he even remember the last thing that happened?
They got captured by trolls, but Gandalf did this voice then another voice and the trolls argued until the sun came up and they turned to stone…Is that Smaug on the cover, Daddy?
So, The Hobbit it was.
Reading the Hobbit is a bit like listening to Bill Haley and the Comets. The beat is there, but the delivery — though charming and skilled — is not quite right to the modern taste.
The Hobbit is packed with Herodotian ring composition, editorializing, explicit allusions to the character's future, and lots of "telling" rather than "showing," all of which distance us from the story.
Worse, Gandalf is the only person who really does anything until well into the book. It's page 62 before Thorin even strikes a goblin, and he does that off screen, and in narrative summary — imagine how Robert E Howard would have handled that…
Even so, the story and the world it articulates, rocks.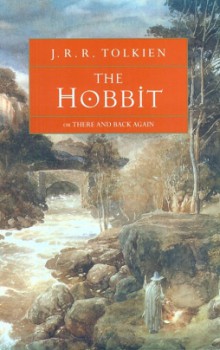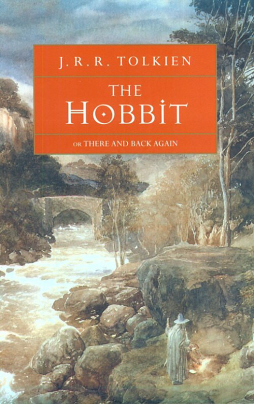 JRR built a deep history with deeper caverns, and painted the lot with conflict so that we can see it in the light of the Strife Ray (like in CSI where they have a lamp that shows up bloodstains).
And so I'm hooked, and our 5-year-old is hooked, and we'll both return to this book time and again, just as I'll listen to Rock Around the Clock when I'm in the mood.
In one matter, however, Tolkien excels over his later imitsuccessors. He knows how to do Landscape Conflict.
Landscapes have to be a key marker for High Fantasy. You know the kind of thing; towering mountains, mystic rivers, ruined cities.
Mostly, I skim this kind of stuff. Odd then that, when I was an early teen, Old Father Tolkien managed to deliver a chunk of real estate direct into my mind's eye before I could mutter, "If only Conan were age appropriate!" It's still there.
I'm talking about the approach to the Rivendell and the Misty Mountains – the first three pages of Chapter 3.
Here's the outline:
The party survived the Trolls and the weather's better, but the landscape promises danger. The horses graze well, but provisions are low. They ford a river –- a sign of progress –- but mountains loom ahead. They look close, but sinister. Bilbo asks if it's the Lonely Mountain, but that's actually a long way away with many dangers before then.

They now risk starvation, but Gandalf pitches the Last Homely House in Rivendell (even now, the name sends a Moomin shiver down my spine –- JRR was a genius). However, "…they had not got there yet." Almost featureless landscape makes it hard to find Rivendell. They make progress, but find nothing. Worse, the landscape becomes dangerous. The path is marked by white stones, but many of them obscured by moss. Gandalf is the guide, but even he has trouble.

The party reaches the brink of starvation. They forge on through the night, but the going gets dangerous. The ground falls away into a steep valley… is this a disaster? No they've found Rivendell and its hellishly merry Elvz!
This isn't just a scenic tour! Look at all those reversals — the buts and howevers — and what causes them. This is Landscape versus Bilbo & Party.
And the focus never wanders. Even where the landscape doesn't represent a direct threat — "That's no Lonely Mountain, Bilbo…." —  it still gives the feeling of cards being put into play. And, I do imagine this a bit like a game of cards…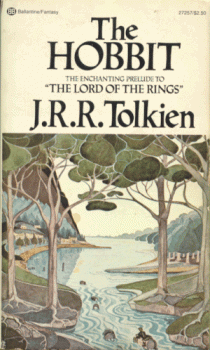 Bilbo: I play Pass Significant Landmark.

Landscape: Ha! I play, Epic Quest Ahead.

Bilbo: Oh crap. Hang on… Resting Place.

Landscape: Ha! Lost in Landscape.

Bilbo: Can he do that..? Right. Ancient Highway.

Landscape: Gotcha. Entropy.

Bilbo: Wizard Guide.

Landscape: (Shakes head.) Entropy is permanent. LOL.

Bilbo: Bugger! Grim Determination.

Landscape: Pitfall.

Bilbo: Happy Reversal! My game I think.

Landscape: Pah! I'll get you next time.
There is, of course, stuff missing. The sequence doesn't do much other than get the players characters from A to B, and foreshadow Dangers to Come. Though it sets Bilbo up for personal growth, nobody decides anything, nobody changes. It's Fantasy as Symphony.
But, even as I write, five years after my last reading of the book, I can still see the landscape, all thanks to Tolkein's grasp of structure.
---
M Harold Page (www.mharoldpage.com) is a Scottish-based writer and swordsman. His debut novel The Sword is Mightier came out recently. His Foreworld SideQuest, Marshal versus The Assassins is now available on Amazon.