Dungeon Wishes
Dungeon Wishes
I first read a Dungeons & Dragons rulebook in late 1979, nearly six years after the world's first roleplaying game had been released. Over the course of those years, a great deal had happened, both to D&D and to the wider hobby it spawned. While I hadn't personally experienced all that had happened, my friends and I were beneficiaries of it all.
Looking back on the late 1970s from the vantage point of 2013, just days before the release of yet another big budget fantasy film, it's sometimes hard to remember that fantasy – at least the peculiar kind of fantasy that D&D represents – was once a rather unusual taste. It certainly wasn't yet the mainstream genre of entertainment it would become over the course of my lifetime, thanks in no small part to the success of Dungeons & Dragons. A few months before I discovered the game, Gary Gygax, in an editorial published in issue #26 (June 1979) of Dragon magazine, noted that, initially, he had assumed D&D would appeal only to a very small segment of the population. He writes:
The target audience to which we thought D&D would appeal was principally the same as that of historical wargames in general and military miniatures in particular. D&D was hurriedly compiled, assuming that readers would be familiar with medieval and ancient history, wargaming, military miniatures, etc. It was aimed at males.
He then goes on to say that, "Within a few months it became apparent to us that our basic assumptions might be a bit off target. In another year it became abundantly clear to us that we were so far off as to be laughable." His larger point was that, because the game's popularity had spread beyond college-age and older men with an interest in military history, the game itself would have to change to be more accessible to other potential players.
My 10 year-old self was one of those other potential players.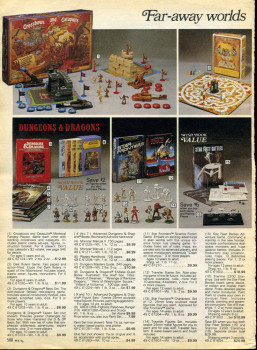 For that reason, TSR Hobbies began publishing a string of "basic sets," aimed at less experienced and/or younger players who nevertheless had an interest in fantasy roleplaying of the sort that Dungeons & Dragons represented. That was how I was introduced to the hobby and I know very well that I was not alone in this regard, whether that basic set was published in 1977 (as mine was), 1981, or 1983. But as useful as those sets were in spreading the Gospel of Gygax and Arneson to the masses, equally important, I think, was the means by which those sets were sold. Certainly, they started to appear in specialty game and hobby stores, as well as some bookstores, but their appearance in the catalogs of mail order companies like Sears, JC Penney, and Montgomery Ward played a role as well. The basic set I owned was purchased through a Sears catalog, as well the copy of the Monster Manual I bought with money my grandmother had given me for Christmas.
When I was a child, Christmas catalogs, particularly the Sears Wish Book, were much anticipated arrivals on our doorstep every September. My friends and I would scour their pages, seeking out toys and games that caught our fancy, circling them in red or other colored pens so that our parents would know what to order for us when the holidays rolled around. In the early days of my involvement in roleplaying, there weren't yet a lot of stores that carried RPG materials, even one as well known and popular as Dungeons & Dragons. Consequently, the Wish Book was a window, not just on TSR's latest offerings, but also those of other companies. If you look at the two scanned images accompanying this article, you'll see games like Traveller and Starfleet Battles, as well as a selection of miniature figures and fantasy-themed books and boardgames. It truly was a wondrous thing to behold, especially when I was a youngster and wasn't very knowledgeable about the wider hobby.
Nowadays, fantasy is not merely mainstream, but a huge multi-billion dollar industry. Likewise, the ready availability of the Internet means that no young person need rely on something as quaint as a printed catalog to obtain information about the latest releases for his favorite hobby. But, every year, as Christmas looms closer, I find it hard not to think back to the days when the Sears Wish Book played a huge and happy role in my life.