Where Did Fantasy Come From? A Review of Literary Swordsmen and Sorcerers: The Makers of Heroic Fantasy by L. Sprague de Camp
Where Did Fantasy Come From? A Review of Literary Swordsmen and Sorcerers: The Makers of Heroic Fantasy by L. Sprague de Camp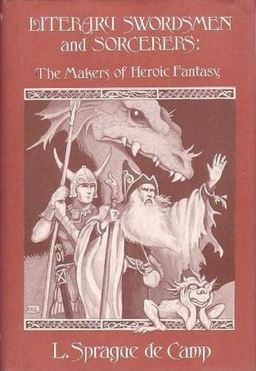 I love fantasy literature. And I'm greatly interested in its history as well. Where did fantasy come from? Is Tolkien solely to blame? How does King Arthur and his round table knights enter in? What about this business with elves and dwarves? Am I the only one who thinks about where this stuff came from?
As far as I can tell, there are very few fantasy histories out there and not much more than cursory stabs at explaining how we have the fantasy literature that we do. (For a couple of very good ones though, see the introductions to David G. Hartwell and Jacob Weisman's The Sword and Sorcery Anthology and Jonathan Strahan and Lou Anders's Swords and Dark Magic.) So, when I recently stumbled across a whole book devoted to the history of fantasy, I grabbed it!
The book in question is Literary Swordsmen and Sorcerers: The Makers of Heroic Fantasy by (now deceased) L. Sprague de Camp, originally published by Arkham House Publishers in 1976. Even if you haven't been an SF&F (science fiction and fantasy) fan very long, you've undoubtedly come across de Camp's name.
De Camp was one of the most prolific SF&F writers of the twentieth century. He wrote both fantasy and science fiction, as well as non-fiction. I first came across de Camp through my interest in Lovecraft. He seems to have been the first person to have written a biography of H. P. Lovecraft — one that unfortunately has not aged well. But it's clear that de Camp was very interested in the history of SF&F and particularly fantasy.
I'm not enough of an historian to be able to criticize Literary Swordsmen and Sorcerers on a scholarly level; but as far as being engaging and informative, de Camp's book is superb.  I found it to be incredibly engrossing — one of those books that are hard to put down.
Lin Carter — another prolific twentieth century SF&F writer — gives a fairly long and informative introduction. It simply whets your appetite for what is to follow.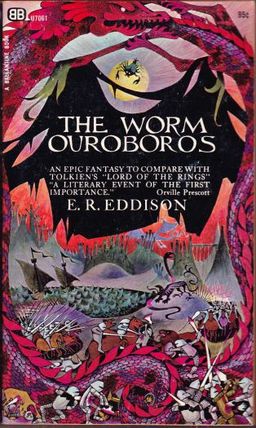 De Camp's book is separated into chapters, each of which (besides the first) deals exclusively with a single author that he believes is responsible, to some degree, for the genre of fantasy literature, or at least as perceived in 1976. De Camp does a splendid job of covering the biographies of these writers in summary fashion, as well as discussing which of their works are better or more influential.
Some of these authors are familiar and are still recognized as major contributors to the fantasy field, such as: William Morris, Lord Dunsany, J. R. R. Tolkien, and Robert E. Howard.
Other chapters, however, are quite surprising, and perhaps a little puzzling.
I'm not sure if this reflects de Camp's own biases, or whether this is an indication of where fantasy literature was in the mid-70s. Some of de Camp's more surprising choices are H. P. Lovecraft, Clark Ashton Smith, and T. H. White. He also has chapters on E. R. Eddison and Fletcher Pratt — neither of which I was familiar with before reading this book.
Morris, Dunsany, Tolkien, and Howard are all obvious choices. It's clear that many recognize Tolkien and Howard as major contributors to the fantasy field. My guess is that Morris and Dunsany are perhaps less remembered today; and personally I've never read any of Morris's work.
I take the chapters on Lovecraft, Smith, and White to be a little more idiosyncratic though. White's The Once and Future King is still one of the classic Arthurian tales and is still in print, but I'm not sure how influential White is overall to fantasy. There have been many other takes on Camelot. Perhaps White's was the most notable in de Camp's view.
Lovecraft and Smith, on the other hand, I think are more widely recognized as horror writers today (though Smith is notable for his poetry as well).
And no doubt Lovecraft's monsters and deities have had a big influence on fantasy. In fact, I first encountered Lovecraft at 13 years of age when I purchased the Dungeons and Dragons book Deities and Demigods.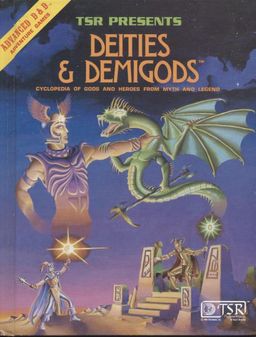 Again, I was not familiar with Eddison and Pratt. But de Camp makes a good case for why they were influential, at least in his time.
In some ways, even putting aside the fact that these authors may have been more recognized in the mid-70s, de Camp's book seems a bit of a hodgepodge. The copyright page shows that almost every chapter was originally, or at least in part, an article published earlier.
Cynically, one might think this book was just an excuse to cobble together some of de Camp's work. More optimistically — and I think this is actually the case — de Camp believed that these various authors were highly influential to the fantasy genre.
If one were to put together such a book today, I'm sure several of these authors would probably fall out. And putting aside some "big names" that we've acquired in recent years, we would still have some obvious inclusions: two that I suggest would be Michael Moorcock and Fritz Leiber.
Nevertheless, de Camp's book is a very interesting and informative history of fantasy. I wish there was a contemporary version, or something close to it, around today.
Does anyone know of any other good histories of fantasy literature?