My Favorite Fantasy Movies
My Favorite Fantasy Movies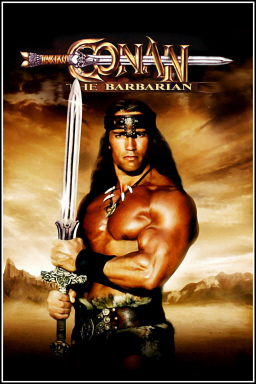 I love a good fantasy movie, and love to goof on bad ones, too. Fantasy is a genre that didn't always translate well to the big screen, until the recent advances in CGI technology allowed studios to capture creatures such as dragons and Balrogs in all their glory.
Conan the Barbarian (1982)
Classic Schwarzenegger. Although this adaptation departs from the style (and story) of Robert E. Howard's books, it retains the grit and raw muscular power of Conan in a way that the newer incarnation (sorry, Jason Momoa) couldn't begin to match.
James Earl Jones was a masterstroke of casting as the villainous wizard Thulsa Doom. This film contains some unforgettable scenes: Conan growing up pushing that big mill wheel, the witch who had sex with Conan and then tried to kill him, breaking into the Temple of Set, the Tree of Woe, and of course the awesomely bloody climax where Conan cuts his way through legions of fanatics to eventually take the head of his enemy.
Conan, you taught us the riddle of steel, and for that we thank you.
[Click on any image in this article for a bigger version.]
The Lord of the Rings/The Hobbit (2001-current)
I've lumped all these movies — the LoTR trilogy and the subsequent Hobbit films — together because, to me, they represent one massive, wonderful opus.
As a long-time fan of the books by J.R.R. Tolkien, I've waited my entire life for a suitable adaptation, and Peter Jackson delivered in spades. The Mines of Moria sequences, culminating with the arrival of the Balrog demon, is one of my all-time favorite movie moments. The cast is wonderful. The sets are jaw-dropping. The story, of course, is first-rate.
One of the things on my bucket-list is to watch the extended versions of all the Hobbit movies followed by all the LoTR movies in a single sitting. Fantasy heaven.
Star Wars, original trilogy (1977-1984)
Wait a minute. Isn't Star Wars science fiction?
Well, let's examine it. We have a young (Jedi) knight tutored by an old wizard to follow his destiny and challenge the rule of an evil emperor. Sounds like classic fantasy to me.
Star Wars (the original trilogy) is my favorite movie series ever. Partly because I was at an impressionable age in 1977 when the first movie hit the theaters. And partly because it just kicks ass.
The Empire Strikes Back is the best sequel of all time. And, yes, there are some parts of Return of the Jedi that make me cringe a little (Ewoks, egads!), but it's still a worthy cap to a great, great series. Luke, Han, Leia, and Darth Vader will live on in our culture for centuries, I'm sure. Alas, don't get me started on the horrible nightmare that is the prequel series….
Harry Potter series (2001-2011)
I never really got into the books (probably because they are written for children and I was an adult when I first picked them up), but my wife dragged me to each movie when they came out, and I have to admit they are pretty fantastic.
First, because it's rare that we get to watch a group of young actors literally grow up before our eyes over the course of a movie series. Compare Sorcerer's Stone to The Deathly Hallows, and you realize how far these characters (and actors) have come. It's quite amazing.
Couple that with amazing sets, intelligent humor, and good old-fashioned fun, and you have something quite spectacular.
Crouching Tiger, Hidden Dragon (2000)
Director Ang Lee combines beautiful locations with a killer story, and just enough mysticism to qualify this movie as a fantasy.
This tale of betrayal, love, and the Green Destiny sword rises above the crowd of martial arts flicks. It is true art. The cast is sublime with Chow Yun Fat and Michelle Yeoh as world-weary mystic warriors.
Beautiful and poignant from beginning to end.
Highlander (1986)
This is one of those movies I can watch again and again.
The storyline of Connor MacLeod in "modern" America contrasts magnificently with his origin tale set in 16th-century Scotland. The unfolding centuries-old conflict between MacLeod and his nemesis, the Kurgan, is like watching poetry.
Yes, there are some plot questions that aren't answered with much satisfaction. (If the Immortals are all jockeying to be the last man standing, why does Ramirez tutor young MacLeod?) And yes, the sequel movie was really terrible, but none of those things can take away from the fact that this is a wonderful story.
Clash of the Titans (1981)
Not to be confused with the crappy remake, this swords & sandals epic is a true classic. I know some of the special effects are dated, but the heart of this movie is a powerful tale in the spirit of Greek mythology.
Despite the gobs of fighting and monsters, there is an elegance to this movie that never tarnishes. Hell, it's got Sir Lawrence f-ing Olivier!
Though the ending is a bit Hollywood stock (the hero kills the monster, saves the day, and wins the girl), the journey itself is fantastic. Release the Kraken!
---
There are also some fantasy movies that I enjoy as guilty pleasures. I don't claim any of them are masterpieces of the film world, but they are great fun. So, I give you my Honorable Mentions.
Beastmaster (1982)
This movie is a little hokey, but it came out in the same year as Conan the Barbarian and built on some of the same tropes.
A young man's village is destroyed by a horde of roving barbarians under the control of an evil priest-wizard. So he gathers his animal friends and a hot temple acolyte (Tanya Roberts, looking quite fetching) to get revenge.
Not exactly Shakespeare, but this movie has enough fantasy elements and themes to deserve a mention. Marc Singer is pretty buff, and Rip Torn (I know, right?) is spooky enough to keep our attention.
Dragonslayer (1981)
This is one of the first fantasy movies I saw in a theater. There's a huge dragon plaguing the kingdom, so a young wizard's apprentice answers the call to fight it. The king doesn't have much faith in him, but the apprentice forges a big honking spear with steel and sorcery to challenge the beast anyway.
I love this movie because of its restraint. There is magic, but it's more subtle than most fantasy tales. The dragon is kept mostly under wraps as a menacing presence until the end, which gives an incredible background tension throughout most of the movie.
And it's a story of true heroism, where a mostly-ordinary person attempts — with his wits and courage — to do something great.
Ladyhawke (1985)
Matthew Broderick, Rutger Hauer, and Michelle Pfeiffer star in this story of true love. The main story, of a knight who turns into a wolf at night and his lady-love who is a bird during the day, is touching, but would have been a little stale if not for the presence of Broderick's trickster-thief/comic-relief, Phillipe Gaston.
The tale of thwarted lovers and religious excess is a nice backdrop while we watch Gaston grow from a self-centered, wise-cracking punk into a man of courage. Unfortunately, the movie's corny soundtrack blemishes some of the scenes. But if you can get through that, this is a movie worth seeing.
Krull (1983)
This mash-up of fantasy and science fiction is both corny and trite, as a prince struggles to free his betrothed from the fortress-spaceship of a galaxy-conquering alien called The Beast.
Some of the sets are flimsy. The acting is only adequate. However, the film does a decent job of following the classic "hero's journey," with tips of the hat to Star Wars, King Arthur, and other sources.
More importantly, there's a lot of imagination evident in this movie, from the Cyclops with the gift of foresight and the Widow of the Web. And, of course, we end with a note of love conquering all. Plus, you'll get to see Liam Neeson as an axe-wielding bandit.
I hope you enjoyed this romp through my favorite fantasy movies. I'm sure I missed a few good ones. Please add your list of favorites in the comments.