Alana Joli Abbott Reviews Codex Born
Alana Joli Abbott Reviews Codex Born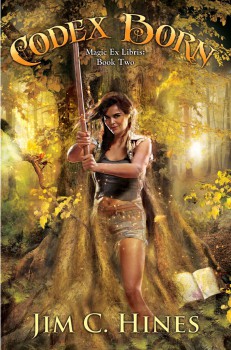 Codex Born
Jim C. Hines
Daw (320 pgs, $24.95, hardcover August 2013)
There aren't many writers who can start with the concept of a literal fantasy woman, pulled from the pages of her book to fulfill her lover's dreams, and turn her from a slave into a complex hero, struggling to understand her own identity and to create herself as a real person. Jim Hines is one of them.
Codex Born, the sequel to Libriomancer, is narrated by fantasy book lover and magician Isaac Vaino, but in many ways the book belongs to Lena Greenwood, a dryad drawn from a pulp SF novel and Isaac's girlfriend. Libriomancer concluded with Isaac and Lena and Lena's girlfriend (Isaac's former therapist) Nidhi Shah agreeing that they'd embark on a shared relationship — both Isaac and Nidhi would be Lena's lovers, which would allow Lena, product of her book, and thus destined to conform to her lovers' desires, a chance to become her own person by existing in the conflicting space between Isaac and Nidhi. In Codex Born, that relationship starts to play out — both Nidhi and Isaac struggle with the dynamic, but keep on trying for Lena's sake — and Lena continues to hope that she can find a way to preserve who she is, even if something happened to Isaac or Nidhi.
Set this against a plot of murder, theft, and revenge as an age-old group of practitioners of a different school of libriomancy — magic that draws power from the written word — join forces with the abusive father of a dead genius, and it's clear there is plenty of action to complicate the internal struggle. And Hines's trademark humor and snappy dialog is back in plenty ("It's all right," said Lena. "We're used to you. 'Look at the shiny magic thing trying to kill us, isn't it awesome?'"). The references to a host of books genre readers know and love (with a list included in the back in case you missed one) are like treats scattered through the pages, and Hines's exploration of what happens to the magic of reading when e-readers enter the scene is timed perfectly with the current upheaval of the publishing world. He introduces teenager Jeneta Aboderin, whose talent for using her digital displays for libriomancy — and her ability to draw on the magic of poetry through the cadence of her reading aloud — makes her both a prize among Isaac's guild, the Porters, and a target for a dark force that's bigger than even the opposing group of libriomancers can control. Isaac calls these forces from behind the pages the Devourers, and the darkness and madness they represent is chilling.
Hines may have a reputation for comedy and action — as well as excellent character development — but in the Magic Ex Libris books, he's also reaching out to tackle some compelling questions about identity, relationships, cultural relativity, and the dangers of letting the magic of reading actually take over your life. In Isaac's case, he is threatened with madness if he delves too deeply into his magic — the characters from the books he uses for his power could literally take over his mind. I don't think Hines is trying to warn his readers off of reading, any more than Isaac ever wants to stop using magic — but there is that niggling reminder that, along with spending time in made-up worlds, you have to get out there, live a little, and maybe even save the real world. In Codex Born, the costs aren't just to the magical community, but to the town where Isaac grew up, and reconciling that secret world of magic with the harm that comes to his community is just one of the tough questions Isaac has to wrestle. The other is whether it's right to follow the mentor and leader of his guild, one of the most powerful men in the world, when that same man is willing to eradicate competitors instead of seeking to exchange knowledge. The unsettled ending of the novel promises that Isaac will continue to wrestle with these issues — navigating a minefield of right and wrong — into future installments. And I, for one, can't wait to follow Isaac on his future adventures.
__________
Alana Joli Abbott is a novelist, comic book writer, and contributor of role playing articles to Dungeons and Dragons Insider and short stories to anthologies including Haunted: 11 Tales of Ghostly Terror. Her interactive novel Choice of Kung Fu is available from ChoiceofGames.com. She serves as a book reviewer for Publishers Weekly, School Library Journal, Flames Rising, and Kirkus Reviews. You can follow her latest adventures in writing and mythology chasing at www.virgilandbeatrice.com.