L. Sprague de Camp, Fletcher Pratt, Gardner Fox and Appendix N: Advanced Readings in D&D
L. Sprague de Camp, Fletcher Pratt, Gardner Fox and Appendix N: Advanced Readings in D&D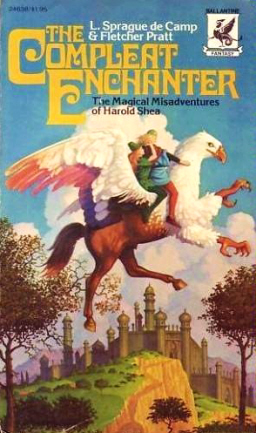 Over at Tor.com, the intrepid Mordicai Knode and Tim Callahan have been conducting dangerous psychoreality experiments, just like William Hurt in Altered States.
I don't expect you to get that reference, because Altered States came out, like, a billion years ago. But trust me, it was wild. William Hurt locks himself in a sensory deprivation tank until he turns into some kind of glowing protoplasm. And Blair Brown got naked. A lot. Drew Barrymore played their 4-year old daughter, if that helps you understand how old this movie is.
Anyway, Mordicai and Tim have convinced the brain trust at Tor.com to let them attempt the same thing, in the name of science. Tor doesn't have the budget for an awesome sensory deprivation tank (or to pay anyone to get naked), but they've got the essentials down. For the last month or so, Mordicai and Tim have been refusing all outside stimulus except the work of those authors listed in Appendix N of the Dungeon Masters Guide.
They're consuming nothing but Mountain Dew and Doritos Locos Tacos from Taco Bell, and electrodes attached to their brains will capture the exact moment they transform into Dave Arneson and Gary Gygax. Hasn't happened yet but, believe me, the stars are right and the time grows nigh.
In the meantime, teams of diligent scribes have been scribbling down every word Mordicai and Tim speak as they grow closer and closer to ultimate enlightenment. We're here to share some of the best with you. Take them in small doses, this is potent stuff.
They start with L. Sprague de Camp, author of the early alternate history novel Lest Darkness Fall (1939), The Wheels of If (1948), Rogue Queen (1951), and, with Robert E. Howard, Tales of Conan (1955), one of the very first Conan collections.
Here's Tim on L. Sprague de Camp, who left him underwhelmed.
If I had to pick an unbearably sexist pulp writer, I'd chose Robert E. Howard over L. Sprague de Camp every time, because at least Howard didn't wag his finger at women, and he allowed some of them to be on the same stage as the men, even if they were always the target for leering. It's not a pretty sight, either way…

L. Sprague de Camp was a military man and a researcher and a prolific writer and based on what little I know about him, he totally would have been the rules lawyer at the table if he played Dungeons & Dragons with you, and he would have been the one to spend twenty minutes explaining why an Owlbear could not, in fact, have been found on the edges of the swamp you might be exploring because it was contrary to their nesting impulses and hibernation cycle.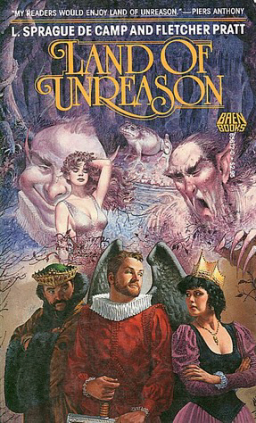 Read the complete article here.
They don't much care for the collaborative team of L. Sprague de Camp and Fletcher Pratt, either. Together de Camp and Pratt co-wrote many fantasy classics, including The Castle of Iron, Land of Unreason, The Compleat Enchanter, Wall of Serpents, Tales from Gavagan's Bar, The Carnelian Cube, and many others.
Here Mordicai struggles with the question: how did a book as bad as The Carnelian Cube (which Tim calls "the worst book out of the entirety of Appendix N, and I haven't even read all the books yet") end up on Appendix N?
Personally I think it is a factor of a couple of things at work… First, there is the eponymous cube, which is a pretty viable template for a D&D artifact, or at least a big influence. A classic MacGuffin. Secondly, there is the issue of perverting wishes; you know that is some Gygaxian flavor right there. If you give your players a Ring of Wishes, you are obligated to try to misinterpret them…the same way that the carnelian cube's created dream worlds are pessimistic inversion of the users original intentions.

The other is in terms of worldbuilding. I think that glomming on to a high concept idea like "a world where pitiless logic wins" or "a world of individualism taken to the extreme" and spilling it out for a few chapters is actually a solid Dungeon Mastering trick. I mean, look at Star Trek's Vulcans; they are basically just elves with "logical" thrown on as a cultural gimmick, right? That sort of tactic is a good way to add colour to your newest fantasy metropolis, or tribe of non-humans, or alternate universe…

Still, not a good enough reason to read this book, though.
The complete article is here.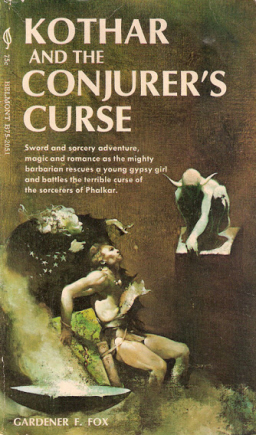 Finally, here's Tim on Gardner Fox, a frequent contributor to Dragon magazine, and his first Conan knock-off novel, Kothar of the Magic Sword:
Supposedly, Gary Gygax took the idea of the lich — a kind of ultra-powerful undead sorcerer — from Fox's first Kothar book, in which the "living-dead wizard" Afgorkon gives Kothar the magic sword known as Frostfire…

Kothar's a self-proclaimed adventurer, and in the spirit of adventuring that would influence a role-playing game in which experience points are granted by the accumulation of gold, Kothar's main motivation is to make money…

There's a second story in the book called "A Plague of Demons" which I could summarize at length as well, but let me give you the ultra-short version because I think you get the point of Kothar by now: a sexy sorceress taunts Kothar as he tries to rescue a young girl from the cult of Pulthoom, but the young girl is actually possessed by a different sexy sorceress and the reason the cult is so successful is because they have orgies all the time and anyway, Kothar rescues the girl-actually-an-evil-sorceress and fights some beast men and some dudes who call themselves Mongrols and then the really evil sorceress (not possessing the girl) plays mind games with Kothar and he saves her from something called a "mating duel"… it's just as terrible and kind of great as it sounds.

It also sounds a lot like Dungeons & Dragons, as played by a bunch of teenagers pounding back cans of Mountain Dew.
Read the whole post here.
We last covered Mordicai and Tim's reality-bending experiments on August 7th, when they discussed Roger Zelazny & August Derleth. The list of authors they've covered includes:
Leigh Brackett and J.R.R. Tolkien
Margaret St. Clair and Andrew Offutt
Lord Dunsany and Philip José Farmer
H.P. Lovecraft and A. Merritt
Manly Wade Wellman and Fletcher Pratt
Fredric Brown and Stanley G. Weinbaum
John Bellairs and Fred Saberhagen
Jack Williamson and Lin Carter
Andre Norton and Michael Moorcock
L. Sprague de Camp, Fletcher Pratt, and Gardner Fox
Roger Zelazny and August Derleth
Jack Vance
Fritz Leiber and Edgar Rice Burroughs
Sterling E. Lanier
Poul Anderson
Robert E. Howard
See the complete list here.