New Treasures: The Book of Cthulhu II, edited by Ross E. Lockheart
New Treasures: The Book of Cthulhu II, edited by Ross E. Lockheart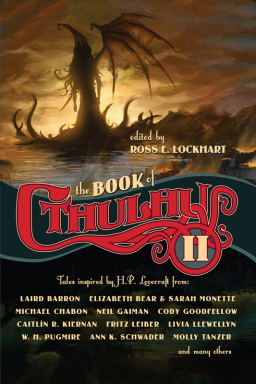 Ah, Cthulhu. What could possibly explain the timeless fascination you've exerted over countless horror writers for the past 83 years?  Could it be that you're roughly the size of Manhattan and you eat ocean liners? I dunno, but I bet I'm on the right track.
Well, whatever it is, I'm glad Big Green keeps popping up. Last August, we celebrated Ross E. Lockheart's successful anthology The Book of Cthulhu, a marvelous reprint volume collecting some of the most famous Cthulhu stories of all time. I mentioned at the time that a second volume was in the works. Now I finally have a copy in my hot little hands and I'm pleased to say it doesn't disappoint.
The Book of Cthulhu II contains two dozen tales of cosmic horror inspired by the work of H.P. Lovecraft, including Karl Edward Wagner's "Sticks," Neil Gaiman's "Shoggoth's Old Peculiar," William Browning Spencer's "The Ocean and All its Devices," and John R. Fultz's "This is How the World Ends."
This thick volume also contains reprints by Michael Chabon, Elizabeth Bear and Sarah Monette, Fritz Leiber, Kim Newman, Jonathan Wood, and many others. There are also four original contributions, including the novella "Hand of Glory" by Laird Barron, which is currently on the World Fantasy Awards Ballot for best novella.
Ross E. Lockhart was the managing editor of Night Shade Books and the author of the rock-and-roll novel Chick Bassist. With the recent upheaval at Night Shade, culminating in the acquisition of the company by Skyhorse and Start Publishing, I don't know if Lockhart remained with the firm. But I certainly hope so — these anthologies are some of my favorite titles to come out of Night Shade and I'd love to see them continue.
The Book of Cthulhu II was published September 2012 by Night Shade Books. It is 428 pages, priced at $15.99 for both the trade paperback and digital editions.
See all of our recent New Treasures here.