Step Into the Traveller Universe with Fate of the Kinunir
Step Into the Traveller Universe with Fate of the Kinunir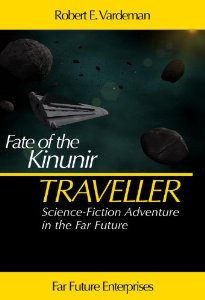 If, like me, you have fond memories of mustering out after a few tours of duty and becoming a ship captain plying the Spinward Marches, guided only by a trio of slim black volumes with the Traveller logo, then you'll be very pleased to hear that there's a line of promising tie-in novels headed your way.
The first one, Robert E. Vardeman's Fate of the Kinunir, was published in multiple e-book formats on August 1. Vardeman is the author of the Cenotaph Road series, as well as the Swords of Raemllyn books and the Demon Crown Trilogy, among many others.
The books are being packaged by Athans & Associates Creative Consulting, under license from Marc Miller's Far Future Enterprises, who have overseen the Traveller product line for the last decade or so — including the superb First Edition reprints, and the entire 5th Edition line.
Personally, I'm very pleased to see some fiction set in the Traveller universe. I was never a very serious Traveller player; but for that brief period I did play, I had a great deal of fun running my little merchant ship between outlying systems, selling whatever I could find to trade. Traveller was the only role playing game I knew that had a complete little economic mini-game buried in its trading charts, and for years after we played, I still daydreamed about being a merchant in the stars.
According to Athans & Associates, Fate of the Kinunir will be followed by a new book every month for the next year, including novels by Tim Waggoner, Erik Scott de Bie, Martin J. Dougherty, Darrin Drader, and others. The fiction line will be managed by Philip Athans, the founding partner of Athans & Associates, who was the senior managing editor at Wizards of the Coast, overseeing the novel lines for the Dungeons & Dragons settings Forgotten Realms, Dragonlance, and many others.
Fate of the Kinunir was published by Far Future Enterprises on August 1st. It is 212 pages, priced at $5.99 for the Kindle edition.
[Thanks to John DeNardo at SF Signal for the tip].