Meet Rick Steele
Meet Rick Steele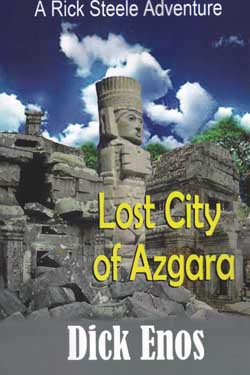 So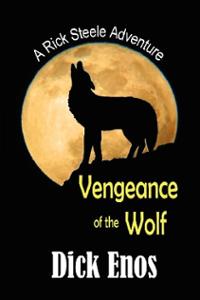 another season of pulp conventions has come and gone. As in the past, part of the fun of being able to attend conventions and meet people that share your passions and appreciate your work is meeting other authors you might otherwise have never chanced upon. Such was the case with Dick Enos at this year's PulpFest in Columbus, Ohio.
Mr. Enos is the author of the Rick Steele adventure series, published by Mirror Publishing. Enos lists his principal influences as the long-running newspaper adventure strip, Steve Canyon; the Old Time Radio show and Golden Age television series, Sky King; and Mickey Spillane's venerable hard-boiled detective character, Mike Hammer.
Steele is a hard-living Korean War veteran turned test pilot who can't seem to avoid adventures. He is aided by his loyal war buddy, Joey Campbell; his love interest, the very capable Dr. Kate Gallagher; and Kate's polyglot assistant, Thelma McCally. My introduction to these characters was in Enos's latest novel, The Lost City of Azgara. The book is an old-fashioned jungle adventure set in Africa, involving a Nazi war criminal and occultist who has uncovered a map to a lost city of gold with which he hopes to finance the rise of the Fourth Reich.

Mirror Publishing has this latest title as well as the first two books in the series in print: Vengeance of the Wolf (2012) involves a silver mine that is bedeviled by an Indian curse, while Killer Cowboys from Outer Space (2011) [originally published as Terror From Above] introduces Rick and his friends in an adventure involving a mysterious cowled villain working with aliens.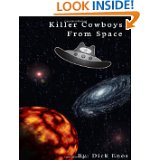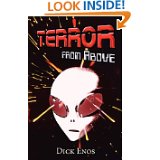 Enos clearly loves pulp fiction in all its permutations and the Rick Steele series does an excellent job of paying tribute to the past, while presenting more realistic and complex characters that modern readers demand. Interracial friendships and intelligent, strong female characters (who are much more than simply curvaceous damsels in distress and treacherous femme fatales) help delineate the series as old-time serial fun affixed with modern sensibilities. Suffice to say, if you love Indiana Jones, you'll find much to appreciate in The Lost City of Azgara.
The book kicks off with a frantic jungle chase sequence that would do Robert E. Howard proud. Knowing references to both Indiana Jones and Allan Quatermain are welcome and help set the tone that the series is firmly rooted in the shared vocabulary of pulp present and past as we change gears and move to an academic setting for the first chapter. Kate's entrance in the book echoes both Raiders of the Lost Ark and King Kong with their expository scenes introducing audiences to the Ark of the Covenant or Skull Island, respectively.  The interesting twist in Enos's story is that instead of Indiana Jones or Carl Denham, readers are greeted by a highly respected female scientist as their guide to the thrilling world of the fantastic.
Enos effortlessly shifts gears from third to first person narrative by allowing Rick Steele to take the reins beginning with the second chapter and tell his side of the story from that point forward. Once brash and boisterous Rick Steele takes center stage, the pace never lets up for an instant. Enos is a strong writer with an ear for great dialogue, an eye for vivid descriptions, and a gift for making two-dimensional archetypes leap off the page as real people that the reader instantly likes.
He also delivers on the cliffhangers and thrills and spills and readers need not worry that the red-blooded, sometimes overly cocky, Rick Steele isn't up for the challenge (most of the time anyway, but that's another thing that makes his character so interesting). Do yourself a favor and check out The Lost City of Azgara. See if it doesn't send you back to pick up Rick's earlier adventures and leave you hungry for Book #4 next year. Most importantly, don't be surprised if Dick Enos doesn't become a familiar name in the New Pulp community of modern writers paying loving tribute to the joyous adventure stories of the past that we all love and cherish. The Lost City of Azgara comes highly recommended. Make the journey; you couldn't ask for a better guide than Dick Enos and his alter ego, Rick Steele. Long may they both fly.
---
William Patrick Maynard was authorized to continue Sax Rohmer's Fu Manchu thrillers beginning with The Terror of Fu Manchu (2009; Black Coat Press) and The Destiny of Fu Manchu (2012; Black Coat Press). Next up is a collection of short stories featuring an original Edwardian detective, The Occult Case Book of Shankar Hardwicke, The Triumph of Fu Manchu, and a hardboiled detective novel, Lawhead. To see additional articles by William, visit his blog at SetiSays.blogspot.com