Goth Chick News: Welcome to the 2013 Chicago Comic Con
Goth Chick News: Welcome to the 2013 Chicago Comic Con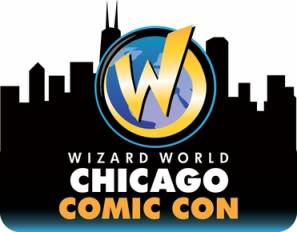 Spandex, chainmail, body paint…
Oh my.
Yes, it's that time of year again and Chicagoans are not immune.
That is to say, when faced with one of the largest venues in the area packed wall to wall with artists, comics, swag of all types and Zachary Quinto , trance-like they will don too-snug lycra and a face mask, then venture forth into public to meet, greet, and pose for pictures.
Wizard World's Comic Con stormed into the Rosemont Convention Center last week and once again, Black Gate photo Chris Z and I had a front row seats.
"Chicago's premier pop-culture event" did not disappoint.
Final numbers aren't in yet, but the Tribune stated that "tens of thousands" of visitors came through during the four-day festivities, spending what can only be estimated at virtually millions of dollars. Which caused Chris and I to speculate on whom precisely would drop $400 on a 4 foot by 6 foot artist's rendition of Wonder Woman?
Unfortunately, he was decked out in a Green Lantern costume and refused an interview, but that didn't stop us for meeting a whole gaggle of brilliant and creative individuals which is what makes Comic Con a seminal event in the Black Gate calendar.
So let's wade in, shall we?
Everyone, please meet Goth Chick News' Best of Comic Con 2013 (in no particular order).
Fangs for the Memories: If the name wasn't enough to make you love them, then the fact that they use real dental acrylic to custom make you a pair of fangs will.
Horror Show Jack is nothing short of an artiste. Donning black, elbow-length rubber gloves, he will take an impression of your teeth – a process alone which is disturbingly like participating in a live action Saw sequel – and then hand-shape the choppers of your choice.
Want a pair for every day? Order up the "Subtle Canines". Or go for a potential 5150 hold by showing up to work in a full set called "The Hybrid."
Prices start at $60 and if you can't make it to one of the many live events Horror Show Jack does every year, you can send him a mold made by your own home-town dentist and HSJ will ship your teeth back to you.
Most docs can accommodate your request for around $40.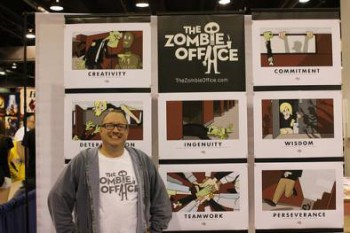 The Zombie Office: Of course those annoyingly inspirational "Successories" have been lampooned a dozen times before, but never like this.
Illustrator (and dare I say comic awesomeness) Jay Notle has combined the zombie craze with the insanity of your work place to create The Zombie Office: a Successories meets Dilbert meets the Walking Dead mash-up of hilarous sarcasm. If the posters and calendar weren't enough, then check out the web site, which in and of itself is a highly amusing way to burn an hour at work.
Did I say that out loud…?
There you can read the daily installment of "A Continuing Story of Office Horror," as well as "Office Memos," which literally made me snort.
Personally, I will forever cherish my own autographed Zombie Office sign:
WISDOM
The only truth is knowing that you are totally screwed.
Follow the zombie apocalypse on Facebook and "like" Jay to automatically be entered to win free zombie swag.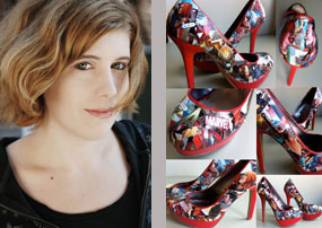 Margot la Rue's Comic Book Heels: Okay, all you fan girls (or boys for that matter), grab a pen and get ready to take notes.
Margot la Rue a fashion student at Columbia College, will turn your favorite comic into a pair of decoupage'd high-heeled shoes.
That's right – she'll deconstruct your Spider-Man #3 and paste it all over a pair of pumps which can then be worn or displayed as a unique bit of artwork.
Call is sacrilege if you will, but there are more than one Spider Man #3's and your comic book heels will be one-of-a-kind. Margot will get pasting using any comic your heart desires and you can even deck out the shoe of your choice.
Email her for pricing or contact her through Facebook.
My Nightmare World Comic pumps are just what a goth chick needs for a Saturday night out…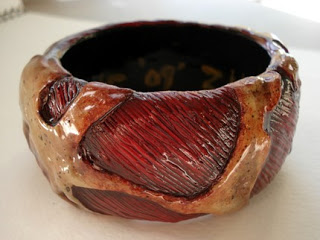 Zombie Head Adornments: As if you needed any more proof that zombies are high fashion, you can now wear disturbing bits of them as jewelry.
Special effect makeup artist Krystal Osborne started sculpting her unnerving creations one day, "because I was broke and needed to make Christmas presents. And also I never found gross jewelry that I wanted to wear so I said screw it, I'll make my own."
I couldn't have said it better myself.
With that, Zombie Head was born. In the three years since its inception, Krystal's jewelry has been featured in the pages of genre magazines such as Girls and Corpses, Fracture, Synergy, and ShriekFreak Quarterly.
Can Vogue be far behind? I think not.
Check out such gems as the Skin Bangle Bracelet and the Handsome Devil Blister Baby Pendent at the Zombie Head web site or follow Krystal on Facebook to keep up with her latest creations.
Just the things to go with my Nightmare World pumps…
And last but not least…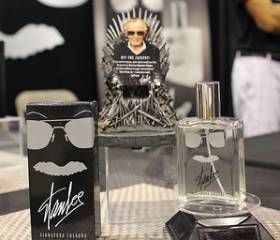 'Nuff Said – The Stan Lee Signature Cologne: Yes Stan Lee was a headliner at this year's Comic Con and yes, Stan Lee is a comic book legend, known to millions as the man whose super heroes such as Spider-Man, The Incredible Hulk, X-Men, The Fantastic Four and Iron Man among others, propelled Marvel to its preeminent position in the comic book industry.
But was this really necessary?
Jads International LLC decided the world didn't necessarily need another super-hero, but really just needed to smell like one.
And if your first thought was gamey spandex, well I was right there with you.
But no, 'Nuff Said had a pleasant woodsy, gingery scent which is apparently just what Stan Lee ordered, having nothing of the metallic tang one would associate with the inside of Iron Man's suit after a flight to the Middle East.
'Nuff Said is available for a mere $24.95 at the Jads web site, which makes it a bit costlier and somewhat more appealing than Axe.
Beyond this bacchanalia, there were the celebrity sightings such as Linda Blair (The Exorcist), Lou Ferrigno (The Incredible Hulk), and the aforementioned Zachary Quinto (Mr. Spock in the new Star Trek movies).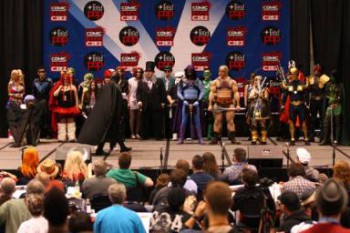 But my personal favorites were James and Oliver Phelps, who played Fred and George Weasley in the Harry Potter franchise, and who shared that they had been over served on Chicago pizza and adult beverages the previous evening and therefore weren't showing their best that day.
Through a fan-girl bit of stammering, I begged to differ.
In upcoming Goth Chick News installments, I'll be introducing you to two new indy horror movie directors we met at the con, along with their latest projects, and I'll also be sitting down for another chat with horror comic writer Dirk Manning to learn about his latest, skin-crawling creation.
Until then, keep your spandex pulled down while you keep reaching for the stars…
Have a question or comment? Post it here or drop a line to sue@blackgate.com