New Treasures: The Best British Fantasy, edited by Steve Hayes
New Treasures: The Best British Fantasy, edited by Steve Hayes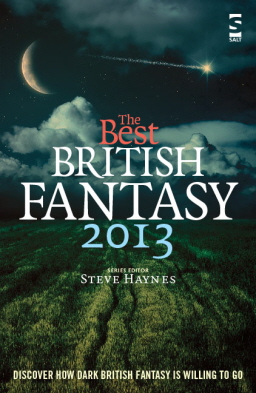 If you've been reading this site for more than, say, ten minutes, you're probably aware that I'm a big fan of anthologies. And I'm especially fond of the Best of the Year anthologies.
It's definitely that time of the year. Jonathan Strahan's The Best Science Fiction and Fantasy of the Year, Volume Seven, was released in May (we covered it here), and Rich Horton's The Year's Best Science Fiction & Fantasy 2013 Edition arrived on July 10 (here).
Gardner Dozois's The Year's Best Science Fiction: Thirtieth Annual Collection was published on July 23, and Paula Guran's The Year's Best Dark Fantasy & Horror: 2013 Edition will debut on August 20. The other major contender, David G. Hartwell's Year's Best SF 18, has been delayed to December.
And now there's a new kid on the block. Newcomer Steve Hayes has assembled a promising volume dedicated to the best in British fantasy, including tales from Mark Morris, Lavie Tidhar, Steph Swainston, Lisa Tuttle, and many more. If I had to guess, I'd say the contents run towards the Dark Fantasy side of the spectrum, just based on the subtitle at the bottom: Discover How Dark British Fantasy is Willing to Go.  Here's the complete description.
From the post-apocalyptic American West to the rural terror in New Zealand, this major anthology has evil spirits, bin-Laden style assassinations, steampunk, sexual dysfunction, a twisted version of Peter Pan, the folklore of standing stones, mermaids, alien tour guides, zombies, gruesome beasts, voice-controlled police states, environmental disasters and off world penal colonies. Unmissable.

Featuring (among others) Simon Bestwick, Joseph D'Lacey, Cate Gardner, Carole Johnstone, Tyler Keevil, Kim Lakin-Smith, Alison Littlewood, Cheryl Moore, Mark Morris, Adam Neville, Lavie Tidhar, Sam Stone, Steph Swainston, E.J. Swift, Lisa Tuttle, Simon Unsworth, Jon Wallace.
It contains a great many stories from names I'm unfamiliar with, which isn't a bad thing. I'm always on the lookout for new talent, and this seems like a great way to discover it.
Here's the complete contents.
Table of Contents
Introduction, by Steve Haynes
"Lips and Teeth," Jon Wallace
"The Last Osama," Lavie Tidhar
"Armageddon Fish Pie," Joseph D'Lacey
"The Complex," E.J. Swift
"God of the Gaps," Carole Johnstone
"Corset Wings," Cheryl Moore
"The Wheel of Fortune," Steph Swainston
"The Island of Peter Pandora," Kim Lakin-Smith
"Too Delicate for Human Form," Cate Gardner
"Imogen," Sam Stone
"In the Quiet and in the Dark," Alison Littlewood
"The Scariest Place in the World," Mark Morris
"Qiqirn," Simon Kurt Unsworth
"The Third Person," Lisa Tuttle
"Dermot" Simon Bestwick
"Fearful Symmetry" Tyler Keevil
"Pig Thing," Adam L.G. Nevill
It remains to be seen whether the editor has a preference for Dark Fantasy, and we can expect subsequent volumes to be in a similar vein, or if that's just how the selection turned out this year (and thus next year's subtitle might be Discover How Much British Fantasy Writers Love Clowns, or something like that).
Steve Haynes was born the same year I was (1964), and has about the same experience editing anthologies (that is to say, none). We also seem to share a love of dark fantasy. He was an English teacher at Secondary level for 25 years and according to his bio "is a prolific and lifelong devourer of science fiction, fantasy, horror, science writing, contemporary philosophy and graphic novels."
The Best British Fantasy was published by Salt Publishing on July 18, 2013. It is 309 pages, priced at $9.99 for both the trade paperback and the digital editions.
See all of our recent New Treasures here.