Some Mysteries You Don't Want to Solve: Exploring Dead Rock Seven
Some Mysteries You Don't Want to Solve: Exploring Dead Rock Seven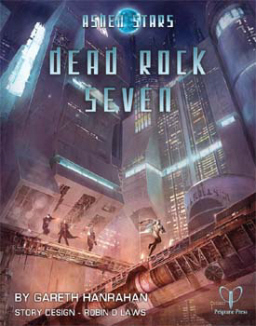 One of the most popular gaming articles I've written in the last year was my review of Robin D. Laws's Ashen Stars, the new science fiction RPG from Pelgrane Press. Month after month, that review has been creeping up the traffic charts.
It's not hard to see why. Ashen Stars is one of the best new SF games on the market — and one of the best new RPGs in any category. It was a winner in the "Best Setting" category in the 2012 ENnie Awards and Pelgrane Press has continued to support it with top-notch adventures and other supplements. It's taken a while to catch on, but the industry is starting to notice.
Here's what I said, in part, in my October review:
Robin D. Laws has created an extremely appealing game of space opera procedural mysteries. In the tradition of the best hard boiled detective fiction, players are constantly scrambling for money, equipment, and respect… all of which they'll need to succeed in a war-ravaged perimeter where trust is a precious commodity, and very little is truly what it seems.

The players in Ashen Stars are private eyes — excuse me, licensed mercenaries — acting as freelance law enforcement on a rough-and-tumble frontier called "the Bleed," where humans and half a dozen alien races mingle, compete, and trade. The Mohilar War that devastated the once powerful governing Combine ended seven years ago, and no one is sure exactly how. The Combine is in no shape to govern the Bleed, and rely on loosely-chartered bands like the players to maintain peace in the sector, keep a lid on crime, and investigate odd distress signals from strange corners of space…

The writing and color art are impressive throughout, and the book is filled with fascinating tidbits that will make you anxious to play, and re-introduce you to the essential joy of role playing.
Given a game with that much promise, I was anxious to see what kinds of adventures would arrive to really flesh it out. Now I finally have my hands on the first major campaign for the setting, Dead Rock Seven, a set of four scenarios by Gareth Hanrahan, and I'm pleased to report that I'm not disappointed.
First, I have to tell you that Dead Rock Seven was not an easy product to acquire. I ordered it online from a Hobby Game store and they promptly informed me that the Robin D. Laws graphic novel I wanted, The Birds, was not in stock. When I replied that I was interested in Dead Rock Seven, they immediately apologized for the mix-up and told me that one was in stock. Then they shipped me The Birds.
It took several e-mail exchanges to get all that sorted out. Eventually, they figured out that The Birds and Dead Rock Seven had switched stock numbers… or something. But to get Dead Rock Seven, I'd have to return The Birds first. I packed it up and sent it off to them and they sent me a new package, with their apologies.
When I opened the second package, it contained a copy of The Birds.
Well, this was world class incompetence. Either that or the universe really wanted me to have a copy of The Birds. Or maybe both.
Anyway, after many weeks and many, many increasingly annoyed e-mails, I finally got my hands on a copy of Dead Rock Seven. Maybe all that waiting just served to heighten my anticipation, because it certainly was a joy to finally have a chance to read through it.
Dead Rock Seven contains four stand-alone adventures that can be used independently to add variety to your campaign. And variety is the keyword here… players will be investigating mysterious deaths on an old asteroid mine, plunging into the underworld of the high-tech planet Andarta in search of a missing shareholder of the shady Loghos Corp, discovering the strange secrets behind a cooking contest on a space station, and more.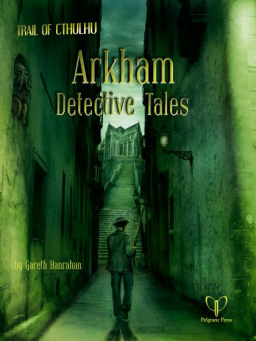 As usual, the art and design are also top-notch. The art, by cover artist Pascal Quidault, is particularly impressive.
Here's the product description:
Dead Rock Seven is a collection of four adventures for Ashen Stars from acclaimed writer Gareth Hanrahan (Arkham Detective Tales, Brief Cases, Invasive Procedures). Over the course of these adventures, the lasers are hired to deal with problems as diverse as murders on an old asteroid mine, missing executives on a pleasure planet, and threats to the security of an interstellar cooking contest. You can run these adventures as one-shots, as individual episodes in your own series, or in sequence as a self-contained mini-series.

The Pleasure Bringers brings the characters to the pleasure world of Andarta, searching for a missing executive who has disappeared into the seedy underworld. In the course of their investigations, the characters discover the bizarre fate of their quarry, and must decide the fate of an entire race.

Dead Rock Seven – Something is killing workers in an exhausted mine on asteroid SIS-45546. If the lasers' suspicions are correct, this heralds the return of a deadly foe once thought defeated.

Period of Tyranny – A terrorist attack on a passenger liner draws the lasers into the tumultuous politics of the synthculture of Pioneer, where the darkest period of Earth history is repeating itself.

The Anaitis Ingredient – The lasers are hired to provide security for a high-profile cooking contest on the Anaitis-17 space station. The station is attacked from within and without by fanatic Restreamers, who intend to trigger a temporal event that will rewrite history.
Dead Rock Seven was nominated in the Best Adventure category in the 2012 ENnies — and that was a pretty good year for adventures.
Our recent coverage of Pelgrane Press includes:
When the End of the World is a Mercy Killing: Cthulhu Apocalypse for Trail of Cthulhu
Mythos Expeditions for Trail of Cthulhu
Experience the Epic Madness of Eternal Lies for Trail of Cthulhu
June Page XX Available — get the latest Pelgrane Press News
Accretion Disk for Ashen Stars
The Justice Trade for Ashen Stars
Some Mysteries You Don't Want to Solve: Exploring Dead Rock Seven for Ashen Stars
Out of Space for Trail of Cthulhu
Ashen Stars by Robin D. Laws
The Dying Earth Role Playing Game
Dead Rock Seven was published by Pelgrane Press on June 6, 2011. It is 140 pages in oversized trade paperback, priced at $24.95. PDF copies are also available; order directly at the Pelgrane Press website.
See all of our recent Games coverage here.