Black Gate Online Fiction: "The Serpent of Thep" by Vaughn Heppner
Black Gate Online Fiction: "The Serpent of Thep" by Vaughn Heppner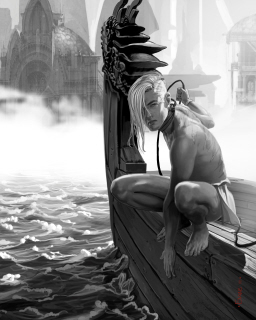 The young warrior Lod, last seen here in "The Oracle of Gog" (Black Gate 15) and "The Pit Slave," returns in a fast paced tale of sword & sorcery on the high seas.
Eglon paced the stern deck. Subdued archers and soldiers sat in clumps about the galley, whispering and casting fearful glances at the captain's cabin. They were alone in the vast sea, a small island of rotten, creaking wood.

Then an eerie moan emanated from the captain's cabin. Wood rattled and a harsh red light poured through the chinks between the boards. The hellish glare startled the soldiery, many crying out and pointing. The moan became a high-pitched scream. The shadows nearest the cabin flickered as if with infernal life. The scream lasted too long. It stretched impossibly, and then the wicked light snapped off and the scream died.

"Necromancy," whispered Eglon.
SF Site called Lod "a cross between Conan and Elric of Melniboné," and Louis West at Tangent Online called "The Pit Slave" "classic sword & fantasy."
Vaughn Heppner has written Amazon best sellers such as Star Soldier, Invasion: Alaska and People of the Ark. His new SF novel, Assault Troopers, is hitting the top of some Amazon SF categories and Alien Honor, the latest in his Doom Star universe, will be released on November 26.
The complete catalog of Black Gate Online Fiction, including stories by Mark Rigney, Aaron Bradford Starr, Jamie McEwan, Martha Wells, Mary Catelli, Michael Penkas, Nina Kiriki Hoffman, E.E. Knight, C.S.E. Cooney, Howard Andrew Jones, Harry Connolly, and many others, is here.
"The Serpent of Thep" is a complete 11,000-word novelette of sword & sorcery offered at no cost.
Read the complete story here.