Roger Zelazny, August Derleth and Appendix N: Advanced Readings in D&D
Roger Zelazny, August Derleth and Appendix N: Advanced Readings in D&D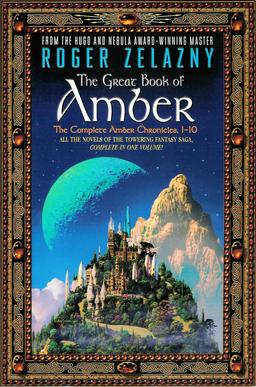 I've been spending a lot of time with Gary Gygax's Dungeon Masters Guide recently, as I guide my young players through a wilderness campaign using Outdoor Survival. The DMG is a treasure trove of handy tables, excellent advice, and fascinating tangents — atrociously organized, of course, but that's part of its charm. Like the most useful book in all fantasy, the Junior Woodchucks Guidebook (seriously — I'd kill for a copy of that book), you can flip pages at random and never know what indispensable tidbit you'll find.
Appendix N, which lists the great fantasy writers whose collective contributions laid the groundwork for Dungeons and Dragons, is just one of those finds; but it's one which has received a great deal of attention. Mordicai Knode and Tim Callahan at Tor.com are sampling the work of every author in Appendix N; so far they've covered Robert E. Howard, Poul Anderson, Sterling E. Lanier, Fritz Leiber, Edgar Rice Burroughs, and Jack Vance.
Last week, Tim turned his attention to Roger Zelazny and The Chronicles of Amber. He wasn't impressed:
I merely sampled the first book in the series, Nine Princes in Amber, originally published in 1970, and that was more than enough… if the first book in Roger Zelazny's Amber series is considered any kind of classic, then it must be because the novel is graded on a curve. A curve called "pretty good for an opening novel in a series that gets a whole lot better," or maybe a curve called, "better than a lot of other, trashier fantasy novels released in 1970, when there was nothing on television but episodes of Marcus Welby and the Flip Wilson Show…"

It's not that I found Nine Princes in Amber uninteresting; it's just that I found the novel shockingly discordant and unsatisfying to actually read all the way through. It's a novel that slams together jokey Hamlet references in the narration with pop psychoanalysis and superhuman beings and shadow realms and dungeons and swords and pistols and Mercedes-Benzes.
Actually, that last sentence is almost exactly how I remember Nine Princes in Amber. Shadow realms and dungeons and swords and pistols and Mercedes-Benzes. Yeah, that pretty much covers it.
I recall being far more engrossed than Tim, however. Of course, that may have a lot to do with the fact that I was fourteen at the time.
I haven't re-visted Amber since — although I have re-read Zelazny's Lord of Light many times, and consider it one of the greatest fantasy novels ever written. (The writers of the movie Argo, however, clearly had a different opinion).
If you're looking for a counter-opinion, Howard Andrew Jones wrote a warm retrospective of the Amber books here just last year. And even more recently, Locus Online's poll for Best Fantasy Novels of the 20th Century ranked Nine Prince in Amber in 5th place last December.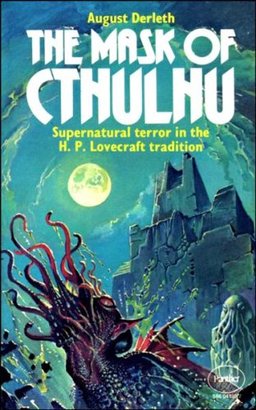 Read Tim's complete Zelazny article here.
Mordicai pried into That Which Man Was Not Meant to Know, the work of August Derleth, on July 22. And I really mean that in this case… in my limited experience, I've found Derleth to be unsatisfying, especially his numerous Lovecraft pastiches.
But Mordicai does give him credit for founding Arkham House, preserving the work of his mentor, Lovecraft, and creating a lot of weird stuff that eventually found its way into the Call of Cthulhu rulebooks:
August Derleth is a controversial figure in "spooky nerd" circles. On one hand, people often think that he diluted the horror of Lovecraft's stories and put Lovecraft's name on things Derleth himself had actually written. But on the other hand, Call of Cthulhu is still filled with pages of weird stuff he invented… Ultimately, Derleth's legacy is editorial. He was the one who pounded the Mythos into a shared universe rather than just a series of Weird Tales. Say what you will about the man, but without him we probably wouldn't be talking about "Lovecraftian" horrors in the first place. Then, well, there are issues that I think really are totally petty — like calling the Lovecraft-o-verse "The Cthulhu Mythos" instead of "Yog-Sothothery." That is really the best you can do, grumble about branding?…

The real bone of contention here, and one that I do very much sympathize with, is that Derleth basically got the major themes and "moral" of Lovecraft all kinds of wrong. And there's his "posthumous" collaboration in which he pulled a Christopher Tolkien and fleshed out Lovecraft's notes, only with less faithfulness and verisimilitude than Tolkien. Most crucially, he introduced a Manichean cosmology — a battle of good and evil, which is utterly anathema to the powerful overriding subtext of Lovecraft's writing… creating a whole category of "Elder Gods" to oppose the inscrutable malevolence of the Old Ones just isn't very… lovecraftian.

You know what it does sound like, though? Dungeons and Dragons.
As Mordicai points out, Derleth was essentially writing Lovecraft fanfiction, and that's how most of it reads today. Read the whole (highly entertaining) post here.
We last covered Mordicai and Tim's journey into Appendix N on July 27th, when they discussed Jack Vance. The list of authors they've covered includes:
Leigh Brackett and J.R.R. Tolkien
Margaret St. Clair and Andrew Offutt
Lord Dunsany and Philip José Farmer
H.P. Lovecraft and A. Merritt
Manly Wade Wellman and Fletcher Pratt
Fredric Brown and Stanley G. Weinbaum
John Bellairs and Fred Saberhagen
Jack Williamson and Lin Carter
Andre Norton and Michael Moorcock
L. Sprague de Camp, Fletcher Pratt, and Gardner Fox
Roger Zelazny and August Derleth
Jack Vance
Fritz Leiber and Edgar Rice Burroughs
Sterling E. Lanier
Poul Anderson
Robert E. Howard
See the complete list here.
Next up: L. Sprague de Camp.