Barnes and Noble to Stop Manufacturing Nook Tablets
Barnes and Noble to Stop Manufacturing Nook Tablets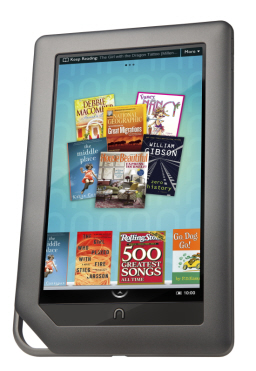 Today wasn't a very good day for Barnes & Noble and its Nook e-reader business.
Yesterday, the nation's top brick and mortar bookseller announced earnings for fiscal 2013 and they weren't pretty. Sales plummeted in the last quarter, and the company's net loss for the year more than doubled to $475 million.
Nook sales, which were tooted as the company's salvation as recently as last year, fell to just 1 million units in the fourth quarter, down from 1.4 million in the same period last year. At the same time, sales of Kindle e-readers have kept growing at a robust clip. As part of its earnings statement, B&N announced it would discontinue tablet manufacturing in an effort to stop the red ink.
The headlines have been ugly. AllThingsD reported "Barnes & Noble Gets the Nook Ready for Its Dirt Nap," BusinessWeek said "Barnes & Noble's Nook Business Sees Fifty Shades of Red," The Wall Street Journal announced "Barnes & Noble Throws in the Towel on Tablets," and Motley Fool's read simply "Barnes & Noble Finally Gives Up." Today the stock took it on the chin, dropping 17 percent to $15.61.
I finally bought my Nook HD tablet a few weeks ago. I know, I know. The very moment everyone else is fleeing the Nook, I figure it's a good time to get around to that new tablet purchase. Maybe not the best timing. But hey, the price was great, and I wanted to support a quality digital reader while I still could. Reminds me of all those dumb hardware purchases I made in the late 90s, trying to single-handedly keep the Amiga alive.
B&N is not exiting the hardware business entirely. It will continue to produce the black-and-white versions of the Nook and look for a partner to take on the production of the high-end color tablets. Speculation is swirling around Microsoft as a possible white knight, but it's all simply rumors at this point.
In the meantime, I'm enjoying my new $149 tablet. It really is a great little Internet appliance and a handy way to watch movies and read books. I have no idea how long they'll be available at that price, so if you're interested you might want to move quickly.