New Treasures: Out of Space
New Treasures: Out of Space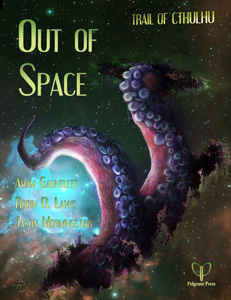 It's been far too long since I've game mastered a Lovecraftian horror RPG. I miss the high-stakes drama, the desperate battles, the sheer cosmic scale and invention of Lovecraft's horrors. Most of all, I miss the shell-shocked expressions on my players faces, the cries of "Dear God! Why would you do that to us? Why — why??" Good times, good times.
My favorite recent Lovecraftian horror RPG is Kenneth Hite's Trail of Cthulhu, from the marvelous Pelgrane Press. They've been supporting it with a series of terrific PDF releases, including The Repairer of Reputations a massive 44-page adventure based on the classic story of the same name by Robert W. Chambers, in which the alien beings described in the play are as real as the players believe them to be. And the 40-page Hell Fire, set in the seedy underclass of 18th century London, where a horrifying plague is ravaging the city, its victims in the grip of a sinister entity bent on engulfing the world in disease and death.
Now Pelgrane Press has assembled both of those adventures, and three more — Flying Coffins, set in Winter 1918 above the skies of France, as players take the role of members of the Royal Flying Corps stationed near the Front, confronting rumors that the next big push is about to begin… and that recent Germany victories in the air are due to supernatural assistance; Many Fires, in which the Investigators take on Pancho Villa's bandit army in the mountains of northern Mexico, as well as something ancient and obscene that lies smoldering among ruins older than the Aztecs; and finally The Millionaire's Special, which invites the players to travel first class on the maiden voyage of the Titanic, where they are invited to a private viewing of one of the world's great curiosities, a cursed Egyptian mummy.
The adventures in Out of Space were created by Gumshoe designer Robin D. Laws, Adam Gauntlett, and Jason Morningstar. It also features extensive player handouts, pre-generated characters and exclusive new essays from the authors. It follows the Trail of Cthulhu collection Out of Time, which collected four earlier adventures. We last covered Pelgrane Press with their ENnie Award-winning Ashen Stars, their epic fantasy release 13th Age, and one of my favorite RPGs, The Dying Earth.
We've covered several excellent Call of Cthulhu and Trail of Cthulhu adventures and supplements over the past few years, including:
Shadows of Yog-Sothoth from Chaosium (1982)
Cthulhu By Gaslight from Chaosium (2012)
The House of R'lyeh from Chaosium (2013)
Out of Space from Pelgrane Press (2013)
Eternal Lies from Pelgrane Press (2013)
Cthulhu Britannica: Shadows Over Scotland from Cubicle Seven (2014)
Out of Space was published by Pelgrane Press in January, 2013. It is 182 pages, printed on glossy paper with black and white illustrations. It is priced at $24.95. Cover art by Phil Reeves. Read more at the Pelgrane Press website.
See all of our recent New Treasures here.