New Treasures: The Simon & Kirby Library: Science Fiction
New Treasures: The Simon & Kirby Library: Science Fiction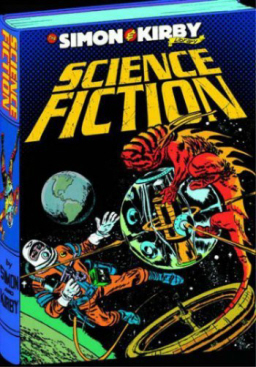 Joe Simon and Jack Kirby were perhaps the most important and successful comic team of the 1940s and 50s. Together they created Captain America (among many other popular creations) and produced an incredible body of work spanning numerous genres. Joe Simon was the first editor of Marvel Comics and the legendary Jack Kirby later partnered with Stan Lee to create some of the most enduring characters of the 20th Century, including Iron Man, The Fantastic Four, The Hulk, The Silver Surfer, Daredevil, Thor, the X-Men, and countless others.
The Simon & Kirby Library: Science Fiction is packed with dozens of stories, many of them photographed from the original artwork. This is essential pulp science fiction, with tales of brave spacemen, intrepid jungle explorers encountering lost civilizations, living shadows, crash landings on bizarre alien worlds, sinister robots, giant monsters battling desperate armies, beautiful barbarian princesses, impossible inventions, and much more.
The Simon and Kirby Library: Science Fiction spans more than 20 years, beginning with the first stories Joe Simon and Jack Kirby ever produced together (beginning in June 1940) — their ten-issue run of Blue Bolt adventures. Then the Cold War years will be represented by Race For the Moon, featuring pencils by Kirby and inked artwork by comic book legends Reed Crandall, Angelo Torres, and Al Williamson.

Other rarities from both decades are included, and as a bonus for readers, the volume features stories illustrated by Crandall, Torres, and Williamson — without Kirby.
The book also includes an introduction by Watchmen co-creator Dave Gibbons. This is the fourth volume in The Simon & Kirby Library, following Superheroes, Crime and the best-selling Horror.
The book is in full-color throughout, and most of the art has been restored and vibrantly re-colored by Harry Mendryk. My only complaint about this volume is that only a handful of covers are included, in a sparse 3-page cover gallery in the back.
The Simon & Kirby Library: Science Fiction was published by Titan Books on June 4. It is 352 pages in hardcover, priced at $49.95. There is no digital edition.