Goth Chick News: Jack Is No Longer 'All Work and No Play,' or Toy Story Gets Redrum'd
Goth Chick News: Jack Is No Longer 'All Work and No Play,' or Toy Story Gets Redrum'd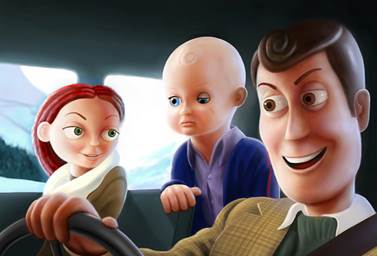 Characters or situations out of context always have an unsettling value to them as far as I'm concerned.  There is something highly disquieting when the supremely "normal" is turned upside down and becomes something icky.
Like Peter Straub turning a Normal Rockwell, Christmas-in-a-small-town setting and adding a horrifying entity to it in Ghost Story, an inebriated party girl going for a moonlight swim in Jaws, or the upended nursery rhyme in A Nightmare on Elm Street – safe, predictable things turning terrible is an old trick that skeevs me out every time.
So imagine the multiplied creep-factor if this happened to something as safe and innocent as Toy Story.
And what if Jack Torrence's downward spiral at the Overlook Hotel was reenacted for us by Woody and all the toys had "the Shine" on them?
It doesn't get more disturbing than that — and yet this is exactly what artist Kyle Lambert has dreamed up for our uneasy pleasure.
Being a huge fan of animation and cinema, Lambert started following Toy Story 3's Director Lee Unkrich on Twitter.  The UK-based concept artist soon discovered Unkrich's love of all things Kubrick and especially The Shining, which actually inspired Unkrich to become a filmmaker in the first place.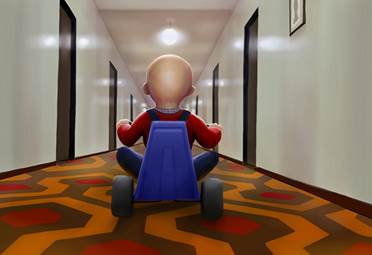 Soon, the gears in Lambert's head began turning with an idea so depraved that you will never be able to watch Toy Story or The Shining the same way ever again.
Ladies and gentlemen, welcome to Toy Shining.
The passion project took two months of Lambert's spare time to complete, but the genius result is that Toy Shining will have you shaking in your sheriff boots.  As luck would have it, Lambert was actually invited to Pixar Studios towards the end of the project, making it the perfect opportunity to present Unkrich with a poster version of the storyboard for Toy Shining.
The only thing that could make this more perfect would be if Pixar actually went ahead and filmed Lambert's version.
Lego executives, are you listening?
See below for more pics, or go here to check out the entire portfolio of Lambert's twisted vision. Then post a comment or drop a line to sue@blackgate.com.