Vintage Treasures: The Radio Planet by Ralph Milne Farley
Vintage Treasures: The Radio Planet by Ralph Milne Farley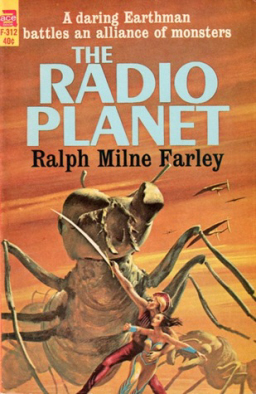 And so we come to the third volume of Ralph Milne Farley's Radio Men series, The Radio Planet.
Like the first two, The Radio Man (aka An Earth Man on Venus, which I discussed here) and The Radio Beasts (here), The Radio Planet was originally published in Argosy All-Story Weekly, in six installments starting in June 26, 1926, following the previous novel by some fifteen months.
Farley wrote several more Radio novels, including The Radio Menace, The Radio War, The Radio Pirates, and The Radio Flyers, between 1930 and 1955. Only a few were even loosely connected to the first three; most of them were futuristic pulp adventures set on Earth, and Ace didn't bother to reprint them.
Yes, that's right. After three popular Radio Men novels, Ralph Milne Farley continued to merrily put Radio in every one of his titles, even though most had nothing to do with Myles Cabot, Venus, or Mars. Apparently, the man had only a rudimentary concept of brand marketing. And liked radio.
In any event, The Radio Planet was the last novel to feature Myles Cabot. Two other short adventures followed: "The Radio Man Returns," a short story from Amazing Stories (June 1939), and "The Radio Minds of Mars," originally published in the January 1955 issue of Spaceway magazine.
Fortunately for young teenage fans in the 1970s, such as yours truly, there were two inexpensive paperback editions of The Radio Planet, which kept it in print for roughly a decade. Both were from Ace Books.
The first was part of the famous F-series (F-312) in 1964, with a John Schoenherr cover and interior artwork by Jack Gaughan (seen at left; click for a bigger version).
For the most part, I like this cover. It's dynamic and colorful, and you know at a glance what the book's about: swords, monsters, and harsh alien landscapes.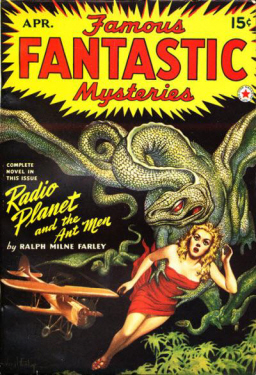 John Schoenherr — whom I knew chiefly from his moody and captivating Analog covers, especially the series he did for the magazine versions of Frank Herbert's Dune — rarely did pulp-style covers, but here he demonstrated a certain flair for it.
The second edition was a regular-sized paperback in 1976, with a gorgeously strange and beautiful cover by Patrick Woodroffe (see below).
The Radio Planet was reprinted one other time, in the April 1942 issue of Famous Fantastic Mysteries Combined with Fantastic Novels Magazine. Yes, they crammed the entire novel — all six installments — into a single issue (and also found room for a short story by Norman Douglas). Those Famous Fantastic Mysteries were a bargain, let me tell you.
The issue also had interior illustrations by Frank R. Paul and a striking Virgil Finlay cover (at right, click to embiggen).
Comparing the two covers tells you a little something about what readers found wondrous and frightening in the 40s, as opposed to the 60s. Gone are the sword and the giant ants, in their place we have biplanes and a flying dragon.
Note, however, both covers have a beautiful, helpless woman. Apparently you don't mess with the classics.
I'm not sure what's up with the title change, though ("Radio Planet and the Ant Men?") Maybe if you don't have giant ants on your cover, you had to squeeze them in other ways? I can't even understand modern marketing, I'm not going to attempt to fathom the 1942 marketing mind.
But back to the paperbacks.
Here's the plot summary for The Radio Planet, from the back of the 1964 edition:
When Myles Cabot, inventor of radio transmission of matter, returned to Venus he found himself alone on an unknown continent on that alien planet. To get back to his old headquarters and his loved ones presented some apparently impossible problems.

He'd have to settle a war between the near-primitive natives and an unholy alliance of monsters, dinosaurs, and giant insects. He'd have to build an electronic device from raw rocks and untapped resources. And if he could succeed in all that, he'd still have to find his way home and fight off a usurper's diabolic conspiracy.

But Myles Cabot didn't know the meaning of the word impossible!
A decade later, Fred Pohl selected The Radio Planet to be the eighth novel in his Science Fiction from the Great Years series (which I discussed in more detail last time).
For this new edition, cover artist Patrick Woodroffe chose not to focus on Schoenherr's humongous ants, or a beautiful women in a billowing wrap (practically Virgil Finley's trademark). In fact, he didn't choose an action scene at all.
Instead, he discarded pulp conventions entirely and embraced the bizarre and colorful Venusian landscape. The result was one of my all-time favorite paperback covers from the 1970s, presented here in all its wrap-around glory: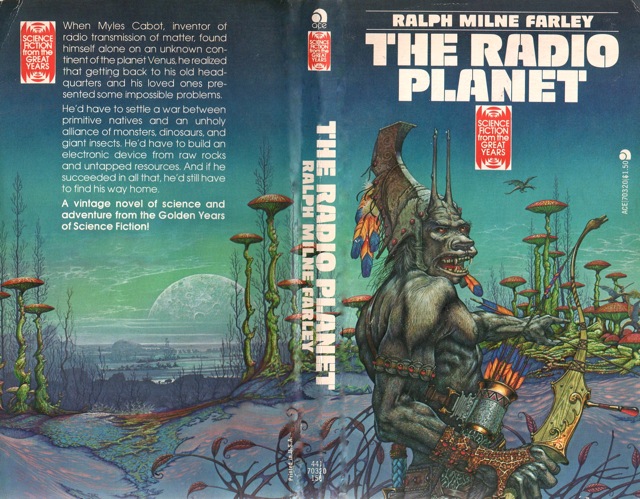 Wow.
Unfortunately, that's the biggest version I've been able to find. If I locate a higher-resolution wrap-around image, I'll post it here.
At the moment, I can't recall any other fantasy novel so blessed as to receive covers by three such stellar artists in three different decades. Maybe being a pulp writer didn't pay very well, but it obviously had other perks.
And so we come to the end of the Radio Men series. I hope you've enjoyed this look back at one of the more popular pulp sagas from the 20th Century. Like most of the Vintage Treasures I've covered, copies are generally plentiful: I count 15 eBay lots today alone featuring one of the first three books, with Buy-it-Now prices ranging from 99 cents to $15.
It's a bit more challenging if you want to try Farley's other Radio novels. Most of them were not reprinted at all in the 20th Century.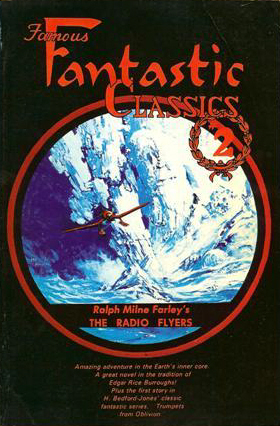 I have good news regarding the next one, however. The Radio Flyers — originally published in five installments in Argosy All-Story Weekly in 1929 — was eventually reprinted in a single installment in the second issue of the short-lived Famous Fantastic Classics in 1975.
That's it at left, with a Mike Kaluta cover. Virgil Finley, John Schoenherr, Patrick Woodroffe, and finally Mike Kaluta… man, Ralph Milne Farley must have done something right.
The Radio Flyers follows the adventures of Eric Redmond and his partner, Angus Selkirk, as they attempt to fly to North Pole and instead encounter amazing adventures inside the Earth.
Amazon.com has used copies of Famous Fantastic Classics #2 starting at around $4. It also contains "The Stagnant Death" by H. Bedford-Jones, if that helps your purchase decision.
Fortunately, the situation changes once we look at more recent reprints. I'm happy to report that the prolific Pulpville Press has reprinted all four of the Myles Cabot Radio Men books — including The Radio Minds of Mars, a collection of "The Radio Man Returns" and "The Radio Minds of Mars" — in both hardcover and inexpensive trade paperback format.
They've also reprinted virtually all of Farley's other Radio novels, including The Radio Menace, The Radio War, The Radio Pirates, and The Radio Flyers.
Check out their complete catalog at pulpvillepress.com.
The Radio Planet was published by Ace Books in 1964. It is 224 pages in paperback, priced at 40 cents.
The 1976 edition was 292 pages in paperback, with a cover price of $1.50.
You can see all of our recent Vintage Treasures articles here.