Skyhorse and Start Publishing Complete Night Shade Acquisition
Skyhorse and Start Publishing Complete Night Shade Acquisition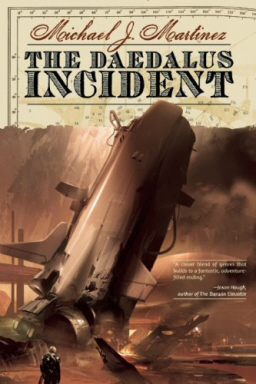 As we first reported on April 4th, Skyhorse Publishing and Start Publishing have been in negotiations to acquire the assets of Night Shade Books. As co-owner Jeremy Lassen explained in an Open Letter on April 5th, the sale would allow Night Shade to avoid bankruptcy and keep it operating as an ongoing concern.
After several authors expressed concern over the terms of the buyout, Skyhorse and Start sweetened the deal with a more generous royalty rate. Now the publishers have announced that they have completed the acquisition of Night Shade, and that the first post-sale book to be published will be Michael J. Martinez's The Daedalus Incident on July 9th. Here's part of the official press release:
Founded by Jason Williams in 1997, who was joined by partner Jeremy Lassen shortly after, Night Shade Books has over 250 titles in its catalog, including some renowned genre fiction — written by multiple nominees and winners of Shirley Jackson, Bram Stoker, World Fantasy, Nebula, and Hugo awards. In 2003, Night Shade Books won the World Fantasy Special Award for Professional Achievement. Both Williams and Lassen will continue to be with Night Shade in a consulting capacity.

The agreement was reached following a spirited and public debate among authors, agents, fans, and publishers, which resulted in a deal approved by Night Shade's authors….

"I am very excited to have found a buyer that is such a good fit for Night Shade, one that will be able to take us further than I was able to on my own. I look forward to building up Night Shade into the powerhouse of science fiction and fantasy for years to come," said Night Shade founder Jason Williams. Night Shade had net sales of roughly $1.5 million for the 2012 calendar year.
Here at Black Gate, we're very pleased to see that one of our favorite small press publishers will continue publishing great books.
Read the complete press release at io9.