Adventures in Bookselling: The Paperback Harry Dresden
Adventures in Bookselling: The Paperback Harry Dresden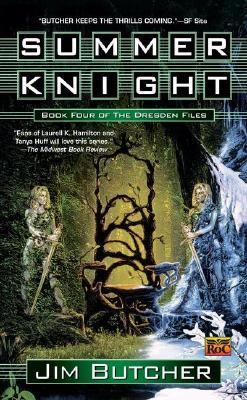 Paperback collecting is an odd hobby. For one thing, unlike stamps or coins, virtually no paperback is out of reach for the determined collector.
Want examples? As I mentioned in Jack Vance's obituary last week, the first edition of The Dying Earth is one of the rarest and most sought-after genre paperbacks — it had a tiny print run, and no one knew who Jack Vance was when it first appeared in 1950.
What does that mean to your pocketbook? I paid just under $20 for a copy in mint condition a few years ago. As of today, around half a dozen are available at Amazon.com, with Very Good copies starting at $10.
Think about that. A first edition of one of the rarest science fiction books, by one of the top authors in the field, a full six decades after it went out of print, will set you back… around the same price as a brand new paperback today.
Perhaps that's just our genre, you think. Let's face it, half of the folks who read science fiction and fantasy are anal-retentive fanboys. Probably 50% of the print run of The Dying Earth ended up in protective mylar bags by 1955.
Maybe that's an exaggeration. Still, the situation for mystery and western fans is pretty much the same. If you're a paperback collector, it's a buyer's market. Walk into the Dealer's Room at the Windy City Pulp and Paper show (or virtually any paperback show in America) with a crisp $20 bill, and you can walk out with a heavy bag of paperbacks published before you were born.
Hard to believe? Just have a look at the gorgeous assortment of 103 vintage titles I bought for around $50 at Windy City just last year.
Perhaps it's different if we look outside genre fiction entirely. What's the rarest and most expensive paperback known?
Well, there are a few answers to that of course, but the one I usually give is Pearl S. Buck's The Good Earth, sold in a (very) limited edition test run in the then-experimental paperback format in 1938, with a print run of only 2,300. It was a tremendous success and as a result Pocket Books, the country's first mass market paperback publisher, launched with ten titles in June 1939.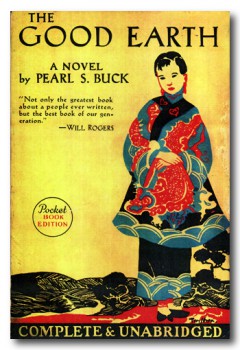 Surviving copies of the unnumbered edition of The Good Earth are exceedingly rare, and it is considered by many the Holy Grail of paperback collecting. Accurately pricing it is very difficult, as copies come to market very rarely, and with books of this value we gauge the actual worth not by what sellers demand, but by actual sale price.
So for something like this we turn to the experts. The most recent edition of Jon Warren's The Official Price Guide to Paperbacks I have (admittedly, already a little dated) lists Very Good copies of The Good Earth at the lordly price of… (drum roll)… $250.
There you have it. Barring blips in the market for ultra-rare limited printings, one-of-a-kind copies, and the like, high-end paperback collectors can bring home the capstone of the entire industry for around the price of a meal for two at Spago.
This is embarrassing. Really. There are times when I'm ashamed to be a paperback collector. People who collect beer cans are willing to pay more than this. For a can that has no beer in it. (Yes, Mark Rigney, I'm thinking of you).
There are exceptions, of course — especially for things like autographed copies. Science Fiction fans are crazy about autographs, and I've seen the price of paperbacks rise considerably when they're autographed. However, that's an unpredictable market, and prices can rise and fall as authors rise and fall in collectability. Just ask anyone who paid a premium for a signed Clive Barker limited edition in the mid-1990s, for example.
Admittedly, you don't see me complaining when I score a collection of 1960s SF paperbacks for less than cover price (especially since the cover price of a 1965 SF novel was around 50 cents…). When it's a buyer's market, it's time to be a buyer. At least until I run out of room in the basement.
But as I said at the top of this article, paperback collecting is an odd hobby. Another of the (many) reasons why is that, while prices for vintage paperbacks have been relatively flat for the past quarter century, that doesn't mean that interest is low across the board.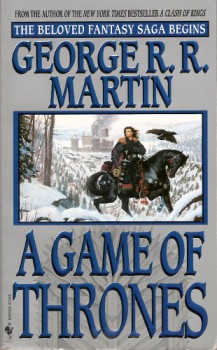 In fact, speaking as a paperback buyer and seller, some of the hottest activity in the collectible paperback market in the last decade has been in fantasy series. Just try tracking down a copy of the 1997 Bantam Spectra paperback edition of A Game of Thrones, and you'll see what I mean.
But in my personal experience, perhaps the most energetic paperback collectors have been Jim Butcher fans. And in particular, fans of his urban fantasy Harry Dresden novels.
The first Dresden novels were released as PBOs (paperback originals) by Roc Books, starting with Storm Front in April, 2000. The next six were PBOs as well; the series didn't shift to hardcover until the seventh volume, Dead Beat, in 2005. That was also the first to have a cover by Chris McGrath; the earlier paperbacks were eventually re-released with Chris McGrath covers.
I think the McGrath covers are superior; Roc Books (and his fans) seem to agree. Paperback collectors, however, seem to have become obsessed with the earlier editions.
I first noticed this when I tried to replace my own copies about six years ago. At one time I had a complete set, but the Dresden books were among the most in-demand books among our reviewers (not to mention friends and distant family members, all of whom were begging for copies), and my copies were long gone. I tried to find the original Roc paperbacks, but they were impossible to locate.
I remember talking about this phenomenon with fellow readers and collectors at the World Fantasy Convention in Columbus in 2010. I was manning our booth in the Dealer's Room, selling Black Gate back issues and vintage paperbacks, and sadly turning people away who were asking for Jim Butcher paperbacks. Several friends asked me to keep my eye out for early copies, and some fellow collectors offered very attractive trades for same.
Part of the reason I remember this so well is that on the third day of the convention a determined collector stood up in front of the booth. He'd been digging through the dollar bin on the floor, where I tossed books that had been unsold for years. He was clearly excited, and when he handed his find to me I could see why.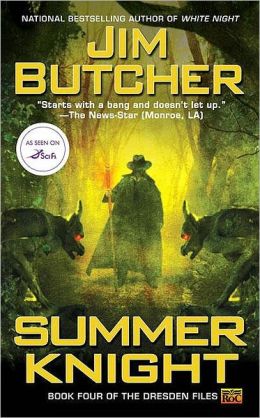 It was an unread, mint-condition copy of Summer Knight, the fourth Dresden novel, with Lee MacLeod's original cover, out of print for nearly a decade. I must have received a duplicate copy from the publisher in 2002, and placed it in the bin years ago. It had been sitting there, undiscovered, for all this time.
This was a treasure. It would make a lot of collectors very happy — or one of the many friends who had been pestering me for a copy.
Or I could sell it online — just to give you an idea, the lowest current price for an unread copy of the 2002 printing of Summer Knight I found online is $85.26 at Amazon.com.
Of course, you already know I didn't do any of those things.
What I did was hold out my hand to that excited fan and say, "One dollar, please."
I told the story to a few friends who dropped by the booth later that day. To their credit, not one of them told me I did the wrong thing. To a one, they all nodded and said, "Yeah, you had to sell it to him."
Why?
Because we're all book collectors first. We've all spent time digging through boxes of books, and made incredible finds of our own. And that's just not something you cheat a fellow collector out of.
Besides, I think the truth is that booksellers just want to be part of a joyous find. Whether as a buyer or as a seller, it doesn't really matter. We get pleasure either way.
But all the same, I keep a closer eye on my dollar bin these days.