New Treasures: Robert Silverberg's Tales of Majipoor
New Treasures: Robert Silverberg's Tales of Majipoor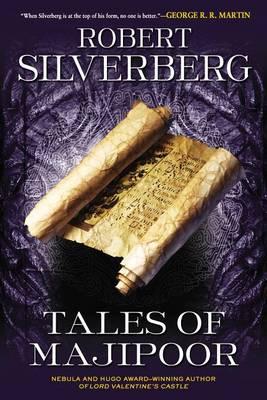 Robert Silverberg's last post at Black Gate was "Are the days of the full-time novelist numbered?" (which, as I recall, generated a lot of debate, including an intriguing counter-argument by Jerry Pournelle.)
His post seemed like a good excuse to finally get around to reading Lord Valentine's Castle, the first novel in his Majipoor Cycle. It's one of the few major fantasy series I haven't tried, and I've long been intrigued by its science fantasy setting. Majipoor is a vast world, much larger than Earth (but much less dense, hence with a comparable gravity), settled by a host of bizarre alien races who co-exist more-or-less peacefully with the shape-changing natives, the Piurivar. It's is a low-tech planet where agriculture is the main occupation, but numerous artifacts of a space-faring culture dot the landscape, some of them quite mysterious — the perfect stage for some grand adventures.
Lord Valentine's Castle was highly acclaimed when it first appeared in 1980, garnering a Hugo nomination and winning the Locus Award for Best Fantasy Novel. Five more novels followed, including Valentine Pontifex (1983) and Sorcerers of Majipoor (1997), and one collection, Majipoor Chronicles (1982).
In the two decades since that last collection, Silverberg has published some major short work set in Majipoor, including:
"The Seventh Shrine," a murder mystery from Legends: Stories By The Masters of Modern Fantasy
"The Book of Changes," a novella of Majipoor's early history from Legends II
"The End of the Line," a novelette featuring Lord Stiamot from Asimov's Science Fiction (read an excerpt here)
"The Tomb of the Pontifex Dvorn," from online magazine Subterranean (read the complete story here)
"The Sorcerer's Apprentice," a novelette from Flights: Extreme Visions of Fantasy
"Dark Times At The Midnight Market," from Swords & Dark Magic
"The Way They Move the Spells at Sippulgur."
All seven of these tales are collected in Tales of Majipoor, the new collection from Roc that goes on sale this month. I found Lord Valentine's Castle buried under review notes, still unopened, only a few weeks after I took it down to read it. But that's okay, because Tales of Majipoor looks like an even better way to take my first steps unto this vast planet.
Tales of Majipoor was published on May 7 by Roc. It is 320 pages in trade paperback, priced at $16 ($9.99 for the digital edition).