Vintage Treasures: The Girl With the Hungry Eyes by Fritz Leiber
Vintage Treasures: The Girl With the Hungry Eyes by Fritz Leiber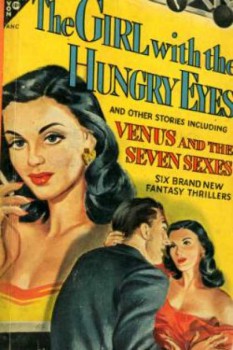 Sometimes it seems that every time a new sword & sorcery novel appears, a publicist automatically slaps "comparable to Fritz Leiber!" on the cover.
I'll tell you why: it works. When Karen Burnham at SF Signal noted that Tim Pratt's latest Pathfinder novel Liar's Blade had done "an excellent job of capturing the spirit" of Fafhrd and the Grey Mouser, I bought it immediately. A fantasy novel with the charm and style of Fritz Leiber's great adventures? Where's my credit card.
I think publicists must get tired of comparing new sword & sorcery to Fritz Leiber and Robert E. Howard. I know it's annoying to their fans, and I don't think it does a genuine service to most new writers — not in the long term, anyway.
And frankly, all the focus on Fritz Leiber as the poster child for exemplary S&S overlooks his success in a broad range of genres: science fiction, mystery, dark fantasy, supernatural horror, plays, and even a 1966 Tarzan novel. Ask anyone who's read his 1965 Hugo Award-winning novel The Wanderer, about a rogue planet that drifts close to Earth — or his brilliant short story "A Pail of Air," a post-apocalyptic tale of a family fighting to survive on a world grown so cold that oxygen has condensed out of the air, and the strange things they discover when the world has gone completely still — and you'll find that Leiber's Fafhrd and the Grey Mouser tales, as important as they are to the Sword & Sorcery canon, stand as only a small sample of a stellar writing career that spanned over 50 years.
As a paperback collector, it's hard to pick my favorite Fritz Leiber book. I love Michael Whelan's cover for Swords and Ice Magic (1977), and of course The Big Time (1961), Gather, Darkness! (1975), and the creepy Our Lady of Darkness (1977). But I think it would have to be a collection, possibly The Mind Spider and Other Stories (1961), Ship of Shadows (1979), or The Ghost Light (1984).
But I might just cheat and make it the 1949 Avon paperback The Girl With the Hungry Eyes.
The reason that would be cheating is that The Girl With the Hungry Eyes isn't a Leiber collection. It's an anthology of six fantasy stories, edited by Donald A. Wollheim. It only has one contribution from Fritz Leiber, the title story "The Girl With the Hungry Eyes."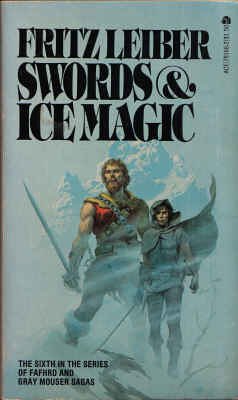 Ah — but what a story.
"The Girl With the Hungry Eyes" tells the tale of a photographer who stumbles across a model with literally unholy appeal. In a compact 18 pages it relates her meteoric rise in the fashion industry, the strangely lethal effect she has on her city, and the even more devastating impact she has on the narrator.
It's a powerful story that was eventually filmed for TV in 1970, for Rod Serling's Night Gallery (one of two Leiber adaptations for that show; the other was "The Dead Man.")
It was also made into a feature film by Kastenbaum Films in 1995, directed by Jon Jacobs and starring Christina Fulton, Isaac Turner, and Leon Herbert. (Not to be confused with the 1967 film The Girl with the Hungry Eyes, made by William Rotsler, which is totally unrelated).
The rest of the book is worth reading as well. The cover loudly proclaims the inclusion of William Tenn's novella "Venus and the Seven Sexes," the tale of a Hollywood director's attempts to film a love triangle in a world with seven sexes, but Tenn is by no means the only author you'll recognize.
The book also contains "Mrs. Manifold" by Stephen Grendon (aka August Derleth), the story of Mrs. Manifold's Singapore saloon, her London boarding house, and the devil. P. Schuyler Miller's "Daydream" introduces us to James Payson, constantly bullied by his cousin Charles, who creates imaginary companions who help him endure. When both men have grown and James is a successful businessman, he runs afoul of the cruel Charles again — and his imaginary friends return to surprising effect.
"Maturity Night" by Frank Belknap Long brings us into a post-apocalyptic dark age, where people revere their civilized ancestors as "Mighty Men." Jal Strall spends a night in an old museum as part of a coming-of-age trial, hoping to see visions of the Mighty Men. But things take a very different turn when he begins to tinker with one of the mysterious old machines.
The final entry, "Come into my Parlor" by Manly Wade Wellman, is an Appalachian horror story that would fit right in with his much-loved Silver John tales, featuring a man who investigates the mysterious Gardinel Swamp in search of unusually large specimens of carnivorous plants, and finds a strange ruined cabin with a horrible secret.
All of the stories are original to this volume.
The Girl With the Hungry Eyes was Avon Books #184, published in 1949. It's highly prized today, as much for the striking cover by Ann Cantor as for the contents, I expect (click on the image above for a bigger version). It is a slender 128 pages, typical for paperbacks of the era. It has no price, but probably sold for 25 cents.
Copies are a little tougher to come by these days, but I got mine for around twenty bucks — not much more than a modern trade paperback. A quick glance at Amazon reveals multiple copies in good condition are available between $13- $25.
It was never reprinted, and there is no digital edition.
See all of our recent Vintage Treasures articles here.