May/June Fantasy & Science Fiction Magazine now on Sale
May/June Fantasy & Science Fiction Magazine now on Sale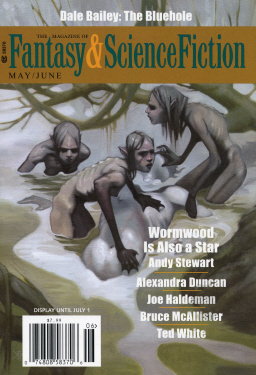 Gordon van Gelder's Fantasy & Science Fiction is perhaps the magazine I most look forward to. He's built a fine stable of regular authors, including Robert Reed, Dale Bailey, Ken Liu, Naomi Kritzer, and especially the prolific Albert E. Cowdrey, who's had a story in every issue since Sept/Oct 2011.
But that doesn't mean the magazine is predictable, and the May/June issue is even less predictable than usual. Here's Michelle Ristuccia at Tangent Online:
F&SF isn't a themed magazine, but if it was, this issue's theme would be sex told in first person. Most of the stories mention infatuation or sex, and a few are explicit, bordering on erotica. Some of the writers are so good that they could win over all but the most prudish – and of those that didn't wow me, most are still high quality writing. This issue is definitely worth the cost…

"Changes" by Rand B. Lee is an intriguing post-apocalyptic SF tale complete with chaotic time travel and talking monster dogs, told in third-person over the shoulder of Whitsun… When a pack of mutant dogs alerts him to the poisonous nature of a pocket of ominous mist, Whitsun feels that he must investigate… I love the idea of reality constantly destabilizing around the characters and I appreciated the mix of science fiction, fantasy, and horror that results.
The cover story is "Wormwood is Also a Star" by Andy Stewart. Here's Michelle again:
"Wormwood is Also a Star" takes us to the heart of two mysteries set in the Ukraine in 1992. The macro mystery concerns the Angel's Tear, a magical forcefield of unconfirmed origin that sprang up to protect part of the Ukraine from the fallout of Chernobyl. The more personal mystery is that of the death of reporter Mitka's sister 20 years earlier, which is still shrouded in political secrecy… Andy Stewart put an incredible amount of work into this story and pulls it all off well, including the scenes involving borderline erotica and backstory reveals occurring simultaneously… I dare you not to be smitten.
The issue also contains fiction from Joe Haldeman, Paul Di Filippo, Ted White, Bruce McAllister, Dale Bailey — and yes, Albert E. Cowdrey.
Here's the complete table of contents:
NOVELLA
"Wormwood Is Also a Star" – Andy Stewart
NOVELETS
"Grizzled Veterans of Many and Much" – Robert Reed
"Changes" – Rand B. Lee
"The Woman in the Moon" – Albert E. Cowdrey
"The Bluehole" – Dale Bailey
"Canticle of the Beasts" – Bruce Mcallister
SHORT STORIES
"By the Light of the Electronic Moon" – Angélica Godorischer
"Directions for Crossing Troll Bridge" – Alexandra Duncan
"The Mood Room" – Paul Di Filippo
"Doing Emily" – Joe Haldeman
"Systems of Romance" – Ted White
Departments this issue include book columns by Charles de Lint and Elizabeth Hand, and Lucius Shepard film column, "A Funny Thing Happened on My Way to Mirkwood… Well, Not Really."
The cover price is $7.99 for a thick 258 pages. The cover is by Kristin Kest. Check out the complete TOC and additional free content at the F&SF website.
You can read Michelle Ristuccia's complete review at Tangent Online here.
We last covered F&SF here with the March/April issue.